Him Law (羅仲謙) and Tony Hung (洪永城) were recently filming for TVB's upcoming series, "Armed Reaction 2020" (陀槍師姐2020). When asked if he felt Him Law's joy on becoming a father soon, Tony Hung said, "Of course. Him is very happy. He would also share things about his family from time to time. It has infected me to feel happy about having such a wonderful family. It's a very happy thing." Tony Hung also cheekily asked Him Law for baby making secrets. Him Law replied back saying Tony Hung would soon surpass him in having the secrets to baby making.
Tavia Yeung and Him Law are Having a Girl
Tension Between Tony Hung and Rebecca Zhu Rumored to Have Escalated, Only One to Return in "Wonder Women" Sequel?
Reporters also asked Tony Hung if there are a lot of intimate scenes in this series. Tony Hung said, "There aren't a lot in this series." (So you can be more relieved?) "Maybe." Then reporters brought up the incident with Rebecca Zhu (朱晨麗) and asked him if it affected his mood. Tony Hung said, "The impact has already passed. So I try my best not to think about the incident, won't discuss it. No comment." As for the news of a "Wonder Women" (多功能老婆) sequel, Tony Hung expressed he didn't hear about the news and that it isn't confirmed. On whether he minded working with Rebecca Zhu if they were partnered up by the company again, Tony Hung said, "One must do what one must do."
Rebecca Zhu Talks about Current Relationship with Tony Hung and His "No Comment" about Her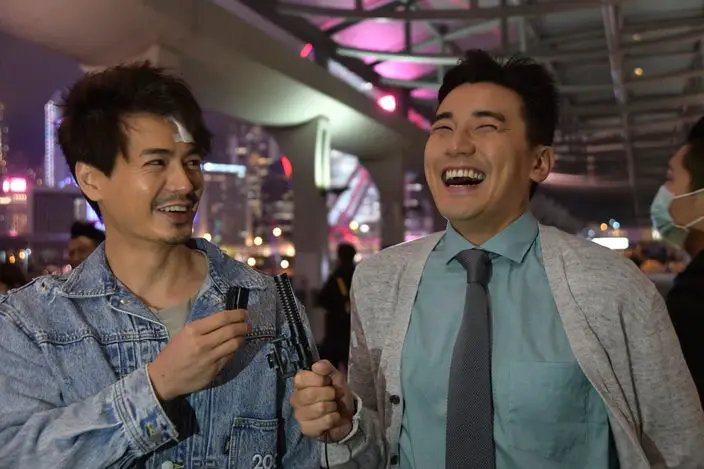 Rebecca Zhu Complains about Tony Hung Improvising Too Many Sudden Intimate Scenes
Him Law was then put on the spot and asked if he would serve as the peacemaker since he knows both Tony Hung and Rebecca Zhu. He pretends not to know what the reporters are talking about. He claims he hasn't heard about them not being on good terms. He expressed, "Overall, both are valuable. The company won't let go of either one." Him Law decided to take a jab at Tony Hung and said, "You have to ask me before adding scenes." Tony Hung replied, "Actually, it's very normal to have scenes added and removed during filming."
Credit: hk.on.cc, Bastille Post