Miss Hong Kong 2019 contestant and Youtuber, Kayan Choi (蔡嘉欣), was a hot favorite to take the crown at the pageant last year. However, she only finished in the top 5. She must've made an impression on TVB executives because she signed a management contract with the company shortly after. Due to the COVID-19 outbreak, her clothing business has suffered due to people staying home. So like a lot of Hong Kongers, she went hiking to absorb the views and fresh air of Hong Kong's mountains.
Miss Hong Kong 2019, Carmaney Wong Admits She's a Bit Envious of Kayan Choi
Miss Hong Kong 2019 Hot Favorite, Kayan Choi, Already Assigned Hosting Duties After Joining TVB
She posted this picture on April 20 and included this caption: "Thankful for the outbreak. It has awakened the exercise genes of my family that have been asleep for many years. I've never hiked with my family all these years. In response to the government's gathering ban, our family of five can only have four people head out each time. Following last Thursday, the four of them selfishly hiked together. Today, we finally got rid of my older sister. However, as the younger sister, I feel it's better to respect my sister next time. I will give back the slot to you next time."
2019 Miss Hong Kong Pageant Swim Suit Edition: Kayan Choi's Tattoo is Missing
2019 Miss Hong Kong Contestant Hopeful, Kayan Choi, Dated a TVB Actor
The first sentence of her post, "Thankful for the outbreak." got netizens furious because of her insensitivity. One netizen left a comment saying, "So many people died and you still want to thank this outbreak? Because it woke you up to exercise? This is not how you cheat "Likes", right?". A lot of netizens left comments attacking Kayan Choi for her insensitivity and foolishness for her choice of words.
It seems she didn't think there was anything wrong with what she said. A netizen left a comment saying she should've used "Because of the outbreak" instead. She responded to the netizen saying, "I chose to write 'thankful for the outbreak'. The word thankful was not meant to undermine the severity of the outbreak. I just want to express under the hardships of the outbreak that we can still find things worthy of being thankful and grateful for. Encourage everyone to maintain a positive attitude even inn the face of adversity. Keep up the positive energy."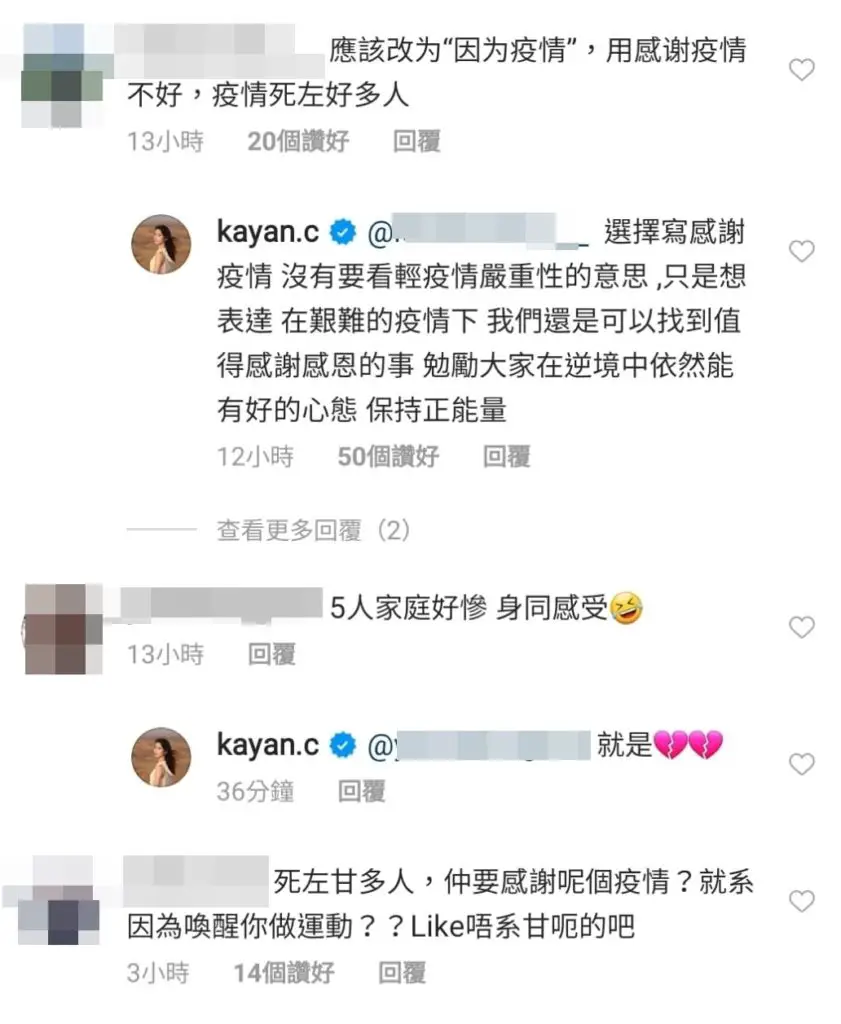 Perhaps under public pressure, she replaced "Thankful for the outbreak." to "These days" in the post. She also apologized saying, "I admit I was wrong. I have no brain. I shouldn't have used the word 'thankful', making everyone misinterpret it." Sheresponded to Oriental Daily News and said, "I will deeply reflect. I didn't think my comments would attract such a response. That was not my intention. I am sorry for making everyone have hard feelings. I admit what I said this time was brainless. I will be even more cautious in the words I use in the future!"
Credit: hk.on.cc, hk01, Kayan Choi IG