Rumors are swirling Zhou Dongyu (周冬雨) and Xu Kai (许凯) are set to star in the xianxia drama, "Ancient Love Poetry" (千古玦尘), based on the novel, "Shang Gu" (上古). This would be Zhou Dongyu's first xianxia drama if the rumors are true. As for Xu Kai, it would be easier to count how many non-costume dramas he has done. Perhaps the drama gods heard our prayers because he finally filmed a modern series, "Falling Into Your Smile" (你微笑时很美), with Cheng Xiao (程潇) recently.
Huanyu Entertainment Denies Rumors of Xu Kai and Bai Lu Dating and Living Together
Will Xu Kai and Wu Jinyan Finally Get Their Happy Ending in "Royal Feast"?
The storyline talks about the True God, "Shang Gu", played by Zhong Dongyu and her romance with "Bai Jue", played by Xu Kai. Fate has predestined them to fall in love with each other after several reincarnations. In the Three Realms, the immortals and the demons have been fighting for years. Above them is, "Shang Gu", the True God, who is believed to be 60,000 years old.
Zhou Dongyu Sparks Dating Rumors with Classmate After Being Spotted Together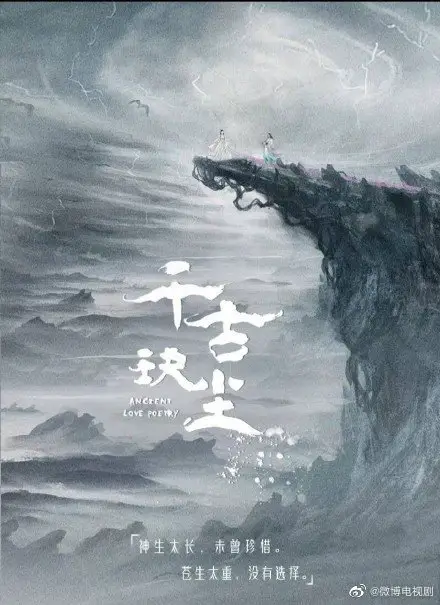 Yu Zheng Responds to Clip of Bai Lu Pinching Xu Kai's Butt
Sixty thousand years ago, he saw her body turn into flying dust all over the city in order to save the Three Realms from chaos. Sixty thousand years later, she returns and when she sees him again, they are estranged and he doesn't recognize her anymore. She lost 300 years of memories before the chaos happened. She forgot her once most secret love. Novoland and the Three Realms have become desolate in present day. Only "Shang Gu"'s figure was left on the stage of heaven and earth. This time, it's her turn to wait for his return.
Yang Mi and Xu Kai Forced into Marriage in RomCom, "She and Her Perfect Husband"
Zhou Dongyu and Jackson Yee Remain Humble with Latest Wins for "Better Days" at the Hundred Flowers Awards
The novel is female centric so some fans were worried there would be a change to the storyline when the Chinese name was changed to include "Bai Jue's" name. The series is set to start filming in mid-May in Hengdian.