Earlier in April, rumors were circulating that number one trainee, Esther Yu, was quitting the show was because she had already signed up for another variety show. Her studio refuted the rumors saying her dream is still in tact. This week's "quitting rumor" was targeted on Malaysian trainee, Joey Chua (蔡卓宜).
"Youth With You 2020" Trainee, Joey Chua, Most Afraid of Lisa, Changed Perceptions of Cai Xukun After Joining Show
Esther Yu's Studio Denies Rumors She is Quitting "Youth With You 2020"
Someone started a rumor that Joey Chua was quitting the show for two reasons. They claimed: "1) Joey Chua can't keep up with the pace and is afraid of dragging down her team mates. 2) The pace of recording is getting faster and the intensity is getting stronger. Her body can't take it." This rumor also stated first round eliminated trainee, Aurora, would be coming back through the resurrection match.
Company Denies Plastic Surgery and Fake Divorce Allegations Against "Youth With You 2020" Trainee, Joey Chua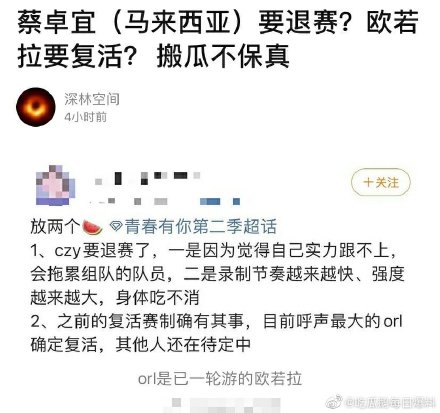 "Youth With You 2020" Trainee, Duan Xiaowei, Blasted for Passing Off Nana Komatsu's Picture as Herself
Sina Entertainment reached out to Joey Chua's management company, Mannequin Entertainment, for a response, and they denied the rumors. They stated Joey Chua "never initiated the process to withdraw nor were there any situations of her being withdrawn from the show." They also said they will investigate on how the rumor came about. The company also emphasized Joey Chua is currently working hard and putting efforts into training.
Manager of "Youth With You 2020" Trainee, Liu Yuxin, Suspended for Making Negative Comments Seemingly about Snow Kong
It wouldn't make sense for Joey Chua to quit now. Despite not being the most talented or getting a high grade from the mentors' evaluations, Joey Chua has always ranked high from netizens voting. She has managed to stay in the top 20 after the first elimination only left 60 trainees remaining.