After four weeks of competing, Malaysian trainee, Joey Chua (蔡卓宜), is growing increasingly popular on "Youth With You 2020". In the first group evaluation, she scored first place with 176 votes in her group. She ascended from F class to B class. Unfortunately, she faced a lot of criticisms when people found out she was divorced and some even said she was too old to debut as an idol as she was born in 1993. Despite all this, she was still getting very popular as many people felt she had the right look to be in a girl group. However, because this season is plagued with gossip on the trainees, there were rumors going around that Joey Chua had plastic surgery and that she isn't really divorced.
"Youth With You 2020" Trainee, Joey Chua, Most Afraid of Lisa, Changed Perceptions of Cai Xukun After Joining Show
Esther Yu's Studio Apologizes for Following CP Account Shipping Cai Xukun and Esther Yu
Some viewers might find the gossip around the trainees more entertaining than the actual show. Maybe it's jealousy or people just wanting to stir up drama. Posts were going viral about Joey Chua allegedly getting plastic surgery done. People started going full CSI mode and compared moles and body parts to prove these before pictures are allegedly of Joey Chua.
"Youth With You 2020" Hot Favorite Trainee, Snow Kong, Involved in Dating Rumors with Victor Ma and UNINE's Jia Yi
"Youth With You 2020" Trainee, Duan Xiaowei, Blasted for Passing Off Nana Komatsu's Picture as Herself
Joey Chua's fans came to her defense and showed pictures of her when she was younger, proving that she doesn't look like the "before" person.
Demo Song for "Youth With You 2020" Thematic Challenge, "No Company", Reportedly Sang By CL
Ella Chen Receives Surprise Mother's Day Gift from "Youth With You 2020" Trainees
Aside from this, there were rumors that Joey Chua and her ex-husband are still together. They suspected they had a fake divorce because he still kept their pictures on social media and continued to like a lot of her pictures after their divorce.
This is reportedly her ex-husband's account.
Joey Chua Refutes Accusations Zhao Xiaotang Bullied Her On "Youth With You 2020"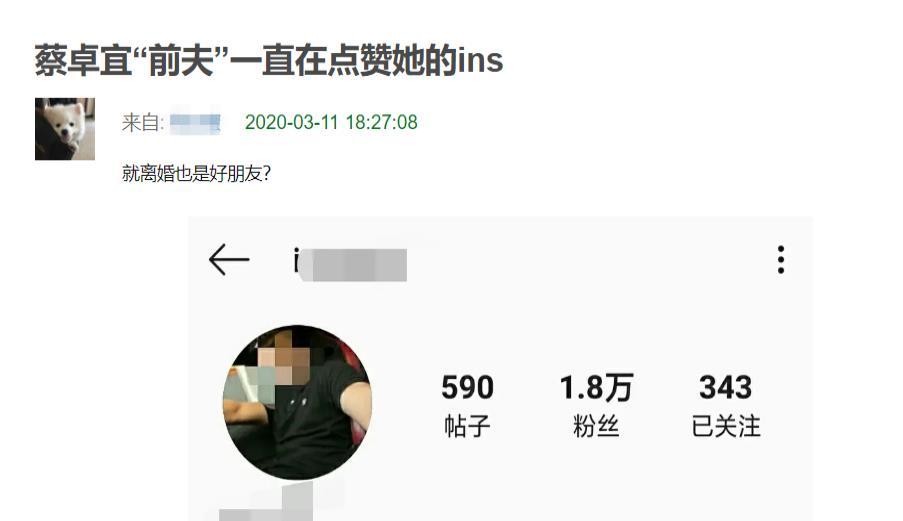 Netizens showed the same account liking a few of Joey Chua's recent pictures on Instagram. This particular picture was from March 9.
Joey Chua Shuts Down Rumors She Faked Her Divorce Once Again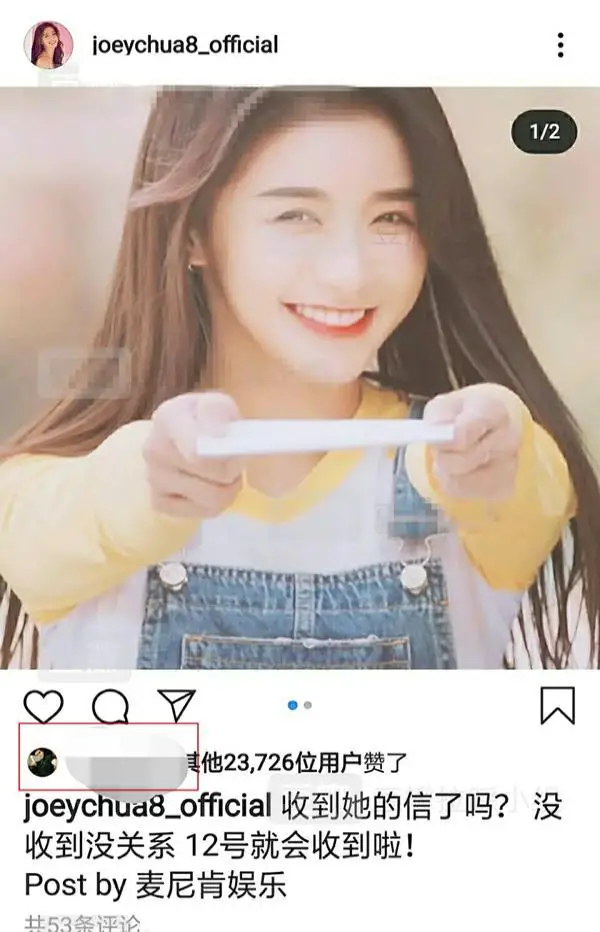 Snow Kong, Kiki Xu, Frhanm Shangguan, An Qi, and Yvonne Wang Get Candid on Their Fears, Cutest Mentor, Scariest Mentor on "Youth With You 2020"
Joey Chua's Chinese management company, Mannequin Entertainment, issued a legal statement on April 3 denying all the allegations. They stated the plastic surgery allegations circulated by Weibo users are not true and explicitly said Joey Chua is currently single. Their company reserves the right to continue to gather evidence against those who continue to defame Joey Chua's reputation and is asking the offenders to publicly apologize to her.
Youth With You 2020 Trainee, Joey Chua, Addresses Divorce and Rumors She is a Mom while Pursuing Idol Dream