It was Mother's Day on May 10 for most countries. While the entertainment industry in China has pretty much resumed to full operations, anyone entering the country still needs to undergo a 14 day self-quarantine process. Ella Chen of girl group, S.H.E, who serves as the vocal mentor on "Youth With You 2020", has been filming the show remotely.
Snow Kong, Kiki Xu, Frhanm Shangguan, An Qi, and Yvonne Wang Get Candid on Their Fears, Cutest Mentor, Scariest Mentor on "Youth With You 2020"
On the night of Mother's Day, she was filming the show with her trainees for their upcoming group collaboration. Ella Chen revealed she had received a surprise Mother's Day gift from her group. She wrote on Weibo:
Ella Chen Praises BLACKPINK's Lisa as a "Human Barbie"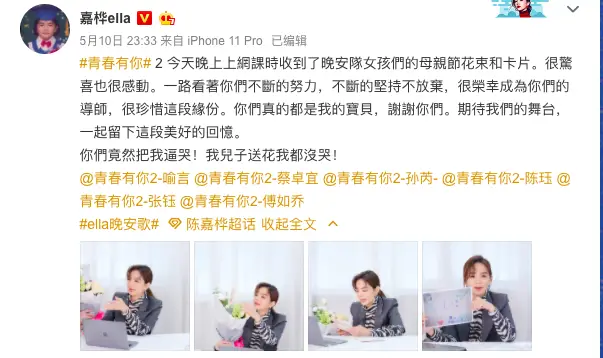 S.H.E Leaving Management Company After 17 Years, Fans Fear Disbandment
"When we had our online class tonight, I received the "Good Night" team's Mother's Day flower bouquet and card. Really surprised and touched. I've see you guys constantly working hard all along, and constantly persisting not to give up. I am very honored to be your mentor. I cherish this fate between us very much. You guys are really my babies. Thank you guys. Look forward to our stage. Let's all leave very good memories. You guys actually made me cry. I didn't even cry when my son gave me flowers!"
Demo Song for "Youth With You 2020" Thematic Challenge, "No Company", Reportedly Sang By CL
She tagged her group: Yu Yan, Joey Chua, Three (Sun Rui), Chen Jue, Zhang Yu, and Meddhi Fu
Company Denies Plastic Surgery and Fake Divorce Allegations Against "Youth With You 2020" Trainee, Joey Chua
Company and Fan Club Respond to Rumors of Inappropriate Comments "Youth With You 2020" Trainee, Yu Yan, Allegedly Made in the Past
Ella Chen's collaborative song also touched a lot of trainees as the lyrics were specifically written about her feelings towards the trainees.
Netizen Targets Death Threats at "Youth With You 2020" Trainee, Shaking Chloe