Perhaps some "fans" were stuck at home too long during the outbreak. Lately, there have been multiple Chinese celebrities issuing statements or venting out their frustrations at the behavior of sasaeng fans. On May 10, the studio of TFBOYS member, Karry Wang Junkai (王俊凯), issued a heartfelt letter telling fans to stop their irrational behavior following their idol.
TFBOYS Commemorate 6 Year Anniversary of When They Received First Award
Karry Wang Junkai's Team Shuts Down Dating Rumors With Yang Zi After Spotted Together at KTV
The statement reads:
"Extremely thankful to everyone for their continued attention and love for Mr. Karry Wang. Also thankful to every friend for their continued support and encouragement. Recently, there have been a few irrational friends following cars, chasing after cars, chasing after flight schedules, and gathering at the hotel lobby and corridor where Mr. Karry Wang is staying at. There were even occasions where people were surrounding outside his hotel room door. This type of behavior not only seriously impacts Mr. Karry Wang's regular work schedule and lifestyle, but it also severely interrupts public order.
Jolin Tsai Asks Karry Wang Junkai if it's Okay to Have an "Older Woman-Younger Man" Romance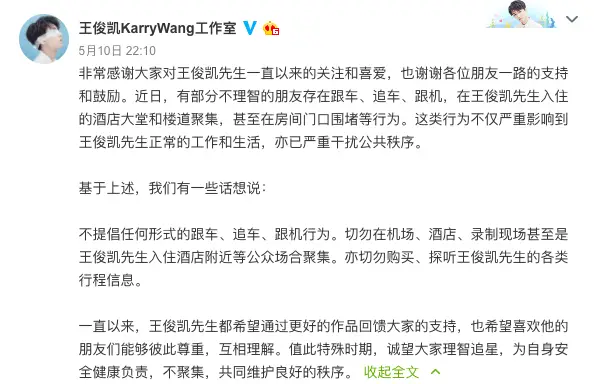 Karry Wang Junkai Holds Back Tears Talking about His Father's Sacrifices Before He Became a Celebrity
We have some words to say about the aforementioned:
We don't advocate any form of behavior involving following cars, chasing after cars, and chasing after flight schedules. Do not gather at airports, hotels, recording locations and even public locations near Mr. Karry Wang's hotel. Also, please don't buy information or listen to news regarding any of Mr. Karry Wang's various itineraries.
Karry Wang Junkai Gives High EQ Response to Plastic Surgery Rumors
Since the beginning, Mr. Karry Wang hopes to give back to everyone for their support with even better performances. He also hopes that friends who love him can mutually respect and understand each other. During this special period, he also hopes everyone can rationally chase after stars, be responsible for their own safety and health, don't gather, and jointly maintain good public order."