Even though TFBOYS are all doing their own thing right now, they are still active as a group. The group had their 6th year anniversary concert last August. They regrouped again in December for iQiyi Scream Night. TFBOYS are still really close as demonstrated when Karry Wang Junkai (王俊凯) and Roy Wang Yuan (王源) discreetly showed their support for Jackson Yee's (易烊千玺) movie, "Better Days", last October. So it was no surprise when TFBOYS commemorated their 6th anniversary of when they received their first award on stage.
TFBOYS Waited for Hours Only to Find Out Their Performance was Abruptly Canceled at the "2019 iQiyi Scream Night"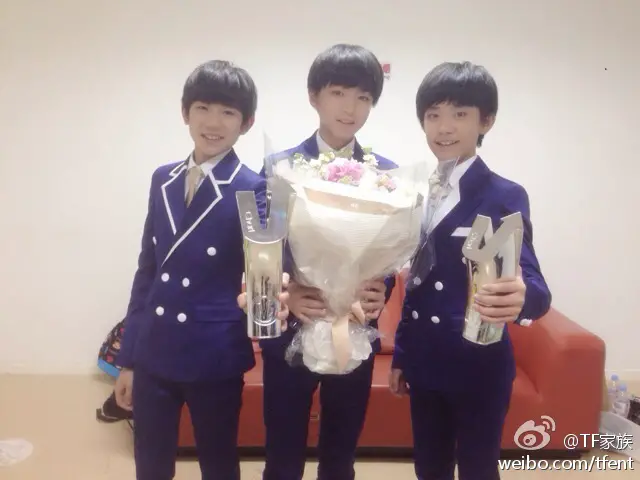 TFBOYS Fans Rejoice After Learning Karry Wang Junkai and Roy Wang Yuan Showed Support for Jackson Yi's Movie, "Better Days"

Karry Wang Junkai's Team Shuts Down Dating Rumors With Yang Zi After Spotted Together at KTV
On April 15, 2014, TFBOYS won Yinyuetai's VChart Awards for Favorite Artist (Mainland China) and Hot Trend Artist of the Year. In order to commemorate the first time they went on stage to receive an award, Karry Wang, Roy Wang, and Jackson Yi all coordinated to post at the same time with a different emoji.
Lee Kwang-soo Wants to Portray Jackson Yee's "Xiao Bei" from "Better Days"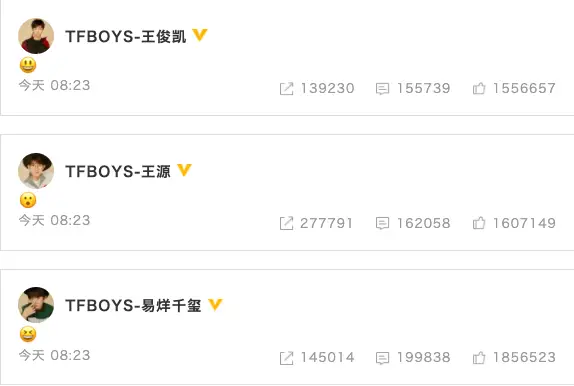 Jackson Yee Saw Bits of Himself in "Xiao Bei" from "Better Days"
The TFBOYS Weibo account also posted a message to commemorate this milestone. Their message reads:
"In the days you have accompanied us, thank you all for joining hands with us and accompanying us all along. Our rapport polished by time has weaved beautiful moments that belong to each other.
It is you guys who have always given us courage to support our dreams, letting us grow from where our dreams started.
Zhou Dongyu and Jackson Yee Remain Humble with Latest Wins for "Better Days" at the Hundred Flowers Awards
No matter how time passes, bringing you guys happiness is still our only promise. Having you guys accompany us, we won't be tired. We still have a dream to chase together. Thank you guys for protecting us day and night. The joyous shouting and cheers still lingers in our ears. Thank you guys for this first, which allowed us to advance courageously with perseverance and fearlessness, which also gave us precious memories together.
Six years isn't long. This experience is very wonderful. Six years isn't short, but the future is even further."
Karry Wang Junkai Gives High EQ Response to Plastic Surgery Rumors