It was a good year for TFBOYS' Jackson Yi (易烊千玺). His series "The Longest Day In Chang'an" (长安十二时辰) was able to overcome the government's "costume drama ban" and aired to favorable ratings. His first leading role in a movie, "Better Days" (少年的你), starring alongside Zhou Dongyu (周冬雨), was highly anticipated ever since it was announced.
TFBOYS Waited for Hours Only to Find Out Their Performance was Abruptly Canceled at the "2019 iQiyi Scream Night"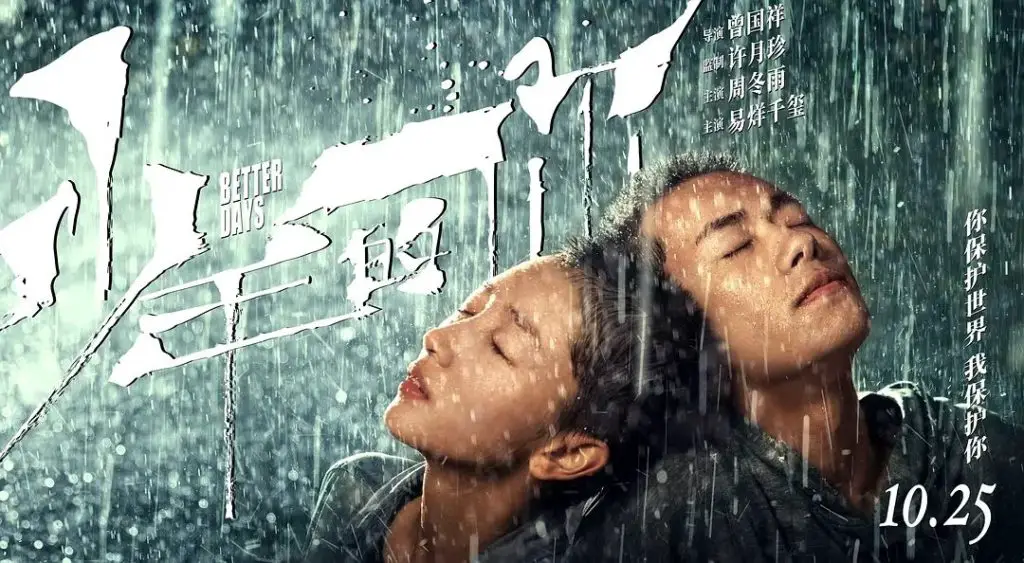 Jackson Yee Saw Bits of Himself in "Xiao Bei" from "Better Days"
The film was set to air on June 27th, but it was taken off the schedule. At the time, it was reported there were issues with the post-production work, which led to the delay of the film airing. However, it was later rumored the film was taken off the schedule due to the nature of the story involving minors committing crimes and school bullying.
TFBOYS Commemorate 6 Year Anniversary of When They Received First Award
Lee Kwang-soo Wants to Portray Jackson Yee's "Xiao Bei" from "Better Days"
The film finally aired on October 25. Jackson Yi's performance was highly praised. The pre-sales tickets already surpassed 100 million RMB in sales. Some of that box office sales is attributed to Karry Wang Junkai and Roy Wang Yuan. Fans discovered Karry Wang Junkai (王俊凱) and Roy Wang Yuan's (王源) studios had bought out two theaters for October 26 to support Jackson Yi's movie. The members did it quietly as it wasn't announced on their studios' Weibo accounts either.
Zhou Dongyu and Jackson Yee Remain Humble with Latest Wins for "Better Days" at the Hundred Flowers Awards
TFBOYS' Jackson Yi Reveals Four Qualities He Looks for in a Girlfriend
TFBOYS celebrated their 6th anniversary debut this year. In 2017, each member established their own studio, promoting as solo artists, but maintaining that the group would not disband. There has always been rumors that the members didn't get along with each other. After it was discovered Karry Wang Junkai (王俊凯) and Roy Wang Yuan (王源) supported Jackson Yi, fans rejoiced. They left comments saying, "Three people's relationship has never changed.", "Their relationship is so good.", "Good brothers supporting each other.", "Group fans are eating candy!", "TFBOYS is real!".
Zhou Dongyu Sparks Dating Rumors with Classmate After Being Spotted Together