It has been a tumultuous couple of weeks for the stars of the lite version of the "OnSum Cheating" scandal, Ashley Chu (朱智賢) and Jackson Lai (黎振燁). It seems like both partners of the cheating stars have forgiven the both of them. Ashley Chu has laid low and kept quiet since her press conference with boyfriend, Brian Tse (謝東閔), while Jackson Lai appeared with his pregnant wife in public as a doting husband.
[OnSum Cheating 2.0] Ashley Chu Admits Guilt in Press Conference with Boyfriend, Brian Tse
Jackson Lai Appears with Pregnant Wife, Says Relationship with Ashley Chu was "Not Long"
On May 11, Ashley Chu made her IG account public again and spoke up for the first time since the press conference. She uploaded an IG story with this quote: "Stop trying to calm the storm. Calm yourself. The storm will pass." The comments function is still limited.
[OnSum Cheating 2.0] Jackson Lai Reportedly Asked for Divorce from Pregnant Wife + Ashley Chu's Rumored Boyfriend, Brian Tse, Speaks Out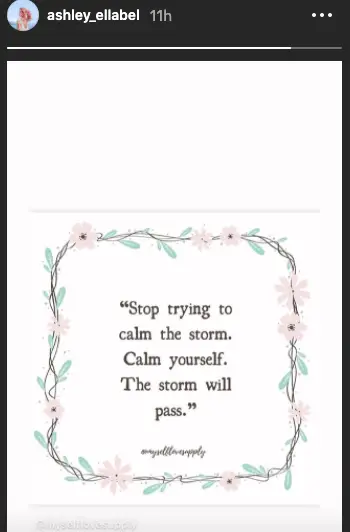 Jackson Lai and Ashley Chu Suspected of Cheating on Their Partners, Recreating "OnSum Cheating" Scandal 2.0
Almost two weeks ago, it was reported Ashley Chu would step down from her hosting duties on the program, "Scoop" (東張西望). It's rumored this suspension is only for 14 days and an observation period for things to cool down. There might be an opportunity for her to return to work. Ashley Chu was originally supposed to film a new series about boxing in May with Karl Ting (丁子朗), but she has already been replaced. As for Jackson Lai, he reportedly has a 10 year contract with TVB starting since 2016. It's uncertain how TVB will manage him going forward.
Brian Tse Immediately Contacted Joel Chan and Benjamin Yuen for Guidance After Girlfriend, Ashley Chu's Cheating Scandal
Credit: TOPick , Ashley Chu IG