DO NOT TAKE OUT OR REPOST ANY PART OF ARTICLE. DO NOT REPOST PARTS OF TRANSLATION ELSEWHERE.
iQiyi's internationally popular female idol survival show, "Youth With You 2020" (青春有你2), is in its fifth week of competition. China has only had two female idol survival competitions to date and while it can't be a true comparison, the talent pool on this show has set the bar high for Tencent's upcoming show, "Produce Camp 2020". There have been a lot of ups and downs for some of the trainees who were demoted after the first group evaluation.
"Youth With You 2020" Hot Favorite Trainee, Snow Kong, Involved in Dating Rumors with Victor Ma and UNINE's Jia Yi
Malaysian media outlet, XUAN.com, recently did an interview with Snow Kong (孔雪儿), Kiku Xu (许佳琪), Frhanm Shangguan (上官喜爱), Babymonster An Qi (安崎), and Yvonne Wang (王清). They get candid talking about their fears, dorm life, changes they've experienced since joining the show, and their cutest and most fearful mentor.
TRAINEE 18's Weibo Account Throws Shade at "Youth With You 2020" Trainee, Snow Kong
Question 1: What do you think your most popular trait is?
Kiki Xu: The contrast between being on stage and in private. I always hear everyone say when they first meet me, they feel like I am hard to get close to, that I am fearful. But I am actually very easy to get along with in private. If you take the initiative to talk to me, I will immediately open my heart. My temper is very good.
Snow Kong: I recently discovered my "not so smart look" seems pretty interesting. It's that in private, I might be a little silly. They all call me "Xue Han Han". I think there are times when I indeed don't look too smart, but it's not really saying I am not smart, it's just that sometimes this condition naturally appears.
Frhanm Shangguan: I think my most popular trait should be confidence, whether that is the case, we don't know. So it needs to be investigated.
An Qi: I think it's my stage characteristics. When I am on stage, I would have things I want to perform and show everyone. I think people who see my performance on stage would understand.
Yvonne Wang: I think in this world, there is no one who understands Xiao Wang better than "Youth Producers". So they understand what type of traits I have even better than myself.
Editor Under Fire for Showing Favoritism Towards "Youth With You 2020" Trainee, Snow Kong
THE9's Kiki Xu and 7Senses Member, Diamond, Show Off Their Tight Friendship
Question 2: What do you think your role might be in the group?
Kiki Xu: Maybe "Praising Others' Talent". When I talk sometimes, I will say whatever comes to mind, but I will first praise her. Then I would point out what she needs to change. I also have a pair of eyes that discovers beauty. I would first talk about the strong points that someone might not have discovered yet. Then I would look at her weak points.
Frhanm Shangguan: I might undertake a "nagging role". Like the type that follows you around everywhere, reminding you to bring this or prepare something…the type that attentively nags. Whatever I see, I will say it out loud.
Snow Kong: I think I match very well with Frhanm. In the group, I am the type that needs to be taken care of. There are times when I am careless. I don't particularly pay attention to every detail. Sometimes I would be forgetful. There are some areas where I need reminding. Firstly, getting out of bed is the most important. I would be tired and tend to be late. Everything else is okay.
An Qi: I might be the one who orders food, "foodie role" because I always tend to discover good food.
Yvonne Wang: Hot water role. I supervise and urge the members and staff members to drink hot water.
"Youth With You 2020" Trainee, Duan Xiaowei, Blasted for Passing Off Nana Komatsu's Picture as Herself
Esther Yu: Actress, "Youth With You 2020" Trainee…and Former Sasaeng Fan?
Question 3: Who is your study partner as a trainee and why?
Kiki Xu: My recent study partner is Eliwa Xu because we just finished recording the theme song. There was a step where we are squatting down and stroking our bodies and then rubbing our hair. Eliwa Xu also did this move during training. She said this is great and then I studied it a bit.
Snow Kong: My study partner should be our class's Theia Zheng. She is especially persistent, always think she's never tired. She can dance all the time. I feel she is especially hard working. There are times when practice is so tiring that we want to rest, but her persistence especially moves me. I really want to learn her "risk it all" energy.
Frhanm Shangguan: The partners I want to study from are Chen Jue (陈珏) and Meddhi Fu (傅如乔). The reason is they both also have that "risk it all" energy. They are both very persistent about things they don't understand, don't know how to do. They would get to the bottom of things so I've been wanting to learn this from them.
An Qi: I think everyone has some thing I want to learn from. Everyone has their strong points. I suddenly can't think of someone I want to learn from.
Yvonne Wang: That is definitely our An Qi laoshi. From the first time I saw her, she is like a little fiery pepper. She is very fiery on stage, but if you say she is a little fiery pepper, then I am a green pepper. That is, I never have any flavor so I want to learn that type of little fiery pepper feeling from her.
"Youth With You 2020" Trainee, Joey Chua, Most Afraid of Lisa, Changed Perceptions of Cai Xukun After Joining Show
Snow Kong's Company Issues Statement Condemning Rumors She was Third Party in UNINE's Jia Yi and Ex-girlfriend's Relationship
Question 4: After joining the show, have you noticed any changes in yourself?
Kiki Xu: Besides mentality, I feel a big directional change. The most important is this one type of change, that is eating! Xu Jiaqi swears before she joined the show, she didn't really eat snacks, but maybe after coming here, she discovered all the snacks are very good to eat. Afterwards, she would eat two meal boxes as a start. Before this, I didn't really eat meal boxes or rice!
Snow Kong: I feel we have become especially all-around. Everyone would help each other dye their hair, cut their hair, help with filming, putting on make-up, manicures…I feel like it's especially perfect here right now, we have everything! Everyone feels since joining the show, they learned a lot of things they previously wouldn't have contact with. It enriches us even more!
Frhanm Shangguan: The biggest change is probably the level of persistence. There is a very strong belief of this persistence. I let myself feel that I should probably work even harder.
Yvonne Wang: After joining the show, I feel the shape of my brows are the biggest change. Before joining the show, my brow shape was like Xie Sun laoshi's. It grew wildly, but right now, it's very proper.
An Qi: I don't think I've changed. Everyone who comes here will definitely become even better. There's no need to mention it.
Company Denies Plastic Surgery and Fake Divorce Allegations Against "Youth With You 2020" Trainee, Joey Chua
Esther Yu's Studio Apologizes for Following CP Account Shipping Cai Xukun and Esther Yu
Question 5: Share the most interesting story between you and your "Youth With You 2020" roommates.
Kiki Xu: Our dorm has an evaluation every week. Like which dorm is the cleanest…Our dorm would always be the first to give up. If they ever have the evaluation for "Most old-fashioned dormitory", that's us. Before we came here, there were fans who made some corny banners and we put it up. There are some corny things fans made above my bed.
Snow Kong: Our dorm has a very cute and funny Esther Yu. Our dorm room especially has a lot of things. The tables are all full. She and I once squatted on the floor in the middle of the room to eat. It was pretty funny. We would also often invent all types of different ways to cook little hotpots that are even better tasting, ways to eat the meal boxes better, ways to entertain ourselves.
Frhanm Shangguan: The happiest time on the show was the day we played a game. It was a vivid memory because it was very funny!
Yvonne Wang: It's interesting for us everyday. We might be singing, dancing, and getting pumped together in our dorms.
An Qi: When it comes to the most interesting is when a bunch of girls are all chattering it up. Everyone might be gathering together because of something that is tasty. Because we don't have cell phones, so when we film, we are all dolled up, and then we would borrow a cell phone from a staff member. A bunch of us would be taking pictures everywhere.
Ex-SpeXial member, Eden Zhao, Denies Dating "Youth With You 2020" Trainee, Esther Yu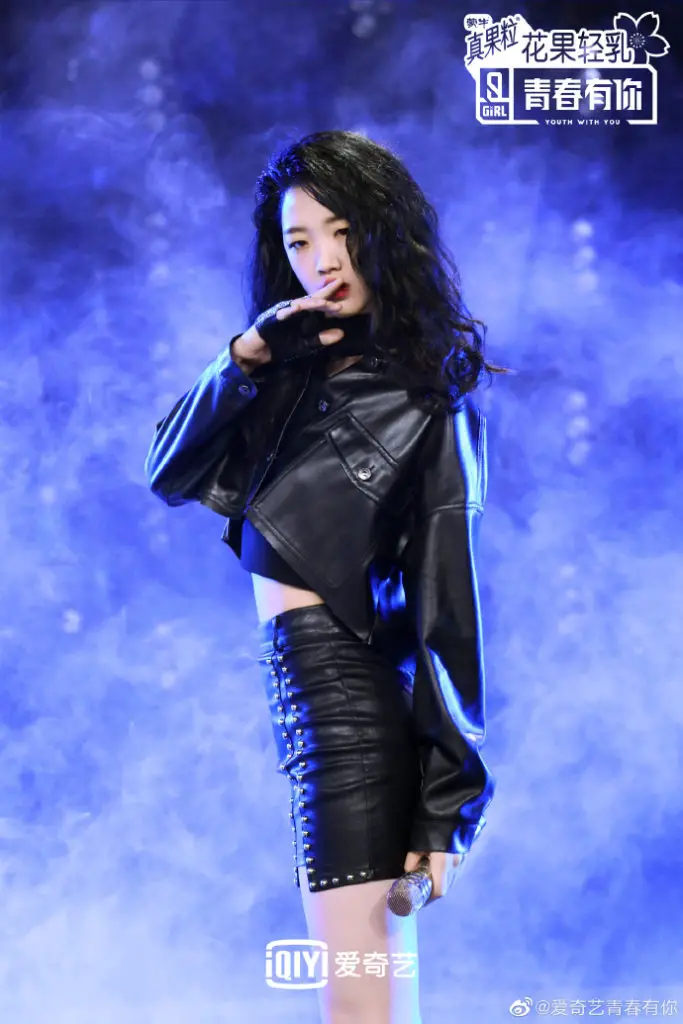 Manager of "Youth With You 2020" Trainee, Liu Yuxin, Suspended for Making Negative Comments Seemingly about Snow Kong
Question 6: What is the most impressionable moment during training?
Kiki Xu: Two days ago, our contemporary dance class ended. Our teacher wanted us to massage each other. At the time, I realized my massage skills are a little better than what I imagined. Because everyone on the show interacted for so long, so we would also massage each other during practice. Everyone's own massage techniques have progressed.
Frhanm Shangguan: I think the most interesting thing is each time we get off class, we all charge towards the cafeteria and then start racing on the path there.
Snow Kong: We have a class. Every 5 days, we have to report our performances. We've had a total of 4 reports. Everyone was still very serious the first time. We would wear our trainee uniforms to dance and then we would become more and more attentive. We started preparing all types of outfits, props, and formations. It became very amazing. It was like watching "Shake It Up" (舞林大会).
An Qi: The most impressionable thing I can think of right now is during the time of the theme song. A lot of the trainees don't have a dancing foundation. I saw the desire in them. Hard work will make people feel touched.
Yvonne Wang: After class, I would bring other trainees to dance "欢乐中国年" or "辣妹子". Bring them to combine the elements of dancing and singing together. I feel art originates from life and beyond life. So no matter what type of method to combine singing and dancing is very interesting. The most important is that we feel singing and dancing reward us with happiness and confidence.
Jony J Joining "Youth With You 2020" Sparks Backlash Due to His Previous Comments about Idols
Question 7: What are you most afraid of happening during the competition?
Kiki Xu: Slipping on stage because in order to have good effects on stage, there would be dry ice. The stage would be especially slippery. Our dance moves are big. I slipped a few times while dancing and then fell down.
Snow Kong: Getting injured during training is what I fear the most. Because getting injured will make me worry about not being able to be in my best condition. It will also delay the practice progress. I would also be very stressed. Just like the first public evaluation, I sprained my neck. At that time, training and practice required good condition. If there is a situation with your health, then you will not be able to complete your best. No way of seeing the best results. That's why you must take care of your health, especially legs, feet, and neck. Don't get injured.
Talu Wang Asks Cai Xukun to Help Send His Dance Video to Lisa
Frhanm Shangguan: What I worry about is pretty awkward things. Like contacts sliding off or fake eyelashes falling off or getting lipstick on the mic and then getting the lipstick from the mic onto your chin.
An Qi: Actually I made a new goal recently, which is I can't have any mistakes on stage. Maybe the most frightening is making mistakes!
Yvonne Wang: What I'm most afraid of is all the trainees not having hot water to drink leading to bad health. Hot water is a very important thing to trainees. If they fall because they didn't have hot water, how will they go on the battle field? That's why I think health is the most important.
Esther Yu's Studio Denies Rumors She is Quitting "Youth With You 2020"
Question 8: Which mentor is the cutest?
Snow Kong: I think it's Ella laoshi. I had one music lesson with her. I get nervous going to class. She would always console me, encourage me, and also teach me some methods. She would take off her high heels and let us touch her belly. So it feels like our distance is pretty close. Ella-laoshi is also a mom right now. It feels like she treats us like kids, very cute.
Dilraba Apologizes for Unknowingly Using Anti-Cai Xukun Meme as Birthday Greeting for Yang Mi
Ella Chen Receives Surprise Mother's Day Gift from "Youth With You 2020" Trainees
Kiki Xu: I think it's Kun PD and Lisa laoshi. They are both very gentle. Lisa laoshi gave us comments during class. Sometimes she would be very cute even when she was mad. It's when she's serious, because her face is a little meaty, then she would personally show us some steps. After we are finished with the lesson, she will stop being serious and then suddenly smile. At that moment, my heart blossomed.
Kun PD saw everyone was tired during filming. He would also joke with us and really knew how to pump up the atmosphere. He's a very gentle person.
Esther Yu's Studio Addresses Old Video of Male Actor Seemingly Touching Her Breast
Fan Chengcheng was a Fan Boy for "Youth With You 2020" Trainee, Shangguan Xiai, on Debut Night
Frhanm Shangguan: I remember there was a detail in the initial stage evaluation. After reviewing with the other mentors, Jony J laoshi said a very cute summary. Two words: The above mentioned. I thought he was very cute.
An Qi: I think it's Jony J laoshi. He normally doesn't say much. Once he talks, it feels very humorous.
Yvonne Wang: I think what "Youth With You 2020" lacks the least is interesting people. It's full of interesting souls.
Songwriter of "Youth With You 2020″ Theme Song, "YES! OK!", Chooses Kiki Xu as Her Number One Pick
Question 9: The scariest mentor? Why?
Kiki Xu: The mentors all treat us well. There actually isn't anything to be afraid of. If I had to choose then I'd be afraid of being in the same frame as them because they have nice bodies and look good.
Snow Kong: There was actually a period of time Lisa laoshi…because in the initial evaluation, she was very cute and then we interacted. She teaches very well. During the theme song stage, I might've not performed so well. One time, I attended Lisa laoshi's class. She very strictly pointed out mistakes…Actually, them being strict is actually for our own good. If I don't do well, I would feel a bit scared.
Actually there are also worries about language barriers or miscommunications.
Make Up Artist's Comparisons of Working with Liu Yuxin, Snow Kong, and Esther Yu Sparks Debate
Talu Wang Wants to Find a Girlfriend like BLACKPINK's Lisa
Franhm Shangguan: I think all the mentors are very cute. Their critiques or comments are extremely strict. They would also share some of their experiences with us. So there is no teacher who has made me feel very scared yet.
An Qi: Lisa laoshi catches all the details when it comes to dancing, pretty strict. There might be some beats to the dance that we missed. The areas where we might not pay attention to, she would notice it. She would then very seriously explain the situation and let us change it.
Liu Yuxin Gets Candid about Her Feelings and Changes Since Joining "Youth With You 2020"
Yvonne Wang: In our hearts, the mentors hold a very respected position. So it's not that we are scared, it's more of a type of respect. As for the strictest mentor, I actually think every mentor is strict in certain aspects, but I feel to us, they are still very good mentors.