Since BLACKPINK's Lisa was announced as the dance mentor for iQiyi's " Youth With You 2020″, many Chinese fans anticipated her joining the show and promoting in China. Lisa also gained a lot of new Chinese fans, including celebrities, since the show finished. One of her most vocal fanboys is Taiwanese actor, Talu Wang (王大陸). He previously mentioned he was a fan of Lisa's and wanted to find a girlfriend like her on the variety show "Not A Loner" (看我的生活).
Talu Wang Wants to Find a Girlfriend like BLACKPINK's Lisa
On the most recent episode, the cast comes up with ideas to help Talu Wang fulfill his dream of showing his admiration to Lisa. In the end, they decide on a dance video. Justin Huang Minghao (黄明昊) also joins Talu Wang to learn the dance moves to Lisa's performance of Charlie Puth's "Attention", in 5 hours.
Talu Wang's Real Girlfriend Exposed?
Crystal Zhang Clarifies Her Relationship with Talu Wang
It proves to be a difficult task for Talu Wang as this was his first dance class and he isn't much of a dancer. It's much easier for Justin Huang since he has trained for years. Justin Huang offers to help record a video of him dancing to send it to Lisa. Talu Wang asks him, "Are you going to ask Cai Xukun (蔡徐坤) for help?". Justin Huang agrees and says he's for real. Talu Wang responds, "Didn't I just dance to it before?" Justin Huang tells him he needs to dance himself this time."
THE9's Esther Yu Apologizes for Unfollowing and Re-Following Lisa on Weibo
"Youth With You 3" Trainee, Liang Sen, Shocks Lisa After She Sees Him and Then Mesmerizes Her After He Performs
After they finish the video, Justin Huang says he would help Talu Wang contact Lisa. He brings up Cai Xukun's contact info, his former NINE PERCENT bandmate. Talu Wang sends him a voice message, saying: "Gege (older brother), this is Talu. Your show, "Youth With You", is especially wonderful. I really like that show of yours. I also especially admire Lisa. I told Justin we need to dance together and send it to Lisa. Can you help me send it to her? I love her a lot."
"Youth With You 2020" Trainee, Joey Chua, Most Afraid of Lisa, Changed Perceptions of Cai Xukun After Joining Show
Ella Chen Praises BLACKPINK's Lisa as a "Human Barbie"
Cai Xukun responds back five minutes later. He says, "Hello, Talu. There is an awkward problem. I don't have her contact information." Justin Huang responds, "You're done for. He doesn't have her contact information." Talu Wang tells Cai Xukun, "It's okay, it's okay. Thank you. Thank you for your kindness." Justin Huang keeps up the positive spirit and tells Talu Wang to upload the video on Weibo. Talu Wang says, "I'm going to cry." Justin Huang says to Cai Xukun, "Thank you, take care of your health, eat more."
YG Entertainment Responds to Controversy over BLACKPINK's Close Contact with Pandas on "24/365 with BLACKPINK"
Watch Talu Wang and Justin Huang ask Cai Xukun for help
Snow Kong, Kiki Xu, Frhanm Shangguan, An Qi, and Yvonne Wang Get Candid on Their Fears, Cutest Mentor, Scariest Mentor on "Youth With You 2020"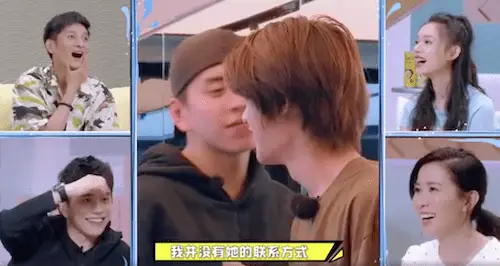 Esther Yu's Studio Apologizes for Following CP Account Shipping Cai Xukun and Esther Yu
Talu Wang expresses some hesitation to upload the video. Justin Huang and the dance instructor says he must and they come up with captions for his Weibo post. Justin Huang suggests, "I really like you." and "Marry me.", while the dance instructor says, "I like you forever." Talu Wang tells them they're crazy. The dance instructor then says Jackson Wang was also here last time and suggests he ask him to help send it to her. Justin Huang says they definitely know each other and keeps pushing Talu Wang to post it in case he backs out of it.
BLACKPINK's Lisa Explains Why She Chose Cai Xukun's "Lover" for Her Mentor's Performance on "Youth With You 3"
Talu Wang did post the dance video on his Weibo. He included the caption: "First time learning how to dance, practiced extremely hard. "Attention" dance, Lisa-laoshi please give guidance."
Watch Talu Wang dance to "Attention"
Dilraba Apologizes for Unknowingly Using Anti-Cai Xukun Meme as Birthday Greeting for Yang Mi
Youku Sets its Sights on Jay Chou, TFBOYS' Jackson Yee, Takuya Kimura, and BLACKPINK's Lisa to Headline Survival Show, "Asia Super Young"
Justin Huang reposted the video and said, "I witnessed with my own eyes the effort Talu-ge (older brother) invested into learning this dance. Lets all help him succeed in chasing after his idol." Talu Wang left a comment on his own video and tagged Justin Huang, saying, "Practicing dance moves was really hard on didi (younger brother). No matter what happens, ge tried his best."
Talu Wang's Mother Suddenly Passes Away at 65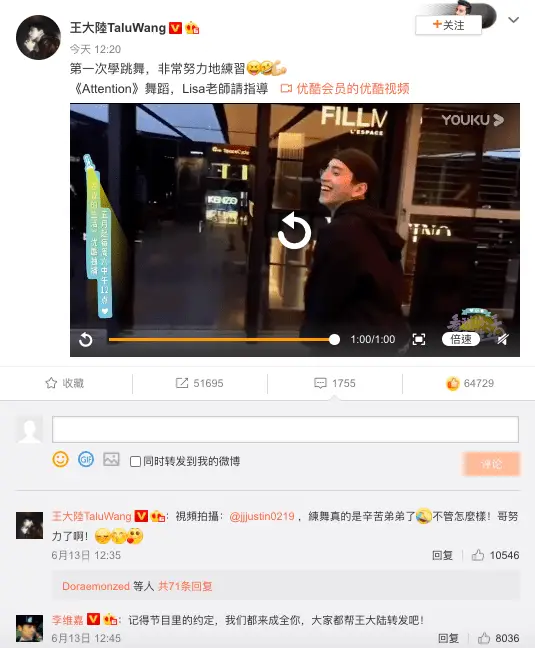 Former Management Company Granted Approval to Drop Lawsuit Against Cai Xukun, His Studio, and Credit Card Company
Host, Li Weijia (李维嘉), also left a comment saying, "Remember the agreement we had on the show. We are all here to help you succeed. Everyone, lets help Talu Wang repost it!".
None of them tagged Lisa on Weibo. Will she get to see it?