Survival show competitions are the biggest trend in China's burgeoning idol entertainment industry right now. Each of the major streaming platforms or television networks have come out with their own version of survival shows that range from idol groups, bands, solo singers, and more. The major players in this realm starts with Tencent and iQiyi, who have the most experience in this area as they have debuted six groups, with two groups that have already disbanded in NINE PERCENT and Rocket Girls 101. iQiyi debuted UNINE in 2019 and THE9 in 2020, while Tencent debuted R1SE in 2019 and BonBon Girls 303 in 2020.
BLACKPINK's Lisa Returns as Dance Mentor on "Youth With You 3"
"Youth With You 2020" Debuts 9 Member Girl Group, THE9
The other major streaming platform in China, Youku, also has experience in this realm, but hasn't come close to the success its peers have achieved. Youku debuted two boy bands, New Storm and BlackACE, in 2019 through their show, "All For One", but neither group have had much promotion.
"CHUANG 2020" Debuts 7 Member Girl Group, BonBon Girls 303
Lee Kwang-soo Wants to Portray Jackson Yee's "Xiao Bei" from "Better Days"
The second season of the show, rebranded as "We Are Young 2020", is also another boy band survival show and has a lot of familiar faces from past shows like "Idol Producer", "Youth With You", and "CHUANG 2019". While the show boasted Lay Zhang as its producer, who only appears in the show from time to time and guest mentors in Jackson Yee and Jackson Wang, it still hasn't gained as much momentum and popularity as the aforementioned shows.
YG Entertainment Responds to Controversy over BLACKPINK's Close Contact with Pandas on "24/365 with BLACKPINK"
Jackson Yee and Lay Zhang Defend "We Are Young 2020" Trainees Being Called "Hui Guo Rou"
Despite all these attempts in creating a successful idol survival show, Youku still hasn't given up. The streaming platform held a press conference on August 6 introducing new series and variety shows in their upcoming roadmap. One of the highlights of the conference was the introduction of a new idol survival show called, "Asia Super Young" (亚洲超星团), which plans to gather trainees from all over Asia and "select only the strongest from S-class trainees who will explore the three major areas: trendy music, street dance, and rap. Seven trainees that represent Asian entertainment's standards will form a group and debut."
Hannah Quinlivan Once Thought about Breaking Up with Jay Chou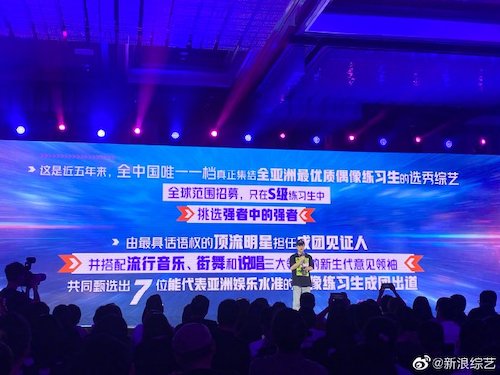 Talu Wang Asks Cai Xukun to Help Send His Dance Video to Lisa
Youku also revealed they plan on inviting Jay Chou, TFBOYS' Jackson Yee, Takuya Kimura, and BLACKPINK's Lisa as judges. The judges lineup has already gotten some fans excited, but some remain skeptical given the platform's previous track record and all the moves required to make this happen. Besides, this lineup is just a wishlist from Youku and none of the judges have been confirmed to join the show. However, Youku is a subsidiary under major Chinese multinational company, Alibaba Group, so the budget shouldn't be an issue. The show is set to air sometime in Q1 of 2021.
Zhou Dongyu and Jackson Yee Remain Humble with Latest Wins for "Better Days" at the Hundred Flowers Awards