iQiyi's female idol group show, "Youth With You 2020" (青春有你2), finally came to an end on May 30. The finale was hosted by Xie Na (谢娜) and with a special guest performance by Li Yuchun (李宇春). NINE PERCENT's Xiao Gui (小鬼) also attended on behalf of NINE PERCENT members. Most of the eliminated trainees also returned for the finale.
Joey Chua Refutes Accusations Zhao Xiaotang Bullied Her On "Youth With You 2020"
The group name is called THE9 or THE NINE. Official Weibo: https://www.weibo.com/p/1005057460268992/home?from=page_100505&mod=TAB&is_all=1#place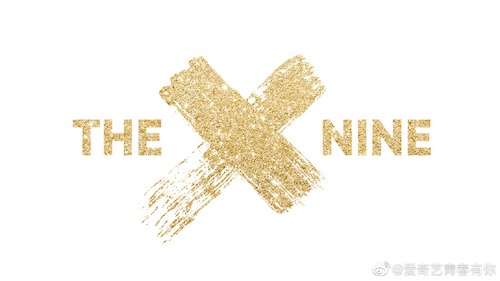 Netizens are Calling for THE9's Lu Keran and FANXY RED Member, Marco Lin's Boss, Yoon, to Join "Youth With You 3"
The live finale debuted the following top 9 members on May 30:
1. Liu Yuxin (刘雨昕) – Center
2. Esther Yu (虞书欣)
3. Kiki Xu (许佳琪)
4. Yu Yan (喻言)
5. Shaking Chloe/Xie Keyin (谢可寅)
6. Anqi (安崎)
7. Zhao Xiaotang (赵小棠)
8. Snow Kong (孔雪儿)
9. Lu Keran (陆柯燃)
"Youth With You 2020" Trainee, Joey Chua, Most Afraid of Lisa, Changed Perceptions of Cai Xukun After Joining Show
Rankings 10-20:
10. NINEONE
11. Aria Jin (金子涵)
12. Sharon Wang (王承渲)
13. Jenny Zeng (曾可妮)
14. Liu Lingzi (刘令姿)
15. Diamond (戴萌)
16.Frhanm Shangguan (上官喜爱)
17. Sun Rui (孙芮)
18. Roada Xu (徐紫茵)
19. Song Xinran (宋昕冉)
20. Flora Dai (戴燕妮)
THE9's Shaking and Snow Kong Console Xu Yiyang After Not Debuting in BonBon Girls 303
For the first time in iQiyi history, there are no Yuehua trainees in the final 9 member line up. Many netizens were also shocked at Aria Jin getting 11th place. Lu Keran came out as the dark horse in this competition. Lu Keran getting 9th place started trending higher than Liu Yuxin debuting in first.
Liu Yuxin Gets Candid about Her Feelings and Changes Since Joining "Youth With You 2020"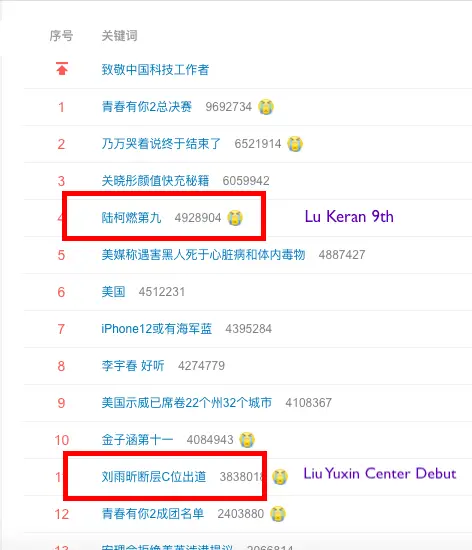 Netizen Targets Death Threats at "Youth With You 2020" Trainee, Shaking Chloe
Company and Fan Club Respond to Rumors of Inappropriate Comments "Youth With You 2020" Trainee, Yu Yan, Allegedly Made in the Past
Manager of "Youth With You 2020" Trainee, Liu Yuxin, Suspended for Making Negative Comments Seemingly about Snow Kong
Make Up Artist's Comparisons of Working with Liu Yuxin, Snow Kong, and Esther Yu Sparks Debate
Snow Kong, Kiki Xu, Frhanm Shangguan, An Qi, and Yvonne Wang Get Candid on Their Fears, Cutest Mentor, Scariest Mentor on "Youth With You 2020"
"Youth With You 2020" Hot Favorite Trainee, Snow Kong, Involved in Dating Rumors with Victor Ma and UNINE's Jia Yi
BlackACE's Vic Chen Shun and THE9's Zhao Xiaotang Deny Dating Rumors
Esther Yu Responds to Criticism about Her Slacking Off in THE9's Debut Performance
THE9 Reveals All from Dorm Room Arrangements to Most Doted On Member in First Group Event
The final two performances featured: "HUNT" (猎) and "A Little Bit". Kiki Xu and Frhanm Shangguan were chosen as the centers for "HUNT" and "A Little Bit" respectively. Unfortunately, "HUNT" trended on Weibo for the "car accident vocals." Many c-netz left comments saying the song "sounded bad."
Esther Yu Clarifies Calling Snow Kong the Face of THE9
THE9's Esther Yu, Dispels Discord Rumors with Fellow Member, Liu Yuxin
THE9's Kiki Xu and 7Senses Member, Diamond, Show Off Their Tight Friendship
It was a fierce battle for the first place as Esther Yu topped the rankings for more than half the competition until Liu Yuxin came out in first place in the last few weeks. In the end, Liu Yuxin debuted in first place and the center position with over 17 million votes. Liu Yuxin was also voted the most popular trainee with international audiences.
Dove Issues Apology for Announcing THE9's Liu Yuxin Getting First Place Before Voting Ended
THE9 Reveals Their Fandom Color, Hand Sign, Fandom Name, and Leader
The remaining trainees also performed a new ballad called, "Promise".
Demo Song for "Youth With You 2020" Thematic Challenge, "No Company", Reportedly Sang By CL
Cai Xukun PD also said his work wasn't done. He promised he would keep on looking after his "trainees" while they embark on this new journey. Lisa also left a farewell message to the show and THE9.
"Youth With You 2020" Trainees Jenny Zeng, Aria Jin, Liu Lingzi, and Flora Dai Form Supermodel Group, "172 Girls"