On the most recent episode of TVB's "Tiger Talk" to promote "Flying Tiger II" (飛虎之雷霆極戰), Kenneth Ma (馬國明), Lawrence Ng (吳啓華), Michael Wong (王敏德), and Joel Chan (陳山聰) were invited as guests. Christine Ng (伍詠薇) and Bob Lam (林盛斌) were also the hosts for this episode. Kenneth Ma and Lawrence Ng revealed some pretty interesting revelations about their experiences filming in mainland China.
Christine Ng Chooses Among Ron Ng, Bosco Wong, and Kenneth Ma to Have a One Night Stand
When the hosts asked if they've ever met "bad women", Kenneth Ma revealed that while filming in mainland China, an actress had given her room number to him and invited him to her room. He expressed, "A female actress who wasn't familiar with me really gave me her room number!" Kenneth Ma explained that he wouldn't accept the offer, "What if I go and it's a bunch of guys trying to catch me in the act. Took such an initiative, of course I wouldn't take the bait. I felt like it was to trick me more than to love me."
Kenneth Ma Reveals What Attracted Him to Roxanne Tong + Celebrities React To Their Dating News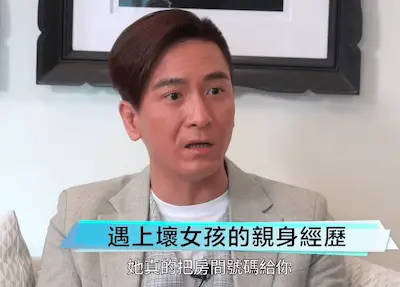 Roxanne Tong and Kenneth Ma Address Pregnancy Rumors and Jacqueline Wong's Blessings
Lawrence Ng also mentioned he's heard of stories where an A-list actress would pass her room number to every male on set, including the crew members. When asked about her looks, Lawrence Ng said she has it and expressed, "Such a bad woman to this extent. Passing it out every night. She attracts everyone. A lot of people from mainland film crews know her. I wouldn't like these type of people. I wouldn't give her any attention if she gave it to me. I know she really passes her room number to everyone in the cast and crew."
Bosco Wong and Ron Ng Says Kenneth Ma Has Gotten More Perverted Over the Years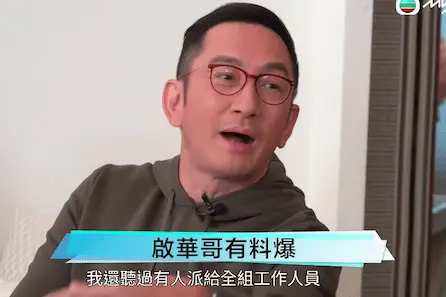 Kenneth Ma Finally Joins Instagram, Doesn't Mind Girls Sliding into His DMs
Bob Lam then asked Lawrence Wong what if the actress only gave the room number to him, he said, "Then I would consider it." Of course, names weren't given.
Roxanne Tong Addresses Marriage Rumors Between Her and Kenneth Ma
Credit: Oriental Sunday HK, myTVSuper Youtube