Even though there are only three more episodes left until the finale of "Youth With You 2020" (青春有你2), there just seems to be more drama surrounding the trainees everyday. Joey Chua (蔡卓宜), who was a hot favorite, has been posting a lot of pictures and responding to fans about her time on the show. There was some debate among netizens who thought Zhao Xiaotang (赵小棠), a fellow trainee, was bullying Joey Chua on the show.
BlackACE's Vic Chen Shun and THE9's Zhao Xiaotang Deny Dating Rumors
The accusations started when they were choosing group mates for the second public performance. When Zhao Xiaotang chose Jenny Zeng (曾可妮) as the opposing leader of Group B for "Ambush On All Sides 2", she said she already had her team mates in mind. Jenny Zeng responded, "So I never existed in your…". Zhao Xiaotang jumped in and said, "You stood up, didn't you? I can't just choose Joey Chua."
Company Denies Plastic Surgery and Fake Divorce Allegations Against "Youth With You 2020" Trainee, Joey Chua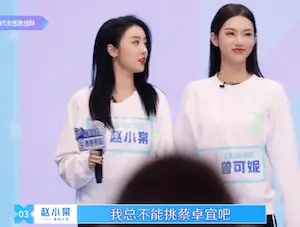 "Youth With You 2020" Trainee, Joey Chua, Most Afraid of Lisa, Changed Perceptions of Cai Xukun After Joining Show
The second incident pointed out by netizens was during Joey Chua's turn to pick a song for the second public performance. Some netizens pointed out that the international version and the Chinese version had some inconsistencies in the editing, in which the latter painted Zhao Xiaotang in a seemingly bad light. Jenny Zeng had reservations about picking Joey Chua because of the height difference that could impact the performance. Zhao Xiaotang is seen saying, "She wants to come." When Jenny Zeng chose her, Zhao Xiaotang made a comment saying, "Correct, right? Otherwise, it would be sad not being chosen by anyone." However, in the international version, Zhao Xiaotang had said, "She wants to come to this stage, why don't you choose her?" She also said Joey Chua is a vocalist to help ease Jenny Zeng's reservations on choosing Joey Chua.
"Youth With You 2020" Trainee, Duan Xiaowei, Apologizes to Nana Komatsu for Picture Scandal
Youth With You 2020 Trainee, Joey Chua, Addresses Divorce and Rumors She is a Mom while Pursuing Idol Dream
In the Chinese version, when it came to choosing her second teammate, Zhao Xiaotang said she would choose Zhang Yu because, "They have Joey Chua, we must pick someone who matches up to her." Some netizens took this as throwing shade to Joey Chua and Zhang Yu (张钰). However, in the international version, there is an additional scene showing Zhao Xiaotang explaining Zhang Yu has a jazz voice that would produce a different type of feeling. Many fans blamed the awful editing for making it seem like Zhao Xiaotang was being mean to the others.
On May 21, Joey Chua refuted the accusations that Zhao Xiaotang bullied her. She posted a bunch of pictures with other trainees from the show, including one with Zhao Xiaotang.
THE9's Zhao Xiaotang Apologizes for Putting Her Staff Members on Blast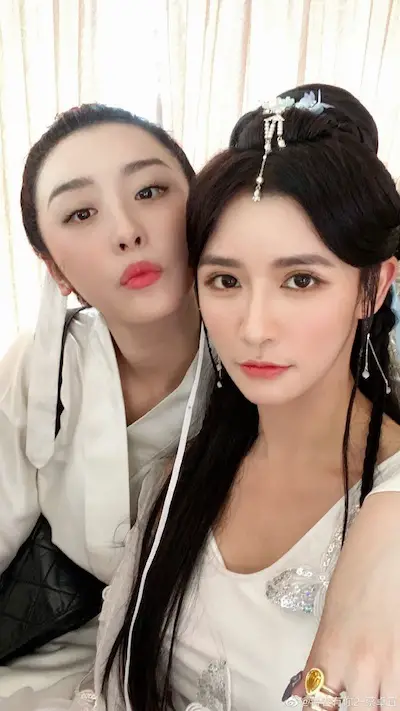 THE9's Zhao Xiaotang Talks about Being Cyber Bullied and What Made Her Cry on Debut Night
She also included this caption addressing the rumors that Zhao Xiaotang was bullying her: "I want to say right here that Zhao Xiaotang is especially good. She is really good to me. She is a very kind girl. Every time she sees me, she would smile and call my name. She would say to me each time, 'You improved a lot'. You are wonderful and your EQ is especially high. No one here dislikes her."
"Youth With You 2020" Trainee, Hana Lin Xiaozhai, Denies Cheating Allegations After Relationship with Model, Liang Jiyuan, was Exposed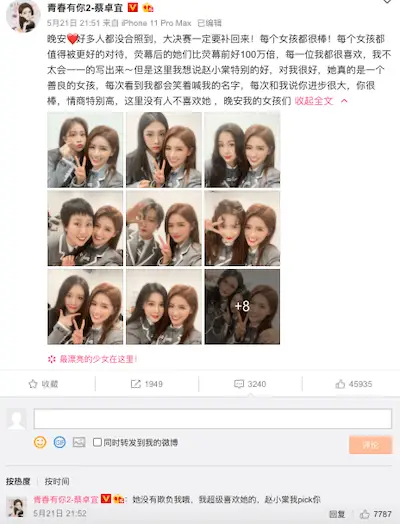 Joey Chua Shuts Down Rumors She Faked Her Divorce Once Again
She also posted this in the comments section: "She didn't bully me. I like her very much. Zhao Xiaotang, I pick you." Many fans thanked Joey Chua for sticking up for Zhao Xiaotang.
Joey Chua even uploaded a DouYin video with Zhao Xiaotang.
THE9's Zhao Xiaotang Called Out by Fan Chengcheng's Fans for Rude Behavior Against Their Idol and Calling Him Name Used by His Antis