Even though "Youth With You 2020" debuted THE9 on May 30, many fans are still having withdrawal symptoms. Many fan favorites such as Aria Jin (金子涵), Jenny Zeng (曾可妮), and Liu Liu Lingzi (刘令姿), were a few spots shy of making the top 9. After the finale, Aria Jin was trending on Weibo for ranking in 11th place. Many netizens felt it was a pity Aria Jin didn't debut with the group. Fans also called for OACA Girls members, Jenny Zeng and Liu Lingzi, to form their own "supermodel group" because of their model like figures.
"Youth With You 2020" Debuts 9 Member Girl Group, THE9
In the past few days, there were rumors going around there would be a second group formed with "Youth With You 2020" trainees. The initial rumors started with Aria Jin, Jenny Zeng, Liu Lingzi, and NINEONE, who was still in negotiation talks. The group would debut at the TMall 618 Concert on June 16, performing "YES! OK!".
THE9's Esther Yu, Dispels Discord Rumors with Fellow Member, Liu Yuxin
THE9's Kiki Xu and 7Senses Member, Diamond, Show Off Their Tight Friendship
However, the event organizer posted a picture of a four person silhouette and teased netizens with the hint "172 Girls". The earlier rumors of Aria Jin, Jenny Zeng, and Liu Lingzi attending seemed to be confirmed as they are all over 172cm. This announcement seemed to rule out NINEONE as she is 165 cm. Netizens were able to figure out the fourth person was Flora Dai (戴燕妮) based on the silhouette. TMall later confirmed the identities of "172 Girls" were Jenny Zeng, Aria Jin, Liu Lingzi, and Flora Dai.
Dove Issues Apology for Announcing THE9's Liu Yuxin Getting First Place Before Voting Ended
Fans Oppose to Justin Huang Minghao's Collaboration Track with Aria Jin to be Included in His Debut Solo Album
It's unclear how this group is operating and whether it's a limited group or just a one time performance. There were some discussions saying this group isn't managed by iQiyi and that each member's management company are working together to pool resources. TMall is running an event on Weibo until June 6, asking netizens to form a group name for the "Supermodel Girl Group".
Esther Yu Clarifies Calling Snow Kong the Face of THE9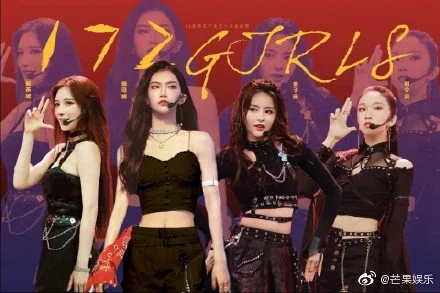 Clothing Brand Apologizes for Insulting "Youth With You 2020" Trainee, Luna Qin
Many netizens have come up with creative names such as:
金天妮刘泪了吗 (Using the characters from their names, it reads "Did you shed tears today?")
Gmelon4(4个金瓜)
ppap(3个p1个a)
4ever
4TUNE(fortune)
R·E·L·A  R(金子涵aRia)E(曾可妮jEnny)L(刘令姿Liu)A(戴燕妮florA)
TFGirls = The Four Girls
Wonder4 = Wonderful
YOLO
Oasis -four-girl(绿洲四美)
The4
Some netizens felt "172 Girls" was already a suitable name. Which one is your favorite?