"Youth With You 2020" (青春有你2) trainee, Luna Qin (秦牛正威), has been getting a lot of work opportunities since she got eliminated from the show. Aside from filming a movie with Joe Chen, she has been attending events and featured in brand campaigns. One particular brand, SLY, crossed the line when they threw shade at Luna Qin for wearing their clothes.
Timmy Xu Weizhou Denies Involvement in New Rumors with Kris Wu's Rumored Girlfriend, Luyi Luna
On June 11, the clothing brand, SLY, had posted pictures of Luna Qin wearing their clothes from a magazine shoot. In the post, they left the comment: "#QinniuZhengwei (Luna Qin's Chinese stage name), wore a light yellow dress. Whether it's the loose butterfly sleeves or the wide skirt flowing back and forth, strength also includes the fat on a girl's arms and thighs from all walks of life…" The first line is in reference to a line from the iconic "Melody" performance from "Youth With You 2020". The second line was body shaming Luna Qin from the pictures in the magazine shoot.
Kris Wu's Alleged Girlfriend Exposed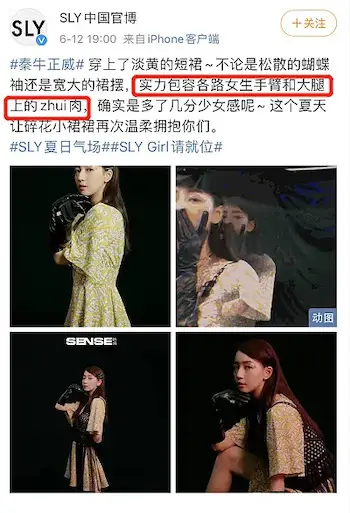 Luyi Luna Denies Dating Kris Wu + Recap of How Things Went Down
"Youth With You 2020" Trainees Jenny Zeng, Aria Jin, Liu Lingzi, and Flora Dai Form Supermodel Group, "172 Girls"
In another poster, they included the following caption: "Whether it's the past rumors with a top celebrity, dancing like a kindergarten teacher who messily jumps in, or a strong Reader with zero foundation who defeats a Rapper. This contestant successfully took a step towards strength and headed towards traffic volume. She has more dirt than pieces of work. This type of "female star" really continues to puzzle 2020." The first caption was about her rumors with Kris Wu and the next is about her "reader" performance on "Youth With You 2020".
Eliminated "Youth With You 2020" Trainee, Momo, Laments Over Expensive Hair Extension Fee iQiyi Asked Her to Pay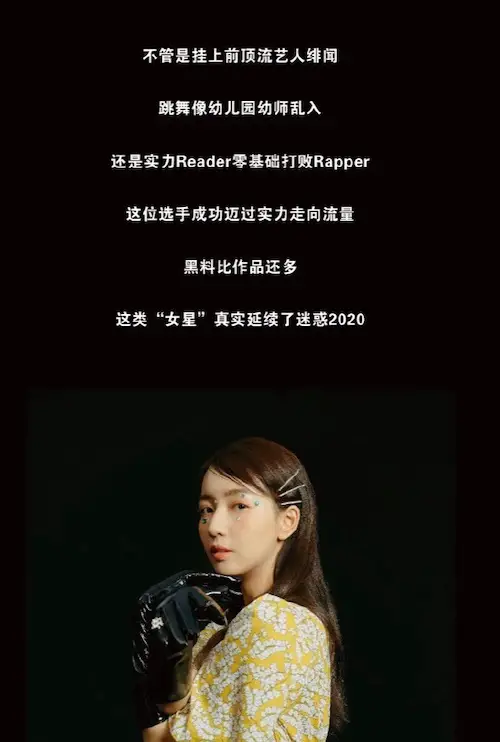 Joey Chua Refutes Accusations Zhao Xiaotang Bullied Her On "Youth With You 2020"
On June 12, Luna Qin's management company, Mars Digital Entertainment, issued a statement explaining Luna Qin was invited by a magazine for a fashion shoot. SLY has a partnership with the magazine and commissioned them to take pictures of artists wearing their clothing. They called out SLY for using their official platform to post slanderous and insulting words about Luna Qin after receiving the pictures. They also included the following:
Strongly condemn the actions of brand, SLY
Require the brand to immediately delete all related comments from the public account and issue a public apology on Weibo.
My company has already appointed a lawyer to obtain the evidence for the aforementioned behavior of the brand, will jointly take legal action with the partnering magazine, require the brand to bear their corresponding legal responsibilities.
"Youth With You 2020" Trainee, Hana Lin Xiaozhai, Denies Cheating Allegations After Relationship with Model, Liang Jiyuan, was Exposed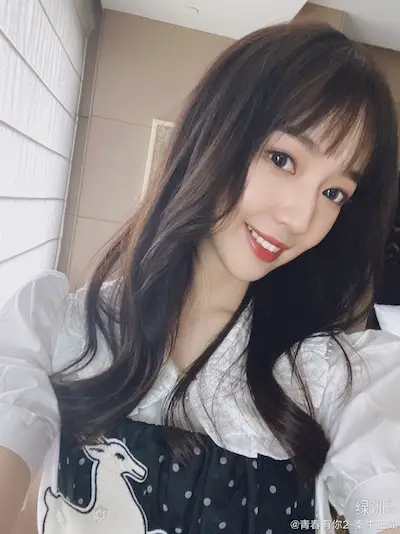 Youth With You 2020 Trainee, Joey Chua, Addresses Divorce and Rumors She is a Mom while Pursuing Idol Dream
SLY issued an apology to Luna Qin and her team on June 16. After communicating, both parties successfully reached a settlement. The employee involved with the posts was immediately suspended and "seriously dealt with". Mars Digital Entertainment reposted SLY's statement saying they accept their apology and after discussing with Luna Qin, they will donate the compensation to the China Charities Aid Foundation for Children.