Since Kris Wu (吴亦凡) left K-Pop group EXO and branched out on his own as a solo artist, he has been working non-stop to build his brand as a global Chinese superstar. While he gained fame, money, and status, he also probably lost out on other things too. Kris Wu had once revealed on Chinese variety show, "Back to Field", that he felt lonely and as he is nearing 30, he wants to find a partner. Well, Kris Wu might not be lonely any more as Chinese paparazzi caught him holding a girl's hand and bringing her home on August 30.
Kris Wu and Yang Zi Fans are Fighting Over Who Gets Top Billing for "The Golden Hairpin"
Kris Wu Reveals Why Kōki was Chosen as the Female Lead for the "Eternal Love" MV
In the video, there is a girl escorted by Kris Wu's assistant onto the car. Later, the two are seen getting off at a parking lot, seemingly in Kris Wu's home. She is seen getting off first. Kris Wu then gets off and approaches to hold her hand with their fingers interlocked. While the two are waiting for the elevator, Kris Wu seems to suspect paparazzi and tried to hide with the girl following suit.
Fans Clarify Dating Speculations between Kris Wu and Co-star, Kiko Ye
Sasaeng Fans' Conversation with Huang Zitao and Kris Wu When They Were Still EXO Members Leaked
Watch the video here: https://v.youku.com/v_show/id_XNDMzNjI4OTM4OA==.html?f=52264698
This might be the first time Kris Wu is reported to have a girlfriend. Netizens have already dug up her background and found out her name is Qinniu Zhengwei (秦牛正威). Her Weibo handle is "鹿依Luna" (Luyi Luna). She is a 21 year old student from class 2018 at the Beijing Film Academy and is classmates with fellow actors, Leo Wu Lei (吴磊) and Lareina Song Zuer (宋祖儿). Luhan's girlfriend, Guan Xiaotong (关晓彤), is also her senior classmate. She gamed some popularity after a clip of her "looking back" went viral and even got the moniker, "Looking back 'meimei'".
Luyi Luna Denies Dating Kris Wu + Recap of How Things Went Down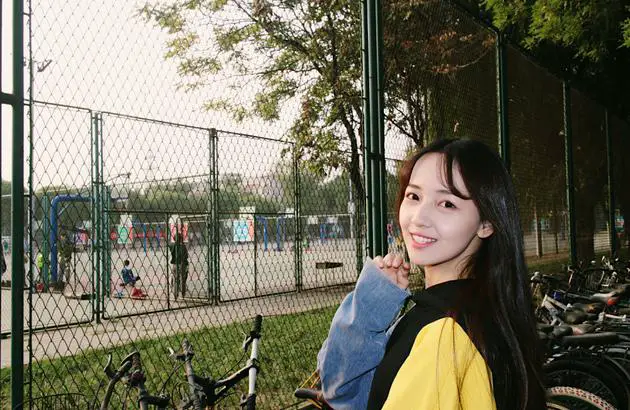 Timmy Xu Weizhou Denies Involvement in New Rumors with Kris Wu's Rumored Girlfriend, Luyi Luna
After the news of Kris Wu's relationship was exposed, netizens found a clip Qinniu Zhengwei had uploaded in June. At the end of the clip, there are a few seconds where a male voice is heard saying "Wahhh", which netizens say is Kris Wu.
Kris Wu Reveals He's Lonely and Wants to Find a Partner on "Back to Field"
This is the clip where netizens suspect is Kris Wu's voice: http://t.cn/Ai8dwCWl?m=4410933495231420&u=1878335471
It's reported she went to his fan meeting with a friend recently and even brought a Pikachu doll to gift him. Scalpers alleged Qinniu Zhengwei bought the fan meeting tickets from them and claimed she told them "I don't want to bother my "friend". However, it's reported she was escorted to the venue by staff members. Kris Wu once brought a Pikachu doll on "The Rap of China" (中国新说唱) and said, "This time I brought a partner. I finally won't be lonely."
Did Edison Chen and Kris Wu Squash Their Beef?
Luhan Thanks Huang Zitao and Kris Wu for Helping Him Conquer His Fear of Heights
Clothing Brand Apologizes for Insulting "Youth With You 2020" Trainee, Luna Qin
Kris Wu's side hasn't responded to the news yet. Qinniu Zhengwei's team responded to Sina Entertainment saying, "It's not convenient for us to respond to personal matters."
Most fans seem genuinely happy for Kris Wu especially after his candid response on being lonely recently. Netizens also praise Qinniu Zhengwei for being pretty.