In a weird turn of events, 21 year old Beijing Film Academy student, Luyi Luna (鹿依Luna), has denied dating Kris Wu (吴亦凡). The topic was mentioned over 9 million times and immediately shot up to #1 on the Hot Search list on Weibo. On August 30, Kris Wu was caught by paparazzi holding hands with a girl in a parking lot. Ever since the video was released, lots of fans were in support of Kris Wu finally having a girlfriend and no longer being alone anymore. However, there were some fans who remained reserved and said to wait for an official announcement first.
Yang Zi and Kris Wu Reflect on Wrapping Up Filming for "The Golden Hairpin"
Majority of people were genuinely happy for Kris Wu and seemed to like his rumored girlfriend. Things took a turn for the worst when entertainment bloggers and netizens discovered some of the alleged behavior of Luyi Luna. The most severe being a recording of a video chat between Kris Wu and originally believed to be Luyi Luna. The identity of the person talking to Kris Wu wasn't confirmed as it only showed his face, while the girl's camera was black because she claimed she didn't look good that day.
Kris Wu Reveals He Wasn't Happy When He Wrote "Big Bowl Thick Noodle"
Video chat clip: http://t.cn/Ai8k002d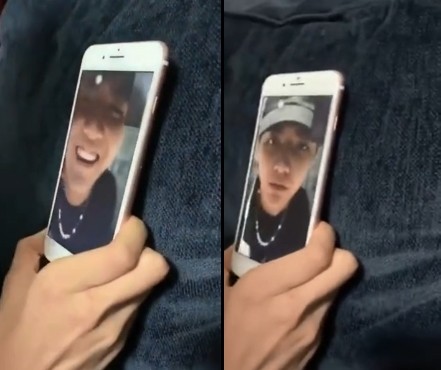 Kris Wu Reveals Why Kōki was Chosen as the Female Lead for the "Eternal Love" MV
When the video went viral, many netizens and fans started to turn on who they believed to be Luyi Luna for being calculating and having ulterior motives. In addition to the video, there was also a 58 second audio clip that was said to be between Kris Wu and Luyi Luna. Shortly after, Luyi Luna's work studio clarified the video is fake. Netizens suspect the girl in the video is actually of another film student at the Central Academy of Drama, Han Qiyuan (韩其原), who is said to be born in 2002.
Sasaeng Fans' Conversation with Huang Zitao and Kris Wu When They Were Still EXO Members Leaked
Audio clip: http://t.cn/Ai8kYgao
Timmy Xu Weizhou Denies Involvement in New Rumors with Kris Wu's Rumored Girlfriend, Luyi Luna

Kris Wu's Alleged Girlfriend Exposed
After the video recordings, all types of rumors and gossip started circulating about Luyi Luna and her motives. For instance, it was discovered she recently established a work studio account and her own super chat topic on Weibo, prior to the rumors going viral. There was an entertainment blogger claiming she was the one who actually hired the paparazzis to catch her and Kris Wu in the parking lot so she can get famous.
Fans Clarify Dating Speculations between Kris Wu and Co-star, Kiko Ye
Then someone else found a Weibo post from July claiming an internet celebrity or a D-list actress sitting in front of her was constantly chatting with Kris Wu on WeChat at one of his events. She also said this same actress was also getting chummy with Timmy Xu Weizhou (许魏洲) at the same time. This immediately started trending, but Timmy Xu Weizhou quickly came out to clarify he is not involved with the rumors. Afterwards, the entertainment blogger recanted her post saying the girl might not be Luyi Luna and the guy might not have been Timmy Xu Weizhou either.
Clothing Brand Apologizes for Insulting "Youth With You 2020" Trainee, Luna Qin
Finally, around 3PM China time on August 31, Luyi Luna uploaded a post on Weibo saying: "I've always respected Teacher Wu. No dating, no videos, no stories." So who was the girl in the video with Kris Wu?

"The Golden Hairpin" Production Crew Denies Adding More Scenes for Kris Wu, Yang Zi Responds to Top Billing Debate
Netizens found two replies from Luyi Luna to netizens seemingly admitting to her relationship with Kris Wu after the dating rumors started. One netizen had said, "It turns out gege likes angelic girls like you." The other netizen complimented Luyi Luna for being pretty and that she is like the type of angelic girl that Kris Wu says he likes. The netizen then said, "As fans, we will wish you guys the best. Please take good care of gege." Luyi Luna's response to both posts was "yes, that's right."
Kris Wu and Yang Zi Fans are Fighting Over Who Gets Top Billing for "The Golden Hairpin"