Just when netizens are still recovering from the exposure of Kris Wu's (吴亦凡) relationship with the 21 year old Beijing Film Academy student, Qinniu Zhengwei or known as "Luyi Luna" (鹿依Luna), a netizen had drummed up even more gossip about Kris Wu's rumored girlfriend. This time Timmy Xu Weizhou (许魏洲) got dragged into the mix and even trended at #1 on the Hot Search list on Weibo.
Timmy Xu Weizhou Denies Being Bullied by Zheng Shuang
Luyi Luna Denies Dating Kris Wu + Recap of How Things Went Down
This netizen claims Luyi Luna and Timmy Xu Weizhou know each other. She alleges while Luyi Luna was getting close with Kris Wu, she was also hitting on another male celebrity and has videos with him too. The netizen states the paparazzi in the parking lot were hired by Luyi Luna to force Kris Wu to admit to the relationship so she gets popular. Kris Wu is supposedly not in the know about any of this. It's already working because she had about 980,000 followers on Weibo about 9 hours ago. She's up to 1.2 million now.
Timmy Xu Weizhou Recounts Aftermath When "Addicted" was Taken Down
Netizens also dug up a Weibo post from July 21st where a fan recounted her experience attending a Kris Wu event that had Jason Statham. She detailed how there was a girl in the front who might've been an internet celebrity or a D-list actress that kept talking to Kris Wu through WeChat. While she was waiting for Kris Wu to respond, she was chatting it up with Timmy Xu Weizhou. Netizens immediately suspected Luyi Luna was the girl in the fan account.
Author Confirms "Addicted 2" is Happening, Series is Filming in Taiwan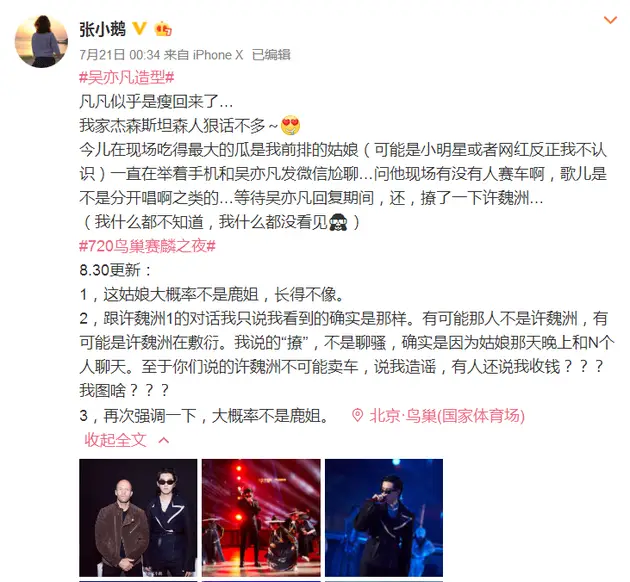 Chinese Remake of "Full House" Has Started Filming with Yang Chaoyue and Timmy Xu Weizhou
Because Timmy Xu Weizhou also likes Pikachu, just like Luyi Luna does, netizens suspect he is the male lead in this bizarre rumor between the two.
Clothing Brand Apologizes for Insulting "Youth With You 2020" Trainee, Luna Qin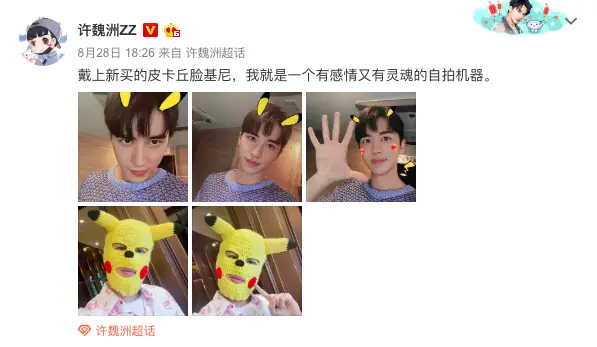 Fans Clarify Dating Speculations between Kris Wu and Co-star, Kiko Ye
Gulinazha and Timmy Xu Weizhou Star in Time Traveling Drama, "Da Tang Ming Yue"
Timmy Xu Weizhou immediately denied the rumors by posting this on Weibo, "This has nothing to do with me. I only know Pikachu!"