Back in 2016, a low budget web series called, "Addicted" (上瘾), became the catalyst that set off a trend of drama adaptations based on BL novels. The main cast consisted of new actors who had little to no prior acting experience. The series became an international hit and catapulted the two main leads, Johnny Huang Jingyu (黄景瑜) and Timmy Xu Weizhou (许魏洲), into overnight stardom. However, this was the first series of its genre to be aired in China. While it was a ratings success, before the drama finished airing on iQiyi with only three episodes left, "Addicted" was taken down from all Chinese streaming sites ordered by the NRTA due to the gay and explicit content.
Timmy Xu Weizhou Denies Involvement in New Rumors with Kris Wu's Rumored Girlfriend, Luyi Luna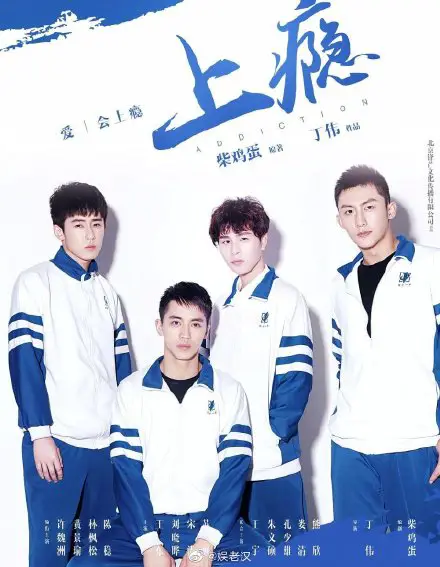 Author Confirms "Addicted 2" is Happening, Series is Filming in Taiwan
Due to the removal of the series, Johnny Huang and Timmy Xu were also banned from appearing together on television or at any event. Prior to their banning, they filmed an episode of "Happy Camp" (快乐大本营) together, but it was never aired. Their appearance on another variety show was also blurred out. When they attended the "Addicted" fan meeting in Thailand, they would be separated by bodyguards if they were in the same shot or standing together.
Chinese Remake of "Full House" Has Started Filming with Yang Chaoyue and Timmy Xu Weizhou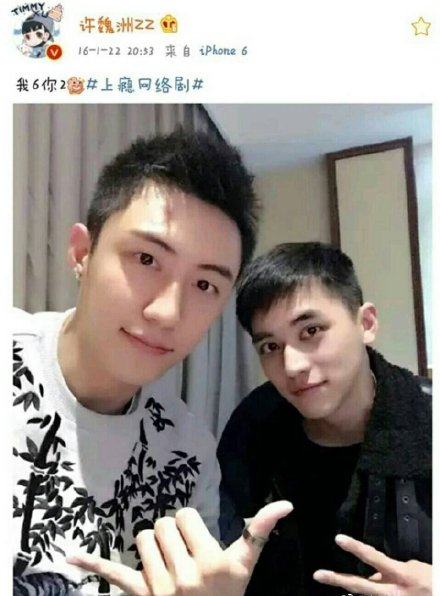 Gulinazha and Timmy Xu Weizhou Star in Time Traveling Drama, "Da Tang Ming Yue"
On the latest episode of variety show, "Let Life Look Good" (lit. 让生活好看), the group starts talking about things they can't stop thinking about and is constantly on their mind. When it came to Timmy Xu's turn, he said he doesn't have anything that he can't forget about. Zheng Shuang (郑爽) then asks him about "the series that was taken down". While she doesn't directly name it, it's assumed she's referring to "Addicted".
Tiger Hu Throws Shade at Ex-Girlfriend, Zheng Shuang, For Her Comments about Shanghainese Men
Timmy Xu candidly talks about the aftermath of what happened, saying, "After that incident happened, there were no other dramas. No other drama came to look for me. There was a period of time, the impact was especially big. Why did I need to ride such a big roller coaster, I was riding at the top and then dropped all the way to the bottom. When I debuted, I was a normal person. My heart was completely unprepared. For one month, I was basically at home. I had nothing to do either. Then I said, this isn't working. I must come out and work. Whatever work there was, I would accept, but there was no work looking for me."
Johnny Huang Jingyu Issues Statement Refuting Domestic Abuse Allegations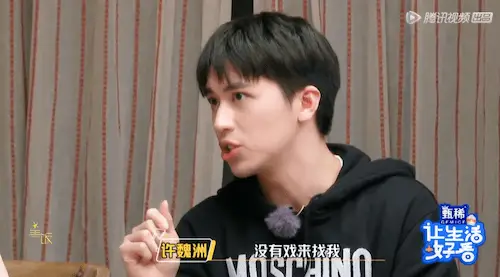 Timmy Xu Weizhou Denies Being Bullied by Zheng Shuang
Zheng Shuang then asks him, "After that happened, when did you get your first job?" Timmy Xu responds, "I made music. I released my own album by myself. In the beginning, there were no channels selling it. That's why I was very grateful at that time my fans were very supportive of me. They knew about my situation. Afterwards, I slowly started to shoot some magazines and other things. Slowly, there were dramas looking for me. So after a few years, like last year, I was filming throughout the entire year. I still have three series that haven't aired yet. Afterwards, I was already on the right path."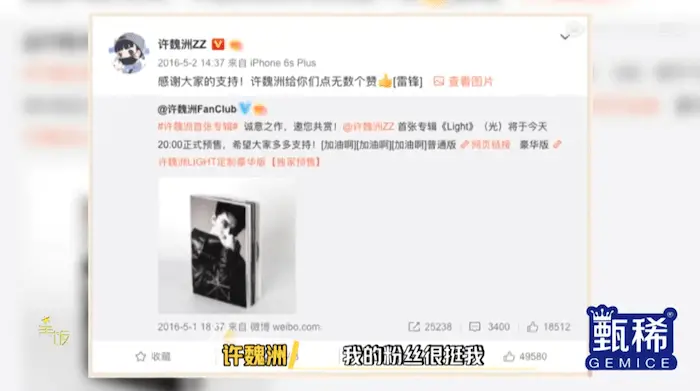 To this day, Johnny Huang and Timmy Xu still haven't worked together or been seen together in any public events. Last year, fans got excited when the author and producer behind the "Addicted" series and novel, Chai Jidan, posted a picture of filming in progress of two men in bed. When netizens asked if she was filming "Addicted 2", she responded to netizens that the second installment was a new script and filming in Taiwan.