Timmy Xu Weizhou (许魏洲) and Zheng Shuang (郑爽) are both cast members on Tencent's variety show, "Let Life Look Good" (lit. 让生活好看), which shows viewers a glimpse of a celebrity's lifestyle. Each cast member gets candid about different aspects of their lives when they're gathered together.
Timmy Xu Weizhou Recounts Aftermath When "Addicted" was Taken Down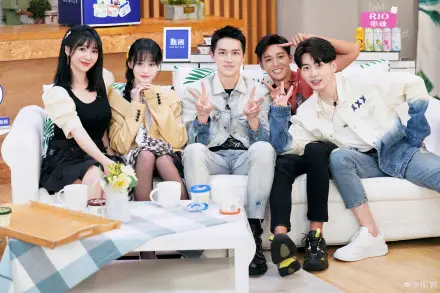 Tiger Hu Throws Shade at Ex-Girlfriend, Zheng Shuang, For Her Comments about Shanghainese Men
On episode 8, the topic of anti-fans came up and how some celebs choose to stay silent. Timmy Xu recounted he had once sued an anti-fan, who was a student, and made that person pay for damages. Afterwards, he donated the entire sum to charity and explained the person was already an adult and needed to take responsibility for their actions. Zheng Shuang agreed and said that most of these haters are students.
Gulinazha and Timmy Xu Weizhou Star in Time Traveling Drama, "Da Tang Ming Yue"
Timmy Xu then reveals that his fans are always saying Zheng Shuang is bullying him, but he never responds to them. Zheng Shuang looks a bit flabbergasted and just nods and says, "Oh." Timmy Xu explains, "There are a lot of these instances of over-analyzing things on the internet."
Timmy Xu Weizhou Denies Involvement in New Rumors with Kris Wu's Rumored Girlfriend, Luyi Luna
Zheng Shuang and Boyfriend, Zhang Heng, Rumored to Have Broke Up
Zheng Shuang responds, "It might be because everyone loves Timmy Xu so much. Timmy Xu looks so cute. Secondly, it might be because it hurts too much when I hit people." Timmy Xu then points to his wrist and says, "Actually, it doesn't hurt at all."
Yang Yang Sends Birthday Greetings to Zheng Shuang at Her Birthday Party
Zheng Shuang Reveals Reason for Her Extreme Weight Loss
Liu Yan (柳岩) then expresses that seeing them bicker like that is quite cute, especially when Timmy Xu does this reaction. Wu Jiacheng (伍嘉成) also agreed it was very cute. Zheng Shuang then jokingly says to Wu Jiacheng, "If you want to experience this type of cuteness, you can come and sit over here." Wu Jiacheng then says, "No, no, I don't think Er-jie (Second sister, referring to Zheng Shuang), will hit me."
Zheng Shuang Doesn't Want to Act in Idol Dramas Anymore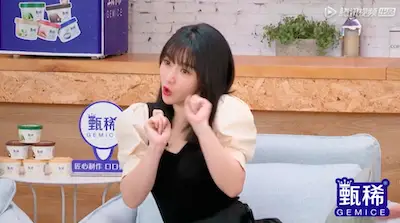 Hans Zhang's Studio Denies Rumors He is Getting Back Together with Zheng Shuang
Timmy Xu quickly responds, "No need, no need! It's better that I bear this type of love myself." Zheng Shuang then offers to let Timmy Xu hit her, which elicits a lot of confusion from the group. Timmy Xu then says, "Ok, I'll hit you. Close your eyes." Timmy Xu approaches to pat Zheng Shuang's head, but she flinches and says, "Wait a minute. Ge (older brother), I was wrong, I was wrong." Timmy Xu then gently pats her head and shakes her hand and says the two of them are even.
Zheng Shuang Shares Her Views on Marriage with Zhang Xincheng and Chen Zheyuan