Since the announcement of NINE PERCENT's farewell concert was released, many fans expressed sadness over the group disbanding due to the lack of promotions and "what could have been" for the C-Pop music scene. Even so, the show must go on. NINE PERCENT members, Cai Xukun (蔡徐坤) and Xiao Gui (小鬼) were in Macau today attending the music awards show, "2019 华人歌曲音乐盛典晚会". NINE PERCENT won the award for the Most Popular Group. Xiao Gui accepted the award on behalf of the group. UNINE, the successors of NINE PERCENT, were also on stage at the same time as they were accepting the award for Most Popular New Artist.
NINE PERCENT's Lin Yanjun and Korean Dance Choreographer, Faryoung Kim, Deny Dating Rumors
NINE PERCENT Promises to Reunite on April 6 Every Year
In Xiao Gui's acceptance speech, he expressed, "Thankful to "Hua Ge Bang" for giving NINE PERCENT this honor. I am very happy to represent NINE PERCENT to accept this award. Hope everyone will give lots of support to NINE PERCENT in the future. The nine of us will keep getting better." Xiao Gui repeated the last sentence one more time before ending his speech.
"Keep Running" Adds Cai Xukun, Sha Yi, and Guo Qilin to Season 4 Cast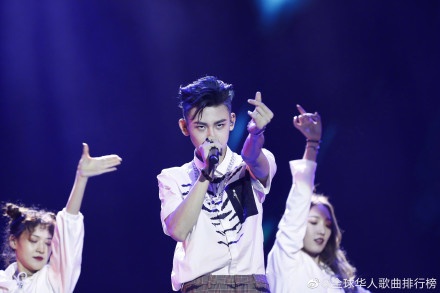 Cai Xukun's Work Studio Denies Dating Rumor with Zhou Jieqiong
The male host then asks Xiao Gui, "NINE PERCENT is a limited group. Will you guys still assemble together?" Xiao Gui responds back, "We will still have one more opportunity to assemble." The host continues being disrespectful and asks, "NINE PERCENT got the Most Popular Group award of the year. There probably won't be a chance to get this award next year, right?" Xiao Gui responds smartly saying, "I hope there will still be [a chance.]" The host then closes off saying, "Miracles can happen."
NINE PERCENT's Chen Linong Saves a Fan From Falling Like a Boss
NINE PERCENT's Wang Ziyi Denies Dating Rumors with Singer, Lexie Liu
Watch the video of Xiao Gui making the speech: http://t.cn/Ai8FJGPH?m=4411115419356816&u=1878335471
NINE PERCENT's fans, Nines, were livid with this host. He did this with UNINE was on stage while Xiao Gui was the only person there to represent NINE PERCENT. However, Xiao Gui answered eloquently. It's reported the organizers had only contacted Xiao Gui to accept the award on behalf of NINE PERCENT. Cai Xukun wasn't notified by the organizers of the group award, hence why Xiao Gui was the only one accepting it.
Fan Chengcheng Claps Back at Sasaeng Fans