NINE PERCENT member, Lin Yanjun (林彥俊), got himself entangled into dating rumors today with Korean dance choregrapher, Faryoung Kim, real name, Kim Hwa Young. The rumors started when a Weibo account suspected to be Faryoung Kim's, had reposted a netizen's post alleging Lin Yanjun and Faryoung Kim were dating.
NINE PERCENT Promises to Reunite on April 6 Every Year
The dating rumors alleged Faryoung Kim and Lin Yanjun have a really close relationship. Despite differences in their nationalities and language, the two have reportedly helped promote each other and reports that Faryoung Kim attended his concerts. However, it seems Faryoung Kim has collaborated with Banana Culture before, as she has promoted TANGRAM and Fu Jing (傅菁) of Rocket Girls 101 on several occasions.
NINE PERCENT's Xiao Gui is Asked if the Group will Assemble Again in front of UNINE
NINE PERCENT's Wang Ziyi Denies Dating Rumors with Singer, Lexie Liu
In addition to that, a Weibo account with the alias, "Kim Hwa Young 0212", which is suspected to be Faryoung Kim's, had reposted a netizen's post which says, "Half of Gege's home is in Korea. Fans still won't acknowledge her as their real sister in law. Kim Hwa Young is so pitiful. They also have intimate pictures. Is this considered solid?"
Cai Xukun's Work Studio Denies Dating Rumor with Zhou Jieqiong
This is the supposed "intimate" picture of Lin Yanjun and Faryoung Kim in what looks to be a dance studio with other dancers.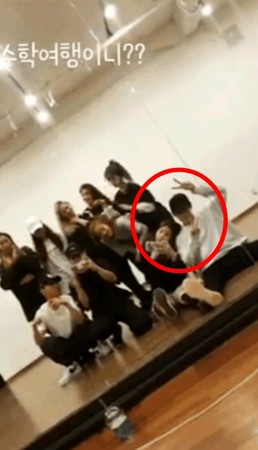 NINE PERCENT's Chen Linong Saves a Fan From Falling Like a Boss
Kim Hwa Young quelled the suspicions with an IG post saying, "I am not really good with words or one to write posts on social media, but the Chinese office suddenly contacted me. Once I woke up, I'm still thinking what happened…it turns out I was being asked if I posted on Weibo…really…what kind of weird rumors are there about Lin Yanjun and me?"
Wan Peng Falls in Love with Evan Lin Yanjun at First Sight in "Crush"
Fan Chengcheng's Co-Stars Tell Him Why He's Still Single
She goes on to explain that she has tried to use Weibo before. After registering for an account, she couldn't use it anymore because she didn't understand Chinese. She says in her post, "So how would I know how to use the repost function?" She also shows a picture of her not being able to login to her Weibo account anymore and says, "If I found out who used my account, please don't be like this anymore! Do you want to die? I can't even login now. It's probably hacked by someone."
Justin Huang Minghao Tells Fans to Keep Their Distance
Zhu Zhengting's Mother is Pressuring Him for Grandchildren
Lin Yanjun's studio also issued a legal statement clarifying the rumors aren't true. They expressed, "Mr. Lin Yanjun and Ms. Kim Hwa Young are colleagues. Aside from work, they don't have any contact or interactions. Any type of information related to dating are malicious fabrications."