Chinese idol, Zhu Zhengting (朱正廷), is quite busy as he is a member of Nine Percent and the leader of NEX7, both are Chinese boy bands. The 22 year old initially joined the second season of Korean survival competition, "Produce 101" in 2017. After getting eliminated, he joined season one of "Idol Producer," which is regarded as the Chinese version of "Produce 101" and shot to immediate stardom. In a recent interview with NEX7, Zhu Zhengting revealed he was stressed about his mother pressuring him to have children!
Zhu Zhengting Recounts the Time Sasaengs Almost Caused His Car to Flip Over
Zhu Zhengting Warns His Sasaeng Fans and Retaliates By Posting Their Pictures
NINE PERCENT's Xiao Gui is Asked if the Group will Assemble Again in front of UNINE
NINE PERCENT Disbandment and Farewell Concert Confirmed for October
Zhu Zhengting shyly says, "My mom wants grandchildren. We've talked about this quite a few times before. I tell her it's still too early, at least another ten years from now." Zhu Zhengting then mistakenly says, "I think men need to have a family first.", eliciting "ooh" responses from his members. He quickly corrects himself and says, "I mean men need to first have a career then start a family." His members make fun of him and says, "Son, you've grown up." Zhu Zhengting, still embarrassed, tells them to quiet down and seriously explains his thought process.
Justin Huang Minghao Tells Fans to Keep Their Distance
Yuehua Entertainment Responds to Zhu Zhengting Being Shoved by Bodyguard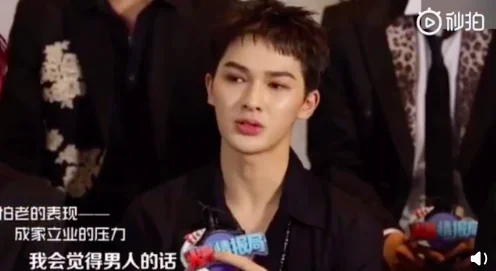 Nine Percent's Justin is Going to be a Big Brother
Nine Percent Rumored to be Disbanding Ahead of Schedule
He continues on saying, "I think men have to be capable of providing for their family. If he can't provide for his children and his woman, he shouldn't get married or consider it at all. Right now, I can't even support myself so how can I even think about falling in love, getting married, or raising children. So I think all of this is still too early to consider."
Watch the interview here: http://t.cn/EyonZEE
Credit: hk.on.cc, Zhu Zhengting Weibo