It was previously announced China is remaking popular Thai film, "Crazy Little Thing Called Love", that starred Marior Maurer and Balfern into a series. Lai Kuanlin (賴冠霖) of now disbanded K-Pop group, Wanna One, is set to appear as the male lead in the new series. On January 10th, a netizen shared a picture of Lai Kuanlin at what looked to be a table read for the series. The netizen also said Lai Kuanlin gifted the company workers with afternoon tea, melting the fans hearts.
Jerry Yan and Shen Yue Play a Couple in New Series, "Count Your Lucky Stars"
Lai Kuanlin and Xu Kai Get Up Close and Personal on "Happy Camp"
Another Actress is Rumored to be Starring in Chinese Remake of "Crazy Little Thing Called Love"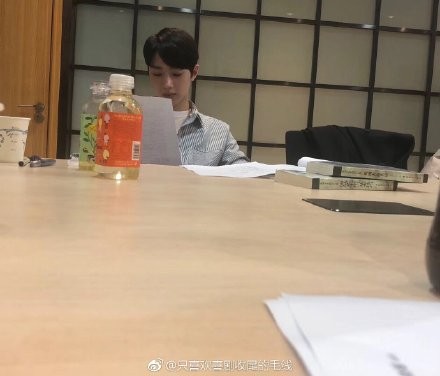 Over 500 Fans Greet Lai Kuanlin Upon His Return "Home"
Two Members Rumored to be Leaving "Keep Running"
It's reported the series will be holding an official press conference on January 13th. Based on a casting notice floating around, the English name of the series is, "A Little Thing Called First Love" (初戀那件小事). The filming start date is tentatively set for January 28th. It is rumored Shen Yue (沈月) of "Meteor Garden" fame will be the female lead.
"The Inn 2" Episode 1 Highlights: Dylan Wang Wants to Introduce Shen Yue to Philip Wu
"The Inn 2" Episode 2 Highlights: Philip Wu Gets Red Talking About Shen Yue, Myolie Wu Comes to Volunteer
"The Inn 2" Episode 4 Highlights: Shen Yue Arrives at The Inn, Dylan Wang Makes Philip Wu Jealous
Will this new on-screen couple spark the same chemistry as Shen Yue and Dylan Wang had in "Meteor Garden" or even Mario Maurer and Balfern from the original film?
Credit: ETtoday.net, Lai Kuanlin Weibo, Shen Yue Weibo