Now that iQiyi's "Youth With You 2020" has finished, all the attention is now focused on its competitor, Tencent's "CHUANG 2020" (创造营2020). The show has aired for about a month now and its popularity seems to fade in comparison to "Youth With You 2020". This year's show is quite competitive as there are only 7 debut spots and the first elimination got rid of 56 girls already. The next elimination is also coming up. So it was unfortunate when hot favorite trainee, Jiang Zhenyu (姜贞羽), would suspend filming from the show due to an injury.
["CHUANG 2020"] Joyce Chu Explains Why She Left Abruptly After Chen Zhuoxuan Called Her Out
Kris Wu, Luhan, and Huang Zitao Reminisce about Their Days As Trainees on "CHUANG 2020"
Tencent made the following announcement on June 3:
"Dear respected founders:

"CHUANG 2020″ trainee, Jiang Zhenyu, flew to Beijing today to accept treatment due to health issues. At the time being, there is no way for her to participate in the recent training classes and performance. We will continue to monitor Jiang Zhenyu's recovery and also synchronize updates to the founders at the same time. The crew, mentors, and all the trainees all wish Jiang Jiang a speedy recovery and return to her beloved stage."
Company Denies, "CHUANG 2020" Trainee, Jiang Zhenyu's Dating Rumors + Netizens Question Sex of Rumored "Boyfriend"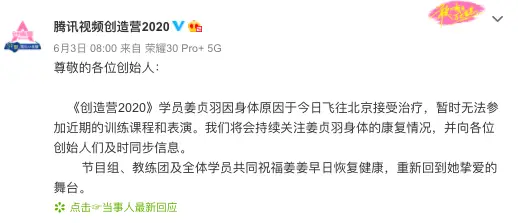 "Produce Camp 2020" Trainee, Winnie Zhong Feifei, Suffers Racial Abuse on Weibo for Her Chinese-Congolese Heritage
On June 4, Jiang Zhenyu, updated her fans on her condition:
"To my most, most important founders:

Very sudden and very sorry, but I want to give everyone an explanation.
I just returned to Beijing and saw the doctor. First, let me report my safety. It's indeed true that I have some health issues. The current diagnosis is: "Cervical intervertebral disc degeneration and protrusion. Cervical curvature reflex" (This was retrieved from Google Translate), which causes compression on the nerves on my spinal cord, making me unable to train.
Huang Zitao Denies Love Confession for Anime Character was for "CHUANG 2020" Trainee, Xu Yiyang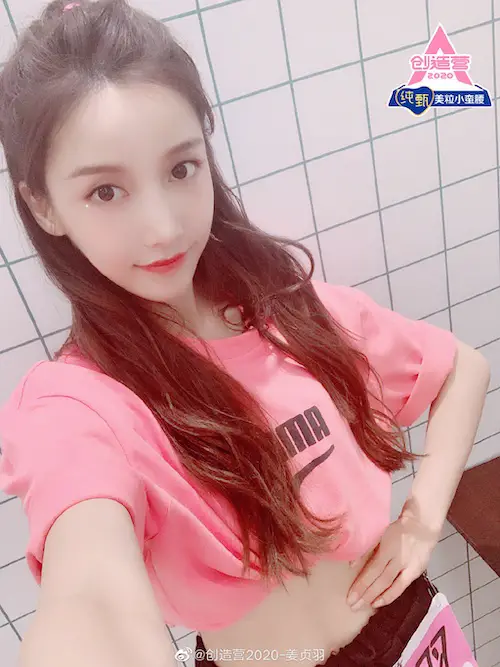 Chen Zhuoxuan Calls Out "CHUANG 2020" Sponsors for Not Using Her in Commercials
Seeing the diagnosis results, I couldn't describe what the feeling was like. I listened to a lot of doctors' scary words. I told myself I can't scare myself this time either. I can face this and accept everything that is to come.
The show's crew immediately sent me to the hospital to get examined. These past few days, I've been lying in bed and can't move. I'm still more fortunate than my companions in the camp. I ate the ice cream I've been wanting to eat at the camp, but haven't been able to eat. Ha ha ha. Actually, with my current condition and after seeing a few doctors, I've pretty much already affirmed the bad news that I guessed in my mind will happen. One person lying in bed, my brain couldn't be controlled, it started playing all the things that happened in the camp. There were a lot of times I woke up from the nervous dream. 'It turns out I didn't need to train today. It turns out I am no longer in the bed assigned to me at the castle. The Stitch doll Shu Yiling (舒一灵) left me is not by my side. The ceiling is not the castle's.' I finally became clear-headed. Two months is not long, but the meaning it has left me is already very different. I like that place…
"CHUANG 2020" Trainee, Jiang Zhenyu, Told By Doctors She Might Never Dance Again After Injury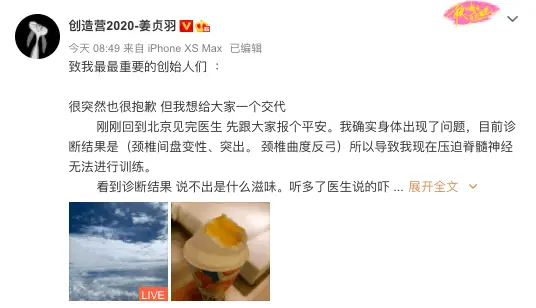 "CHUANG 2020" Trainee, Jiang Zhenyu, Withdraws from Competition
Before I left yesterday, I still received a little surprise from my companions at the camp. Even if reality is cruel, after you've gave it your best, even if there are setbacks, a bit of sweetness is still worth it.
Let me share a song I've been listening to. There are definitely people who will know what I am talking about. Haha.
"CHUANG 2020" Debuts 7 Member Girl Group, BonBon Girls 303
"… …
Don't say cannot
Extremely can
A tiny and serious shock
Every identical soul
Ups and downs
There are no promises
It's this trust
Perseverance can only make it come true"
Warmth in your mind
Thankful for you saying you will wait for my return
Jiang Jiang"