If you have been following Tencent's "CHUANG 2020", you'll notice that Huang Zitao (黄子韬) is always cheering for trainee, Xu Yiyang (徐艺洋). That is because she is signed to his own management company, "L. Tao Entertainment". On Episode 8, Part II that aired on June 21, it was the male senior collaboration stage with the trainees. Xu Yiyang was the center of her group, "Miss Freak", which featured Taiwanese actor, Patrick Shih. For Xu Yiyang's look, she had pigtails. However, it was because of her pigtails, which led netizens to think that a recent post Huang Zitao made was a love confession for Xu Yiyang.
Huang Zitao Wouldn't Block His Company's Artists from Dating
THE9's Shaking and Snow Kong Console Xu Yiyang After Not Debuting in BonBon Girls 303
Back on June 11, Huang Zitao had shared a fan drawn picture of two anime characters featuring him and a female with pigtails. He left a comment under that post, saying: "Morning. Actually, if we could sit closer, have a hug, it wouldn't be a problem. It's good right now, just that the distance is a bit far." Because of this post, netizens started speculating the girl from the fan drawn picture is actually of Xu Yiyang's "Rin Tohsaka" look from "Miss Freak". Rumors about Huang Zitao and Xu Yiyang being a couple started swirling as a result of these speculations.
Huang Zitao Dedicates Post to Cheer On Xu Xiyang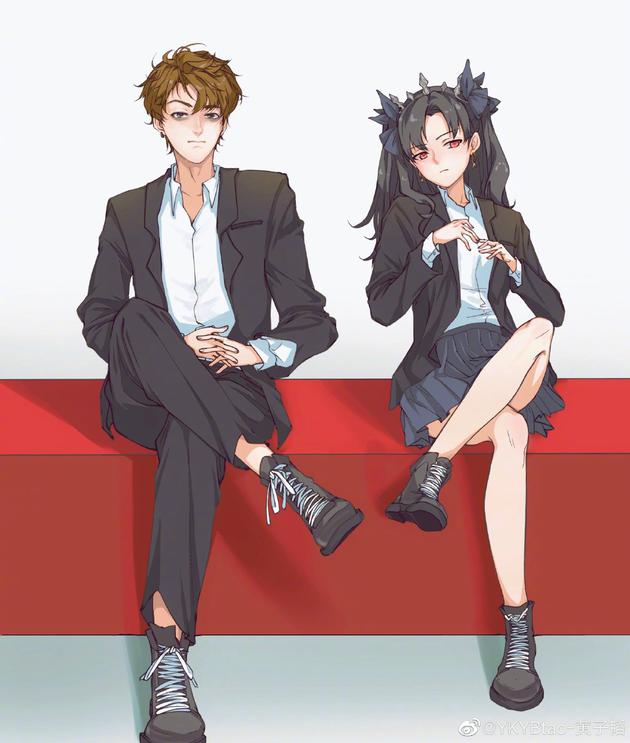 Huang Zitao and Xu Yiyang Address Their Dating Rumors Together for the First Time
On June 22, Huang Zitao released his new song, "Ice Cream". He responded to the rumors saying, "It's so hard for me to release a new song…I can't even…Brother, that girl in the picture is called "Ishtar", not "Rin". Figure it out first then come bother me. You don't even know who is who. If this isn't jumping on the bandwagon, then what is it? How do you think my "Ishtar" will feel? She will be sad, okay??? Which girl hasn't done pigtails before?"
Huang Zitao's Declaration in "No Longer a 0, I am 1" After Following Xu Yiyang on Weibo Creates Laughter Among Netizens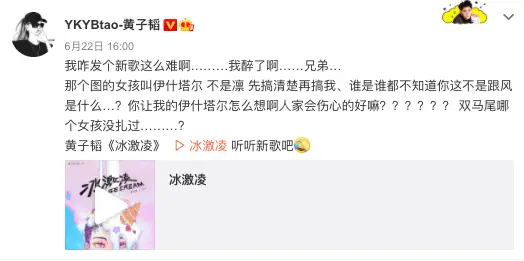 Huang Zitao Sparks Backlash for Promoting "CHUANG 2020" Trainee, Xu Yiyang, on His Social Media Accounts
Afterwards, L. Tao Entertainment also denied the rumors, saying: "Huang Zitao, President Tao of L. Tao Entertainment. Xu Yiyang, L. Tao Entertainment contracted artist. That is all. Also, thankful to each person for paying attention to L. Tao Entertainment."