The "CHUANG 2020" (创造营2020) finale is scheduled to stream live on July 4, 2020. This is the last chance for people to vote for their favorite trainees to get into the top 7 to debut in a girl group. Many celebrities have started to rally support for trainees, like Yang Mi supporting Wang Yijin and Liu Meng or Zhang Yunlong showing support for Curley Gao.
Kris Wu, Luhan, and Huang Zitao Reminisce about Their Days As Trainees on "CHUANG 2020"
Huang Zitao (黄子韬), who is one of the mentors on "CHUANG 2020", has been supporting trainee Xu Yiyang (徐艺洋), who is signed to his company, L.Tao Entertainment. He is constantly rooting for her on the show or on social media. On June 28, Huang Zitao posted a picture of Xu Yiyang on IG. They left comments on this post accusing Huang Zitao of nepotism and being unfair to the other trainees for promoting her on his personal account. Some of these comments were also on Weibo and alleged Huang Zitao and Xu Yiyang had more than just a professional relationship, which led to her getting preferential treatment on the show.
Huang Zitao Denies Love Confession for Anime Character was for "CHUANG 2020" Trainee, Xu Yiyang
Huang Zitao Comes Face to Face with "Rap For Youth" Contestant, Ty, who Made Diss Track about Him 5 Years Ago
Some netizens even went back to an older post from May 24 where Huang Zitao had introduced Xu Yiyang as an artist from his company. They also left similar comments saying he is being unfair to the other girls and for promoting her too much.
Huang Zitao Wouldn't Block His Company's Artists from Dating
Huang Zitao Stopped Watching "CHUANG 2021" and "Youth With You 3" After One Episode
The amount of posts he received on him being unfair might've prompted him to clarify Xu Yiyang is signed to his company. He also responded to another netizen that he didn't care about the haters.
Huang Zitao's Declaration in "No Longer a 0, I am 1" After Following Xu Yiyang on Weibo Creates Laughter Among Netizens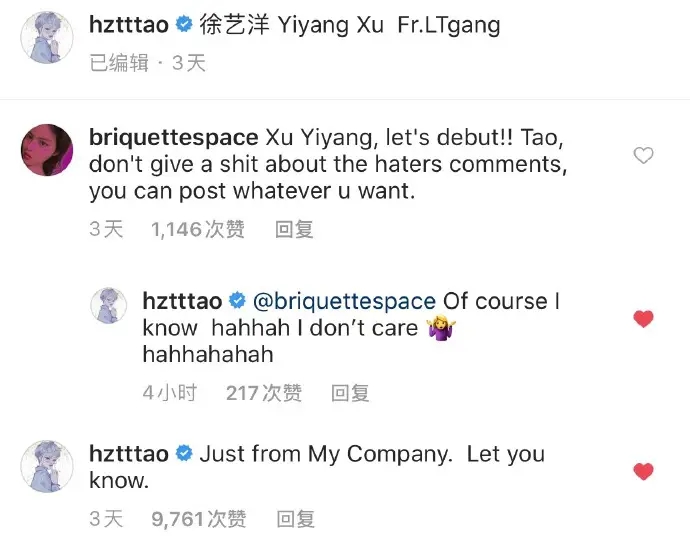 Huang Zitao Dedicates Post to Cheer On Xu Xiyang
This wouldn't be the first time netizens dragged Huang Zitao and Xu Yiyang in the news. Just last week, netizens thought he was confessing his love for Xu Yiyang when he was showing adoration for an anime character, which some people thought resembled Xu Yiyang's gothic look from the "Miss Freak" performance. L. Tao Entertainment issued a statement denying the accusations and emphasized Huang Zitao was the CEO of the company, while Xu Yiyang was an artist signed to the company.
Huang Zitao Explains Why He Still Live Streams and Stays Happy in the Wake of His Father's Passing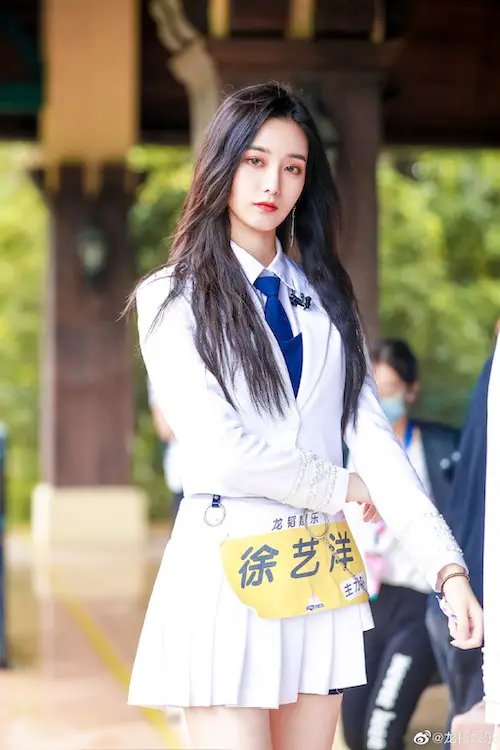 Huang Zitao Pens Post Remembering His Late Father, Huang Zhongdong
On June 30, Huang Zitao's studio reposted a legal notice issued by L. Tao Entertainment. The statement expressed there have been a lot of malicious comments on multiple social media platforms fabricating the relationship between Huang Zitao and Xu Yiyang. There were also posts alleging Xu Yiyang got preferential treatment on "CHUANG 2020" because she is Huang Zitao's employee, which were moved to major discussion forums and spread to other platforms.
THE9's Shaking and Snow Kong Console Xu Yiyang After Not Debuting in BonBon Girls 303
The company also expressed the content in those posts were false and fake news. They are also asking all those accounts, bloggers, and media platforms to delete those misleading and fake posts and to stop spreading and reposting those news. The company will continue to gather evidence on content that infringes on their artists' rights. They will also take legal action against those who continue to infringe on their artists' reputation.