Malaysian native, Joyce Chu (朱主爱), already had a considerable amount of popularity as a solo singer before joining Tencent's female idol group survival show, "CHUANG 2020" (创造营2020) or commonly known as "Produce Camp 2020". On the third episode that aired on May 17, there was a minor disagreement between Joyce Chu and fellow group mate, Chen Zhuoxuan (陈卓璇).
Sam Lin's Girlfriend, Joyce Chu, Sparks Backlash After Posting Song Cover from "We Best Love: Fighting Mr. 2nd" OST
Chen Zhuoxuan Addresses Accusations BonBon Girls 303 Blocked R1SE's Banner at the Super Novae Games
Joyce Chu and Chen Zhuoxuan are part of the same group with the former serving as the center position in the group. When the group held their review meeting, Chen Zhuoxuan called out Joyce Chu for leaving the group abruptly without informing anyone. She said, "Whether you're tired or not feeling well and want to rest first, just let everyone know. Or else everyone won't know you left, right?". Joyce Chu explains that she had told the director she was leaving first, but didn't think to let her group members know.
Chen Zhuoxuan Calls Out "CHUANG 2020" Sponsors for Not Using Her in Commercials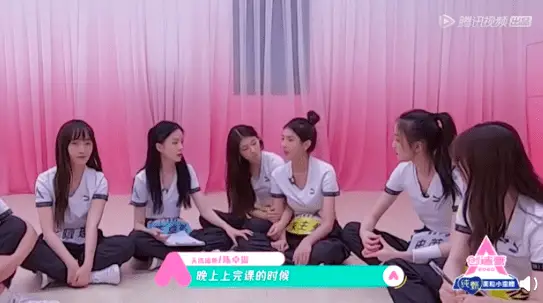 "CHUANG 2020" Debuts 7 Member Girl Group, BonBon Girls 303
Later on Joyce Chu explains that she felt a little sad about being called out. She later explained to the group that she might be slower to catch up because she doesn't have any dance experience. Joyce Chu said, "Sometimes I might need time to myself to practice. We just learned it in the middle of the night and I was tired. I haven't had enough time to absorb it either. I don't have experience and will try my best to cooperate and I've been trying hard to learn how to interact under a group setting." Joyce Chu also explains in the backstage interview that she has been operating on her own all these years and doesn't have the group mentality awareness to report her whereabouts to her members.
"Produce Camp 2020" Trainee, Winnie Zhong Feifei, Suffers Racial Abuse on Weibo for Her Chinese-Congolese Heritage
Kris Wu, Luhan, and Huang Zitao Reminisce about Their Days As Trainees on "CHUANG 2020"
In the next review meeting, Chen Zhuoxuan also reflected on herself and said that her words from the prior meeting might've been too direct and would learn to adjust it. Some netizens felt bad for Joyce Chu and felt she was wronged, while a lot of netizens felt there was nothing wrong with what Chen Zhuoxuan said and that it was just a reminder.
"CHUANG 2020" Trainee, Jiang Zhenyu, Told By Doctors She Might Never Dance Again After Injury