Taiwanese singer and actor, Sam Lin (林子閎), gained popularity after starring in the Taiwanese BL drama series, "We Best Love" (永遠的第一名), alongside his co-star, Yang Yuteng (楊宇騰) or YU. The show is currently airing its second season, "We Best Love: Fighting Mr. 2nd" (第二名的逆襲), on WeTV, which has been a huge hit amongst Chinese fans. The series has been trending numerous times on Weibo whenever an episode airs.
["CHUANG 2020"] Joyce Chu Explains Why She Left Abruptly After Chen Zhuoxuan Called Her Out
Sam Lin and YU Interlock Hands while Struggling to Answer Compatibility Questions about Each Other
On the night of March 19, Sam Lin's girlfriend, Malaysian singer, Joyce Chu (朱主爱), uploaded her song cover of Eric Chou's "Unbreakable Love", which is a song in the "Fighting Mr. 2nd" OST, on Weibo. She included the caption, "Gifting this to those who are working hard to persist in love." Fans of the series started yelling at Joyce Chu on Weibo for trying to make Sam Lin lose fans. Because of this, the hashtag "Zhu Zhu'ai (Joyce Chu) and Lin Zihong (Sam Lin)" was trending at #3 on Weibo's hot search list on March 20.
It's worth noting "Unbreakable Love" is a song from 2017 and enjoyed recent popularity again due to trainees performing the song on Tencent's survival show, "CHUANG 2021".
Ray Chang Tells Fans "We Best Love" Season 3 is in the Works
Chinese fans of Sam Lin and YU accused Joyce Chu of trying to gain clout and hype by posting her cover to the song shortly after "Fighting Mr. 2nd" was trending on Weibo. They suspect it was Joyce Chu who bought the hot search herself as they claim several yxh (marketing) accounts were using the same text in their posts defending her and blaming CP fans for being crazy and going to her Weibo to leave mean comments. Joyce Chu deleted the song cover shortly after, but fans still left comments on her other Weibo posts and Instagram.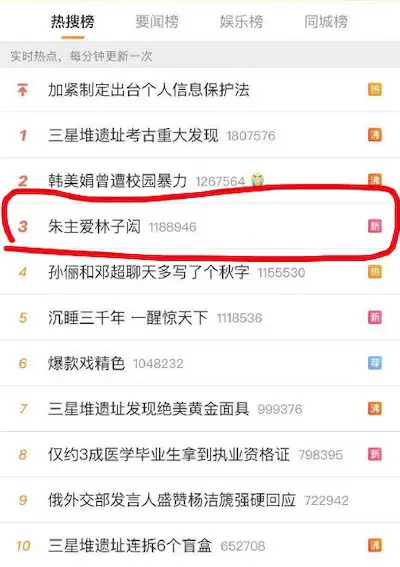 Furthermore, CP fans noticed Joyce Chu had already posted a picture of her wearing the same outfit she wore in the cover video on Instagram three days prior to the post on Weibo. They questioned why she waited to post the video three days later. This spurred on the hate messages in the comments section of the IG post below.
Sam Lin and Joyce Chu have been dating for around 3 years. Since Sam Lin became more popular because of the series, the media has pressed on about his relationship with Joyce Chu, which he has tried to avoid answering. Because of the pandemic, the two haven't been able to see each other for over a year with Joyce Chu currently working in China.