It was Yang Mi's (杨幂) 34th birthday on September 12. As per tradition, Dilraba (迪丽热巴) has been wishing her boss, Yang Mi, a happy birthday since 2014. With the exception of 2014, Dilraba's birthday posts have been issued at 12 am on the dot.
Dilraba Turned Heads in White Dress Showing Off Her Figure
Yang Yang and Dilraba Fall in Love Through Online Gaming in Drama Adaptation of "You Are My Glory"
This year, Dilraba uploaded her birthday post at 12:19 am with this meme and caption: "It's the Little Fairy Girl's birthday and still without a group photo this year. When a pretty girl and another pretty girl are together, who would take their phone out to take pictures? Love you, @Yang Mi".
Dilraba Describes Working with Johnny Huang Jingyu and Reacts to Fans Shipping Her and Viann Zhang's Characters in "Love Designer"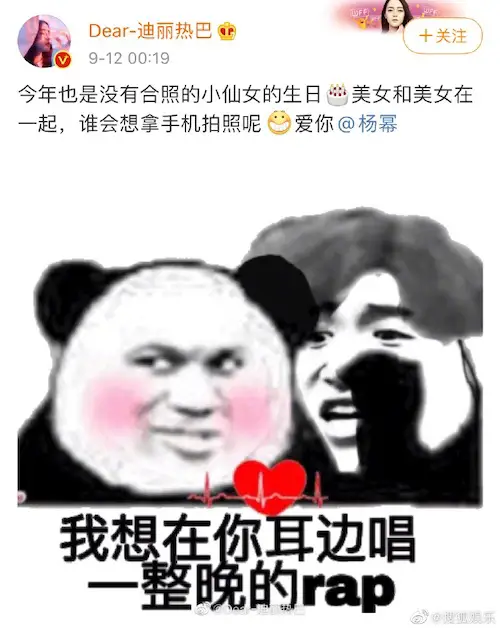 Dilraba Tells Sasaeng Fans Not to Disturb Her Parents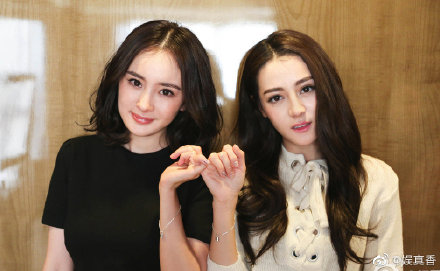 Talu Wang Asks Cai Xukun to Help Send His Dance Video to Lisa
Dilraba's post started gaining traction and eventually trended #1 on Weibo when netizens noticed the meme she used was previously used to attack Cai Xukun (蔡徐坤). His fans identified the meme based on the haircut from his "Idol Producer" days and the rap reference in the picture. The caption of the meme says, "I want to sing rap in your ear all night."
"Youth With You 2020" Trainee, Joey Chua, Most Afraid of Lisa, Changed Perceptions of Cai Xukun After Joining Show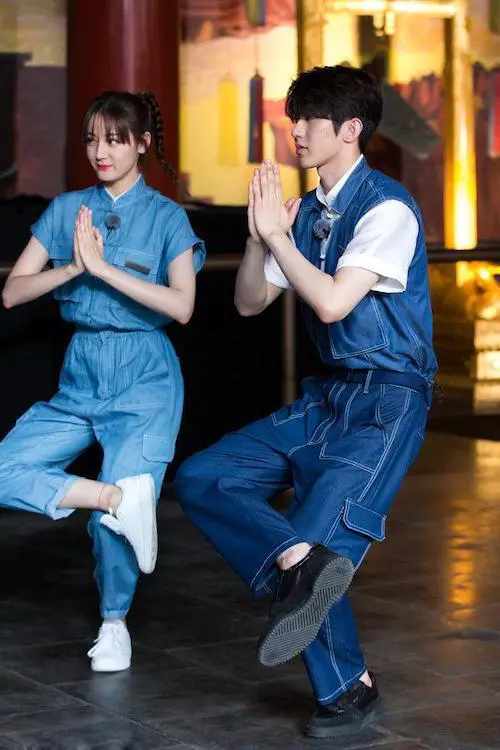 BLACKPINK's Lisa Explains Why She Chose Cai Xukun's "Lover" for Her Mentor's Performance on "Youth With You 3"
When Cai Xukun was announced as the NBA's Chinese New Year Greetings Ambassador last January, it was met with a lot of opposition by NBA fans. In retaliation, a whole mass of anti-fans used Cai Xukun's "Idol Producer" introduction video to create hate material to attack him. Those hate videos and memes were uploaded to media platform, bilibili, and went viral.
Former Management Company Granted Approval to Drop Lawsuit Against Cai Xukun, His Studio, and Credit Card Company
Yang Yang and Dilraba Explode the Internet on First Day of Filming for "You Are My Glory"
Cai Xukun had also mentioned basketball was one of his speciality in his profile for "Idol Producer". During "Youth With You 2020", THE9 member, Lu Keran also listed basketball as one of her specialties. Cai Xukun asked if she was sure she wanted to list that and explained, "I once also thought playing basketball was my speciality. I later discovered this is just my hobby."
"Idol Producer" Boys Show Support for Cai Xukun as the PD of "Youth With You 2020"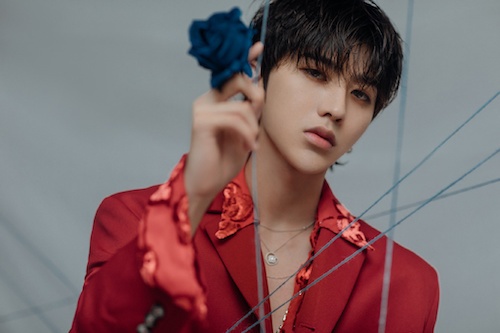 Cai Xukun's Work Studio Denies Dating Rumor with Zhou Jieqiong
After realizing her mistake, Dilraba edited the post with another gif. She also apologized in the comments of the birthday post. Dilraba wrote, "I'm stupid. I was celebrating pretty girl's birthday and created a small incident. Sorry, Xiao Cai (Cai Xukun), sorry, pretty girl."