The internet exploded on August 2 when Yang Yang (杨洋) and Dilraba (迪丽热巴) were officially announced as the leads of the drama adaptation of the novel, "You Are My Glory" (你是我的荣耀). The pairing has caused many excitement from fans especially with the novel being a fan favorite. The author of the novel, Gu Man (顾漫), was also behind Yang Yang's iconic series with Zheng Shuang, "Love O2O" (微微一笑很傾城). On September 29, Yang Yang and Dilraba officially started filming "You Are My Glory".
Yang Yang and Dilraba Fall in Love Through Online Gaming in Drama Adaptation of "You Are My Glory"
Dilraba Apologizes for Unknowingly Using Anti-Cai Xukun Meme as Birthday Greeting for Yang Mi
The official Weibo released a photo of the cast attending the blessing ceremony. They made it a point that the cast list was arranged by AGE order. This is a first as previous series had tried to avoid "The Golden Hairpin" billing controversies by listing the names by alpha order or saying the names were not in any particular order.
Vengo Gao Reveals First Kiss Scene with Dilraba was Most Memorable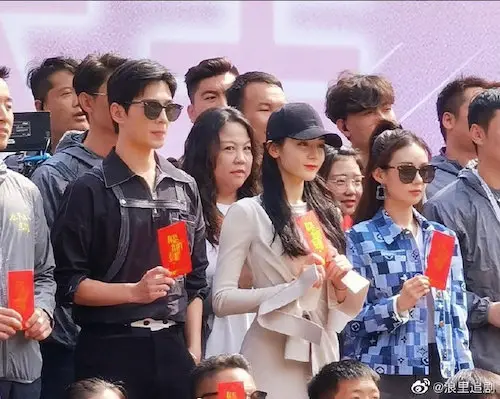 Yang Yang Sings "Love O2O's" Ending Song Once Again Since Series Aired Four Years Ago
Cast by AGE order: Pan Yueming (潘粤明) as "Guan Zai", Hu Ke (胡可) as "Ling Jie", Wang Yanlin (王彦霖) as "Zhai Liang", Yang Yang (杨洋) as "Yu Tu", Dilraba (迪丽热巴) as "Qiao Jingjing", and Zheng Hehuizi (郑合惠子)as "Pei Pei".
Fans Clarify Rumors Johnny Huang Jingyu Visited Dilraba on "You Are My Glory" Film Set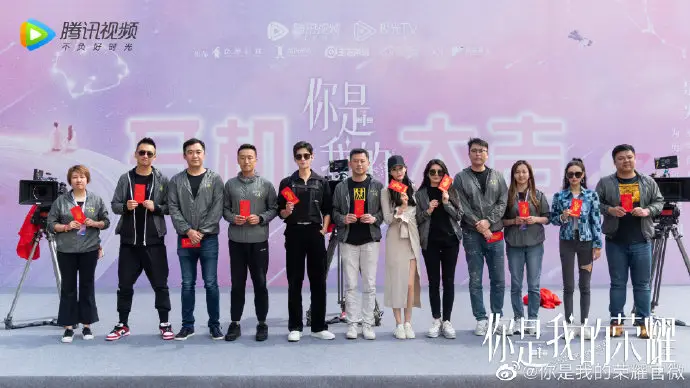 Yang Yang and Dilraba Exchange Gifts to Celebrate Wrapping Up Filming for "You Are My Glory"
Yang Yang and Dilraba also posted their character stills on their own Weibo accounts:

Yang Yang's caption reads: "#YouAreMyGloryStartsFilming You are on my path." Dilraba's caption reads: "#YouAreMyGloryStartsFilming You are above my star."
Dilraba Describes Working with Johnny Huang Jingyu and Reacts to Fans Shipping Her and Viann Zhang's Characters in "Love Designer"
Yang Yang was Asked about Filming Kiss Scenes with Dilraba and Working with Her on "You Are My Glory"
Dilraba and Yang Yang were both trending on Weibo on the first day of filming. Dilraba was trending at the first spot because she was shaking off an insect on her back. Netizens expressed varying comments such as they would protect Dilraba, Dilraba being cute, people laughing at her reaction, and more. One netizen said, "It must be because she smells too nice, which attracted the bees."
Yang Yang Sends Birthday Greetings to Zheng Shuang at Her Birthday Party
Dilraba Says She is Quite Different From Her Character, "Qiao Jingjing", from "You Are My Glory"
As for Yang Yang, he was trending in the Top 20 because he was spotted filming at Fudan University in Shanghai. Once news of Yang Yang filming there circulated, students and teachers flocked to where he was filming just to get a glimpse of him. Many netizens posted their experience of seeing Yang Yang and was full of "Yang Yang's handsomeness!!!". When a staff member asked the students why they were't going to class, a bunch of pedestrians said they could request for time off in the afternoon. A teacher who was also squatting for Yang Yang said they would approve their requests. Another netizen reported her male classmates also praised Yang Yang for being really handsome after seeing him.
Netizens Got Excited Thinking Li Qin and Yang Yang "Got Back Together" After Studio Took Down Single Statement