It was Chinese actress, Li Qin's (李沁) 30th birthday on September 27. She held a live stream celebrating it with fans. During the live stream, Li Qin made two wishes. The first wish was to unpin her single statement, "Please have the studio take down the single statement I've hung up for a long time." The second wish was, "The people who love me and the people I love can be safe and healthy."
Yang Yang and Dilraba Explode the Internet on First Day of Filming for "You Are My Glory"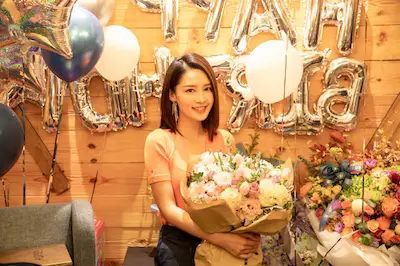 Yang Yang Sings "Love O2O's" Ending Song Once Again Since Series Aired Four Years Ago
Many netizens were shocked and thought Li Qin was no longer single. People asked who is their "brother-in law" and started suspecting it could be Yang Yang (杨洋). How did Yang Yang and Li Qin get associated each other? Back in 2010, the two debuted in the series "The Dream of Red Mansions" (红楼梦). There had been rumors Li Qin and Yang Yang were dating at the time and that Li Qin was Yang Yang's first love, which is why netizens were suspecting if they "got back together". They also had a lot of interactions on Weibo back then. However, they never addressed the rumors or admitted to dating.
Yang Yang was Asked about Filming Kiss Scenes with Dilraba and Working with Her on "You Are My Glory"
Yang Yang Claps Back at Comments Criticizing His Make-up Artist and His Eyebrows
In addition, many netizens found some similarities between Yang Yang and Li Qin's posts. On Yang Yang's 29th birthday post, he wrote, "Youngster, happy birthday". Li Qin had once left a similar birthday wish for Yang Yang saying, "Youngster, happy birthday, fly higher each time."
Yang Yang and Dilraba Fall in Love Through Online Gaming in Drama Adaptation of "You Are My Glory"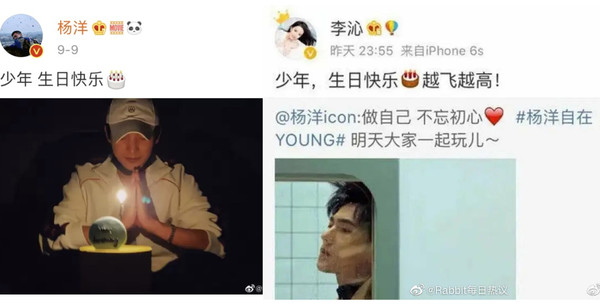 Jiang Mengjie Calls Yang Yang Her Most Long-Lasting Friend
Netizens also brought up a similar background from Yang Yang's Weibo post on Sept. 23 and Li Qin's Oasis post on Sept. 25. Fans said they were both reportedly in Dunhuang on different days working on separate projects.
Lead Director of "The Wolf", Frankie Chen, Reveals Why Talu Wang, Li Qin, and Xiao Zhan were Suitable for Their Roles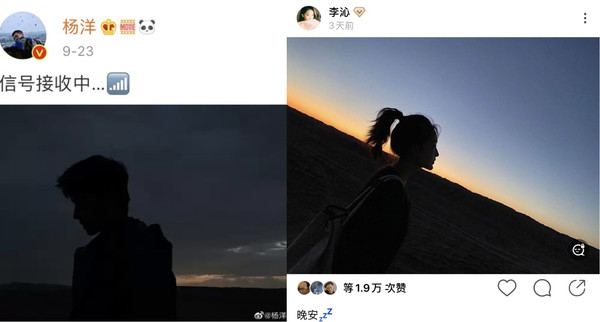 Yang Yang Opens Instagram Account and Fans are Rejoicing
However, her staff member clarified on the live stream, "Qin Qin was just hoping the studio can take down the statement. This is a wonderful wish. It's hope for taking it down. She didn't find a partner." Li Qin also responded, "You must really look at this matter like it's nothing special because I feel the next time there can be an even better pinned post. I also hope there is a good wish for me." The pinned single statement has since been taken down from Li Qin's studio.
"The Wolf" Finally Airs Three Years Later with Much Excitement from Fans Around the World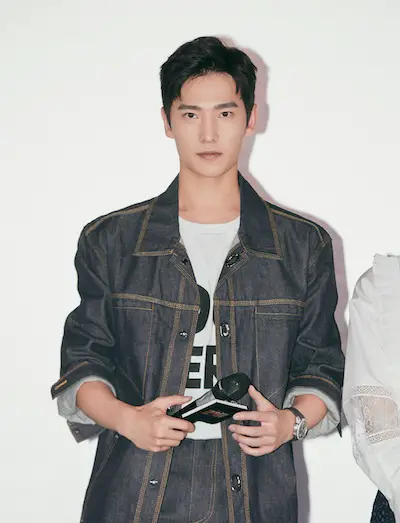 Li Qin's Kiss Scenes with Xiao Zhan and Talu Wang in "The Wolf" Trend for Similar Reasons
This just seemed to be wishful thinking from some fans and netizens. However, many of Li Qin's fans are also hoping she can find someone soon and don't think there is anything wrong if she is dating as she is 30 already.