Ding Yuxi (丁禹兮) and Yang Chaoyue (杨超越) are two of the celebrity panelists in the third season of Tencent's version of the Korean reality dating show, "Heart Signal" (心动的信号3). In the fourth episode that aired on September 29, the panelists started talking about age differences between lovers.
THE9's Esther Yu and Ding Yuxi are Bound Together for Their Love of Books in "Moonlight"
Host, Du Haitao (杜海涛), cued Ding Yuxi and asked him what was an acceptable age difference in relationships for him. He first jokingly said the largest age difference he could accept in a significant other was 60. Fellow panelist, Hans Zhang (张翰), said to him, "Young and promising fellow." The 25 year old then said around 20s to 30s. Ding Yuxi added that 40 year olds upkeep themselves very well nowadays. He is okay with a 40 year old woman depending on how well they maintain themselves.
Vivian Sung and Marcus Chang's "Lost Romance" is Drawing Comparisons to "The Romance of Tiger and Rose"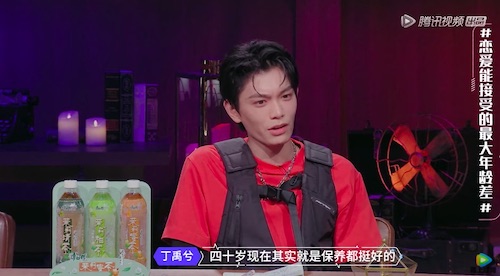 Zhao Lusi Wakes Up as Evil Second Female Lead When She Gets Trapped in Her Script in "The Romance of Tiger and Rose"
Du Haitao then told Ding Yuxi to turn to his right side, which was host, Wu Xin (吴昕), who is 37 this year. After glancing at her for a few moments, Ding Yuxi said, "I can do Xin-jie.", which elicited oohs and ahs from the other panelists. However, Ding Yuxi immediately followed it up with, "No, no! But whether Xin-jie is ok with it, you must ask her, respect her. I'm okay." Wu Xin jokingly said, "Where is that location? Book the tickets tomorrow and we'll go there." She used to think she wouldn't find someone younger than her. She can now accept someone around three years younger than her. Ding Yuxi jokingly responded, "Then I don't have hope."
Fourth Male Guest on "Heart Signal 3" Cut from the Show Due to Lewd Lifestyle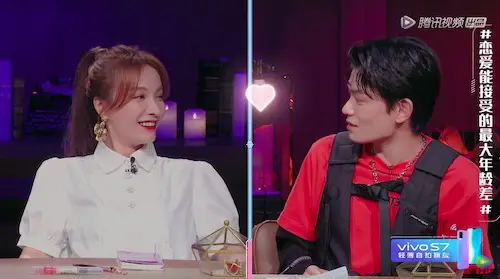 Yang Chaoyue Addresses Heated Debate Over Pack of Cigarettes Shown in Deleted Picture
With that in mind, Du Haitao changes trajectories and asks Ding Yuxi what he thinks of Yang Chaoyue, who is 3 years younger than him. After a few seconds, Yang Chaoyue asks him, "What's the matter? Is it because I don't maintain myself well enough?" Ding Yuxi says, "No, it's that…I…I can…but…When I see the expression in Chaoyue's eyes, it's like I am watching a pool of still water. There really is nothing."
Yang Chaoyue Doesn't Want to be the Female Lead Anymore
Yang Chaoyue Worried about Having a Generational Gap with "Dance of the Phoenix" Co-star, Xu Kaicheng
Du Haitao explains Ding Yuxi doesn't have feelings when looking at Yang Chaoyue. He's like a brother or even a classmate sitting next to each other. Yang Chaoyue jokes she's just the table. Ding Yuxi confirms he doesn't really have a problem with an age gap and it really depends on the feelings.
Yang Chaoyue and Wu Xuanyi Show Off Friendship After Rocket Girls 101 Disbandment
Afterwards, they asked Hans Zhang his age, which elicited a very funny "Hmph!" reaction from him. He expressed, "I am 36 this year, what's the matter?" Yang Chaoyue asks, "For real?", Hans Zhang responds, "Really. I am a '84er." Du Haitao asks Yang Chaoyue what is the biggest age limit she can accept, which she says 10 years. Du Haitao turns towards Hans Zhang and says, "Sorry, Han-ge. Sorry, sorry.", expressing that he falls out of the age gap for the 22 year old Yang Chaoyue.
Hans Zhang Went Above and Beyond to Accommodate Female Guest's Late Night Requests on "The Inn 3"
Hans Zhang's Studio Denies Rumors He is Getting Back Together with Zheng Shuang