Tencent's version of the Korean reality dating show, "Heart Signal" (心动的信号), has gone on for three seasons. The third season of the show aired on September 8. In the latest previews, the show had already teased the fourth male guest would be appearing in the upcoming fifth episode. However, on September 28, the show issued a statement saying one of their male guests had violated the show's recording and cooperation agreement. Hence, they are canceling all of this male guest's recording and content.
"Heart Signal II" CP, Chen Yichen and Zhang Tian, Put Relationship on Hold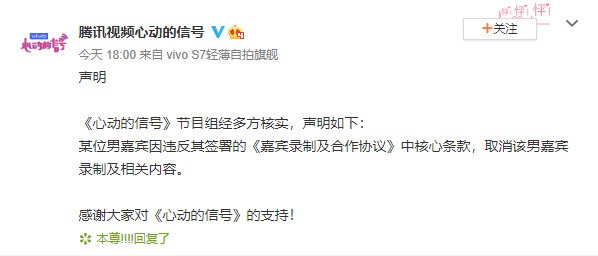 Secretly Recorded Phone Convo between "Heart Signal II" CP, Chen Yichen and Zhang Tian, Talking about Her Past Hook Ups Leaked
While the show didn't mention which guest it was, it's rumored that it's the fourth male guest especially since he hasn't appeared yet. The show took action reportedly due to the fourth male's lewd lifestyle.
According to one netizen who exposed him prior to his appearance, she introduced the fourth male as an internet celebrity and is said to have "relations" with several female internet celebrities. She later said those girls are actually his f*ck buddies and internet celebrities on Weibo.
Chen Kun Lookalike, Chen Yichen, in "Heart Signal II" is a Hit with the Ladies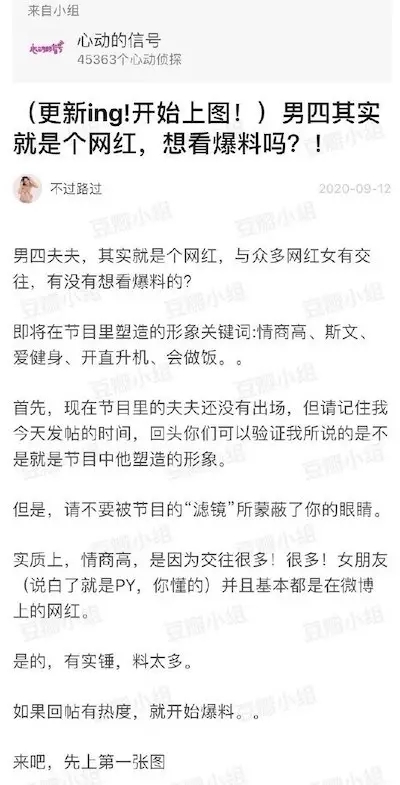 Ding Yuxi and Yang Chaoyue Reveal the Biggest Age Difference They Can Accept in Relationships
She claims the show would try to create a persona that showed him to have high EQ, reserved, likes to work out, a pilot, and knows how to cook. However, the netizen says the fourth male isn't really a pilot and the pictures he took in front of a helicopter were just during his tenure working for an airline.
In addition to these claims, it's alleged the fourth male had taken a pic of his genitalia. A netizen claims the fourth male's WeChat account originally contained the word "dick" in his profile name and has since changed on Sept. 19. Someone else also discovered his Weibo account had already been emptied of all posts.

Many netizens asked how they will proceed with the show as they have to cut him out of the future episodes. They also suggested adding a fifth male to supplement the filming and felt bad for the editor.