If you are an avid C-Drama watcher during the 2010's, you will notice there were several time traveling series. Well, it seems time traveling is a thing of the past and so 2018. It looks like the new trend in dramas is getting trapped as the heroine in a novel or a drama. Tencent's hit series, "The Romance of Tiger and Rose" (传闻中的陈芊芊), stars Zhao Lusi (赵露思), a screenwriter who wakes up as the hated second female lead of her script. The drama became a surprise hit domestically and internationally. It seems that trend has crossed the strait to Taiwan.
Zhao Lusi Wakes Up as Evil Second Female Lead When She Gets Trapped in Her Script in "The Romance of Tiger and Rose"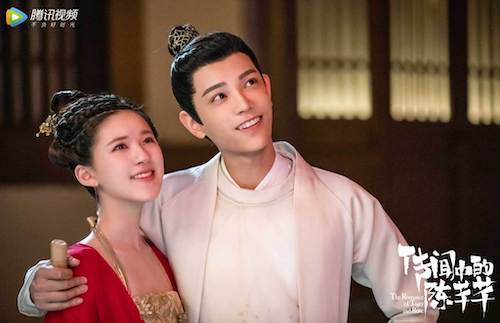 Song Weilong Gave His First On-Screen Kiss to Vivian Sung
Vivian Sung (宋芸樺) and Marcus Chang's (張立昂) new Taiwanese drama, "Lost Romance" (浪漫輸給你), uses a similar method in that Vivian Sung wakes up as a character in a modern romance novel. In the series, Vivian Sung's character is always fantasizing about a domineering CEO falling in love with her. She accidentally gets trapped in a novel called, "CEO, You Are Naughty." However, she discovers she is the evil second female lead of the romance novel. Because of this, she wants to change her fate. In the series and in the novel, Marcus Chang plays a domineering CEO.
Zhao Lusi Joins Netizens in Complaining about Her Character, "Gu Shengnan", from "Dating in the Kitchen"
Ding Yuxi and Yang Chaoyue Reveal the Biggest Age Difference They Can Accept in Relationships
This series drew a lot of comparisons to Tencent's "The Romance of Tiger and Rose", due to the similar storylines of waking up in the drama world. Zhao Lusi stars as the heroine, "Qian Qian" in "The Romance of Tiger and Rose". She wakes up as the second female lead in her script who is hated by everyone. Her betrothed husband, played by Ding Yuxi, tries to poison her on their wedding night in order to obtain a dragon bone artifact to save his life. She has to alter the storyline immediately in order to avoid her demise in three episodes. As for Vivian Sung's character, she wants to change her fate and have the domineering CEO fall in love with her. Simon Lien (晨翔) plays the second male lead by Vivian Sung's side, but is also good friends with Marcus Chang.
Zhao Lusi Claps Back at Criticisms about Her Unedited Photos
Yu Zheng Denies Referring to Zhao Lusi as a "Low EQ Actress Who Forgot Her Roots"
SETTV, the TV station behind "Lost Romance" expressed that they have been preparing for "Lost Romance" for a year, while "The Romance of Tiger and Rose" filmed from August to October 2019. The screenwriter of the series, Chen Jieying (陳潔瑩, Pinyin romanization), was also in charge of writing for "Fated to Love You" (命中注定我愛你), "Between" (三明治女孩的逆襲), and "Yong-Jiu Grocery Store" (用九柑仔店). When she wrote the script, they haven't heard of "The Romance of Tiger and Rose" yet and says there is no way they plagiarized the series. Both supporting characters are also called "Chu Chu". They explained it was derived from the idiom, "Chu Chu Kelian" (楚楚可怜).
THE9's Esther Yu and Ding Yuxi are Bound Together for Their Love of Books in "Moonlight"
Zhao Lusi Shows Disgusted Expression at a Guy Saying Cheesy Pick Up Lines to Her
Vivian Sung expressed that she really liked the script when she first read it, which is why she decided to take on the role. She said she never saw "The Romance of Tiger and Rose" so she doesn't know the similarities between the two. She also expressed the two dramas should be quite different as one is a modern series and the other a costume drama. Marcus Chang added that he believes the similarities are only between the "cross-traveling" to books. Once the audience watches, they should be able to tell the difference.
The series premieres in Taiwan on June 7 and airs on Viki for international audiences on June 9.
https://www.viki.com/tv/37191c-lost-romance