Infamous Chinese producer/director/screenwriter and celebrity, Yu Zheng (于正), made headlines again. Yu Zheng was the mastermind behind the global hit, "Story of Yanxi Palace", and the founder of Huanyu Entertainment, which manages stars like Xu Kai, Bai Lu, Song Weilong, Wu Jinyan, and more. He is often in the news for very controversial statements he makes. This time, he was accused of calling actress, Zhao Lusi (赵露思), a "low EQ, semi-famous actress, who forgot her roots".
Yu Zheng Praises Zhu Yilong and Xiao Zhan for Being "Yu Zheng-esque" Caliber Actors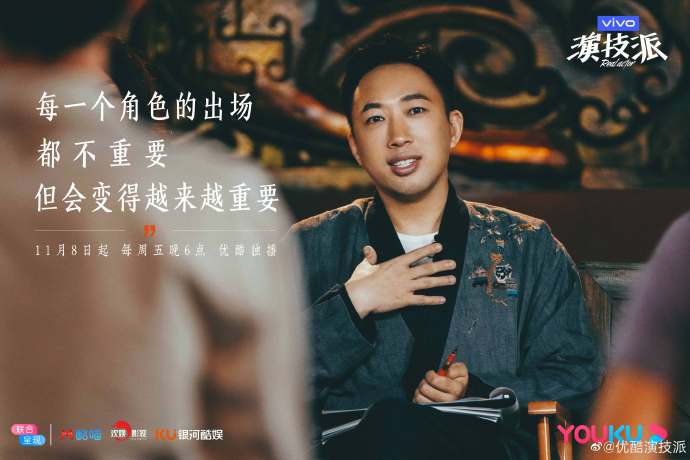 Yu Zheng Responds to Clip of Bai Lu Pinching Xu Kai's Butt
There is a post going around showing Yu Zheng allegedly saying this in a post from his WeChat Friend's Circle, "An actress, when she was a rookie, I gave her her first series, her first opportunity. When I discovered her issues, I immediately told her she can't be stuck in her comfort zone, she must courageously break though. Afterwards, I saw she got popular and I was quite happy for her, but we didn't have much contact. I don't like to frequently contact artists when they're popular. Later on, I heard she changed her team and then today, I looked for her about something. I discovered she deleted me! My god, if you're going to forget your roots, you should still have some EQ, okay? Was it necessary to do it so fast and urgent? You're already popular to the point you sever relationships with everyone? Really too self-righteous. Get you up on the hot search tomorrow!"
Yu Zheng Manages to Compliment Yang Zi and Insult Her Male Co-Stars in One Interview
Yu Zheng Denies Dissing Michelle Chen After Saying He Regrets Angelababy Couldn't Be in "The Romance of the Condor Heroes"
He commented on his own post and said, "Don't blindly guess. The big names in general all have EQ. The one I'm talking about is the type that's known by some, but not really popular, like today's female lead — Zhao Lusi."
Netizens Criticize Zhao Lusi with Derogatory Slang Term, "Green Tea", Stemming from Her Recent Posts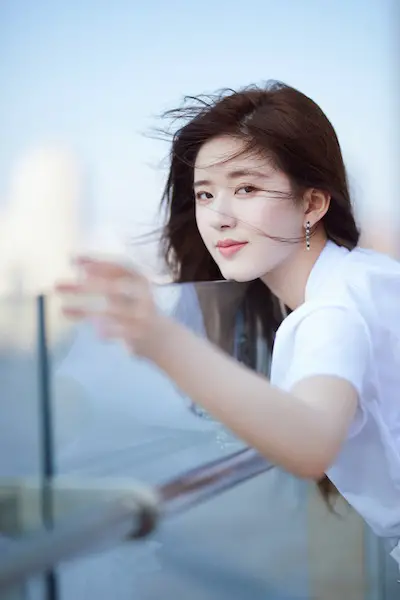 Zhao Lusi's Studio Debunks Rumors She Authored a Deleted Post Saying She Likes Xiao Zhan
Yu Zheng responded to accusations that he was dissing Zhao Lusi. He made another post saying, "Creating something out of nothing. These YXH (Ying xiao hao) creating rumors is a bit much! What to do?", and tagged Zhao Lusi and a character still of her.
Zhao Lusi Claps Back at Criticisms about Her Unedited Photos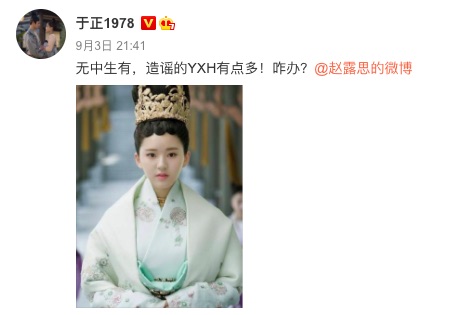 Zhao Lusi Apologizes to Victoria Song for Accidentally Liking Post Complaining about Her Outfit
It seems the relationship between Yu Zheng and Zhao Lusi are fine as she left him comments under the post. First comment says, "I, who was just cooking chicken breast, is dumbfounded. Yu-laoshi, let's meet up next time for a fat-reducing meal and chat." Yu Zheng responded, "I'm eating right now. I am searching myself everyday." Zhao Lusi left another comment saying, "Let's eat chicken breast next time." He responded, "I saw what you sent me. It doesn't look too good!"
Zhao Lusi Shows Disgusted Expression at a Guy Saying Cheesy Pick Up Lines to Her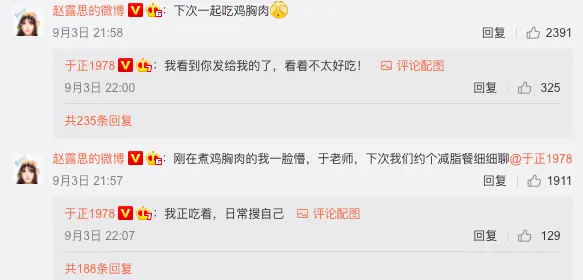 Yu Zheng Rules Out Xu Kai Joining Rumored Drama Adaptation of BL Novel, "Heaven Official's Blessing"
Zhao Lusi's studio made a statement on September 4th denying they deleted any WeChat friends. They explained, "The little studio personally confirms: Ms. Zhao shut down her Friend's Circle, didn't delete any WeChat friends. Sorry this attracted unnecessary misunderstandings."
Zhao Lusi Joins Netizens in Complaining about Her Character, "Gu Shengnan", from "Dating in the Kitchen"