Infamous producer, Yu Zheng (于正), is trending on Weibo again for his comments. The Chinese producer and screenwriter is famous for making many hits such as "Palace", "The Romance of Condor Heroes" (神雕侠侣), "Story of Yanxi Palace", and many others. Aside from being a good screenwriter, he is also known for his notoriously sharp tongue that gets him in trouble sometimes. He shot up to #1 on the Weibo hot search list on June 28 when he made a comment about regretting Angelababy not being able to join his 2014 series, "The Romance of Condor Heroes".
Angelababy's Position in Picture with Socialite Friends Prompts Comparisons to Drama, "Nothing But Thirty"
When Michelle Chen (陳妍希) was first announced she would be portraying the iconic character, "Xiao Long Nu" (Dragon Girl) in Yu Zheng's version of "The Romance of Condor Heroes", it was met with a lot of criticism and opposition from netizens. Many people felt Michelle Chen didn't possess the aesthetic of the "Xiao Long Nu" character with some people even saying she was "too fat" to play the role.
Yu Zheng Responds to Clip of Bai Lu Pinching Xu Kai's Butt
Yu Zheng Defends Zhao Lusi in Midst of Weibo Post Controversy
Yu Zheng addressed the criticisms at the time saying, "The style, I like, "Xiao Long Nu", I chose. I am 100% satisfied. If there are complaints, please come at me. Don't blame others." At the end of filming, Yu Zheng had said, "I never regretted my choice. The only regret is everything coming to an end and separation after all."
Yu Zheng Denies Referring to Zhao Lusi as a "Low EQ Actress Who Forgot Her Roots"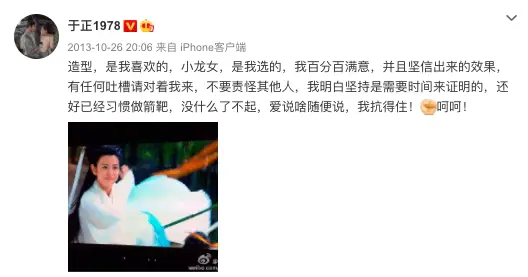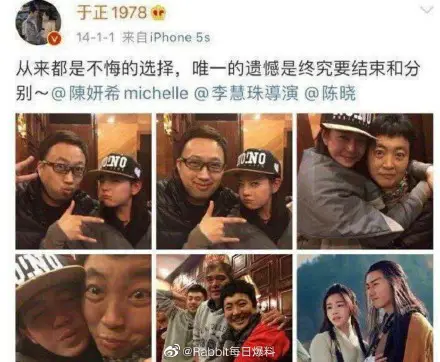 Angelababy Doesn't Want People to Tell Her Son, "Your Mom Can't Do Anything"
Yu Zheng might have regretted those words in 2013 as he posted this picture of Angelababy cosplaying as "Xiao Long Nu" from a variety show on June 28. He included the following caption and tagged Angelababy: "If you weren't sick at the time and came to my "The Romance of Condor Heroes", then I wouldn't have been ridiculed by the masses. This is the biggest regret in life!"
Yu Zheng Rules Out Xu Kai Joining Rumored Drama Adaptation of BL Novel, "Heaven Official's Blessing"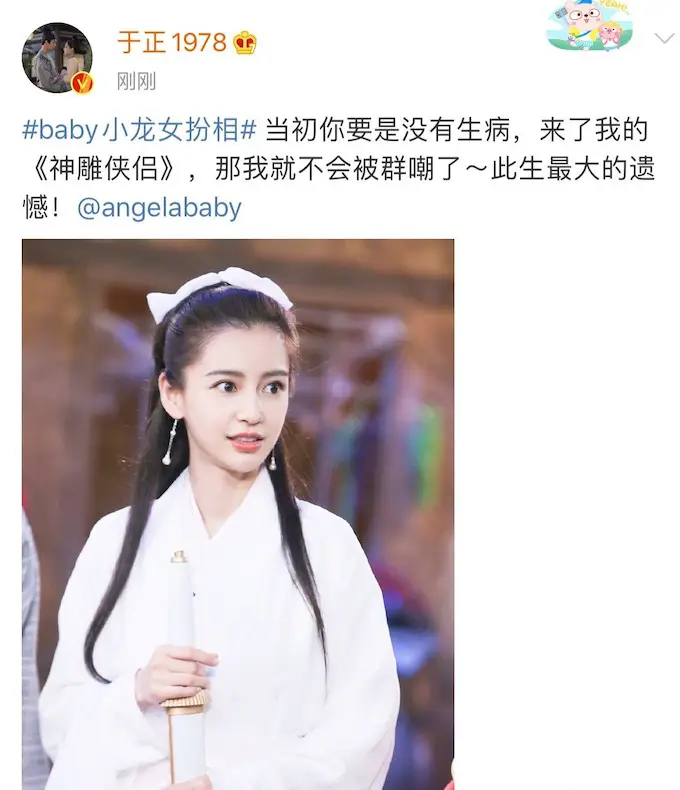 Zhang Ziyi Praises Angelababy's Acting in "A Murderous Affair in Horizon Tower"
His post drummed up a lot of debate with many people feeling bad for Michelle Chen and accusing him of dissing her. Yu Zheng, presumably feeling the backlash, deleted the post. He made another one saying, "I was just lamenting a bit. There were no intentions of dissing anyone. Who doesn't love such gorgeous beauty? Seeing such beautiful styling, is it wrong to be a bit emotional? For real…From now on, I'll try to keep my mouth shut, but I reckon I won't be able to do it. Will try to keep a low profile for now!"