China has their own version of the Razzies, called the "Golden Broom Awards for Chinese Films", which gives out awards based on the worst film contributions of the year. The awards are reportedly chosen by film industry workers ranging from directors, critics, producers, screenwriters, and more. On June 29, the awards show held its 11th ceremony virtually. Xiao Zhan (肖战) and Meng Meiqi (孟美岐) were awarded the "Most Disappointing Actor" and "Most Disappointing Actress" awards respectively for their performances in "Jade Dynasty" (诛仙Ⅰ). Soon after the announcement, film maker/screenwriter/director, Cheng Qingsong (程青松), who is also the founder of the "Golden Broom Awards", made a post criticizing Xiao Zhan's acting and him being the recipient of the award.
Screenwriter Throws Shade at Xiao Zhan, Says Leads are Only There to Attract Box Office Traffic
On June 29, Cheng Qingsong said about Xiao Zhan: "The character, "Zhang Xiaofan", was not established from beginning to end. Xiao Zhan had no way of giving the character personality and charisma, performance was over the top, there was no sense of wholeness, the character became a puppet at a fair. He doesn't know how to handle the character. After he got possessed, he only focused on the outer form, couldn't see any psychological changes. As for his interaction with his co-stars, it was lacking rhythm nor were there sparks or waves in their interactions. Overall, Xiao Zhan's performance in "Jade Dynasty" was unsatisfactory, the "Most Disappointing", was deserved."
Hong Kong Actress, Do Do Cheng, Praises Xiao Zhan's Performance in "The Untamed" and Reveals Her Affinity with Him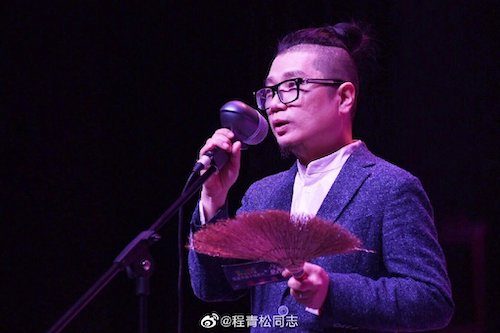 Xiao Zhan Talks about His "Nude" Scene in "Jade Dynasty"
He also said this about Xiao Zhan and Meng Meiqi in a separate interview: "A film's performance, whether good or bad, is sometimes the director's and other times the actor's responsibility. Qin Hao (秦昊) once mentioned, filming a bad movie is the director's responsibility. I extremely agree with this statement. But when an actor accepts to film a bad movie, that is your own responsibility. So you need to be accountable for the responsibility you should be bearing."
Tension Arises After Guo Jingming Awards He Changxi with Highest Grade for "The Untamed" Reenactment on "Everybody Stand By 2"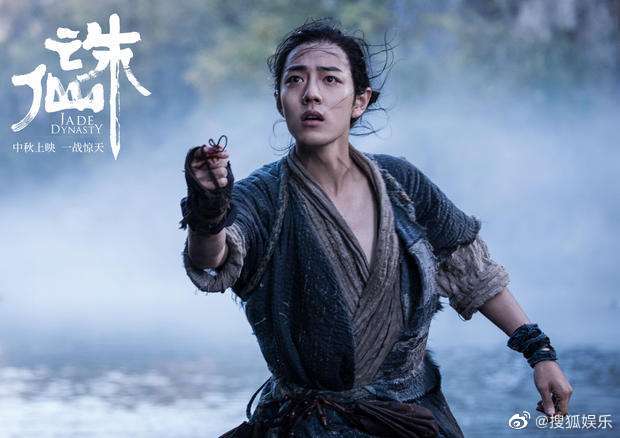 Xiao Zhan and Wang Yibo Gave Lots of Fan Service at "The Untamed" Fan Meeting
Last September, Cheng Qingsong had already criticized Xiao Zhan's acting and the rest of the "Jade Dynasty" cast. At the time, Cheng Qingsong expressed Xiao Zhan and the cast were just there to draw box office traffic and that buying hot searches on the Weibo trending list wouldn't tout their acting. He went on further to say that the "Golden Broom Awards" would be the only ones to search for them.
Xiao Zhan and Wang Yibo Want to Collaborate Again
Chan Ka Lam (陳家霖), "The Untamed" (陈情令) director, wrote a lengthy post without naming or tagging anyone, but it was clearly in response to Chen Qingsong's post about Xiao Zhan's acting. He wrote:
"Filmed a series two years ago and I met a bunch of hard working rookie actors. Among the group, there was one actor who especially used a lot of effort and heart. He is very polite, very humble. He would take the initiative to greet everyone when we started work everyday. He would also say "It has been hard" to every crew member when we got off work. It was an especially hot summer at Hengdian that year. I remember there was a scene one day where we were filming the punishment scene picking up dung and afterwards, he was strapped into wire mid-air. There were no clouds in the sky that day. The sun was practically shining on everyone like it was trying to melt us. He looked like he was having a bit of heatstroke. I immediately asked, "How are you doing? Are you okay?". He responded to me, "Don't worry, not a problem. Can continue filming."
Xiao Zhan and Wang Yibo Reveal Their Failed Meetups and Why They Had to Apologize to the Director while Filming "The Untamed"
Wang Yibo Complains about Xiao Zhan Bullying Him While Filming "The Untamed"
There was also one time where we filmed a rain scene for seven consecutive nights. The sprinkler carts kept pouring out water. His eyes were often bloodshot due to the long filming hours each day. In addition to those few nights of filming, his eyes were infected from the man made rain, but he still maintained his professionalism to complete filming. There was also another time where he was filming an action scene and made a mistake and his lips ended up getting smashed. After getting his wound treated at the hospital, he continued filming the night scenes. There are so, so many, of these examples. As an actor, he is worthy of being an actor. Singing songs on stage, he is worthy of being a singer. I filmed with him for over four months, from morning to night, from night to morning. How about you guys? Do you understand him more than me? Do you know him? Have you met him before? Please be a person!"
"The Untamed" Assistant Director, Yue Liang, Answers Fan's Request to Share BTS Photos with Cast Members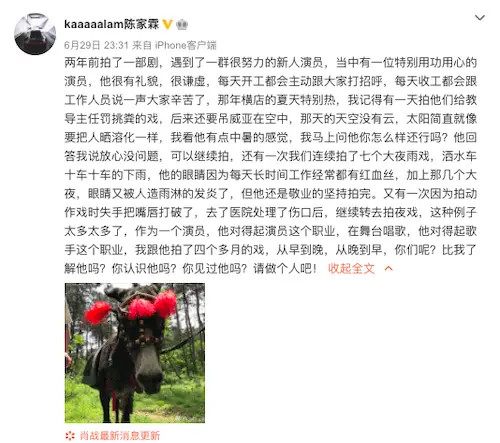 Xiao Zhan Dedicates Birthday Post to Wang Yibo and Fan Girls are Going Crazy
This wouldn't be the first time Chan Ka Lam showed support for Xiao Zhan. After Xiao Zhan's interview with the "Economic View" about his hiatus and the AO3 incident came out, he also praised Xiao Zhan.
Meng Ziyi Denies Being the Cause of a Fire that Killed Two People on "The Untamed" Film Set
Meng Meiqi Talks about Being Awarded "Most Disappointing Actress" at the "Golden Broom Awards" for the First Time
Shortly after Chan Ka Lam's post came out, Cheng Qingsong made another post not addressing it to anyone, saying: "People without acting skills are starting to market themselves with acting skills again. How is it that there is no self-awareness? Those of us who never buy hot searches are really from a different world from those of you who like to buy hot searches."
Xiao Zhan's Manager Denies Being Mastermind Behind AO3 Scandal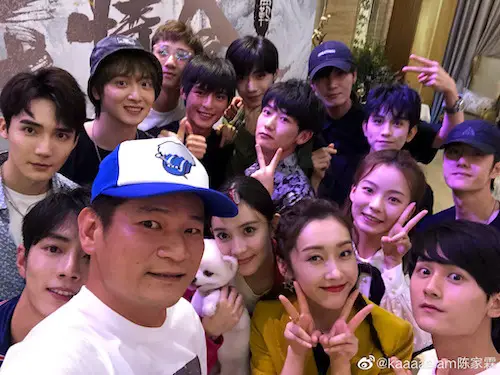 Xiao Zhan Writes Open Letter to Himself for 29th Birthday
According to Sohu Entertainment, the organizers of the awards show had invited Meng Meiqi and Xiao Zhan to attend the show. They claim Meng Meiqi's team didn't respond, while Xiao Zhan's side responded he wasn't in Beijing.