Chinese costume drama, "The Untamed" (陈情令), is currently airing and is a fan favorite among netizens. Unlike most period dramas, the series focuses on the brotherhood between the two male leads played by Xiao Zhan (肖战) and Wang Yibo (王一博). The series was actually adapted from the novel, "Mo Dao Zu Shi" (魔道祖师), where the male leads are in a romantic relationship. Due to censorship regulations in China, the script was revised to focus on the brotherhood relationship for the television adaptation. Even so, this hasn't stopped netizens from shipping the male leads as a couple as each episode is full of what netizens would call "CP candy."
"The Untamed" Director, Chan Ka Lam, Speaks Up for Xiao Zhan After He was Awarded "Most Disappointing Actor"
Korean Netizens are Loving Wang Yibo and "Lan Wangji" After Watching "The Untamed"
Hong Kong Actress, Do Do Cheng, Praises Xiao Zhan's Performance in "The Untamed" and Reveals Her Affinity with Him
However, there was a 9 minute behind the scenes clip showing Wang Yibo and Xiao Zhan taking jabs at each other. At one point, Wang Yibo says, "He's yelling at me. He thinks being older than me by 6 years, he can always bully me. This older brother…" Xiao Zhan then retorts, "When have you treated me like an older brother?" Somehow the two start throwing out Korean phrases with Xiao Zhan calling Wang Yibo his senior. Fans enjoyed the bickering and even said "9 minutes of this video is much more exciting than 50 episodes of the series." Xiao Zhan and Wang Yibo are quite similar in that they both debuted as members of boy bands, X NINE and UNIQ, respectively.
Xiao Zhan Dedicates Birthday Post to Wang Yibo and Fan Girls are Going Crazy
Watch the clip here: http://t.cn/Ai00MAWk
Aside from their camaraderie, the series is also known for its appealing visuals. The size of Xiao Zhan's narrow waist was even trending on Weibo, eliciting many envious responses from netizens.
Xiao Zhan and Wang Yibo Want to Collaborate Again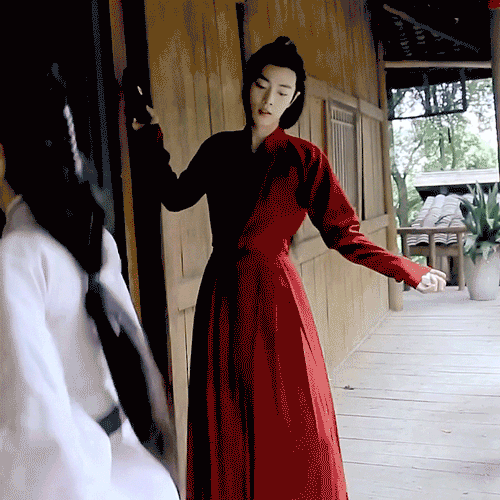 Xiao Zhan and Wang Yibo Gave Lots of Fan Service at "The Untamed" Fan Meeting
Netizens enjoy the visuals so much that they have jokingly referred to the series as "陈情令101" (The Untamed 101), a play on the idol survival reality show, "Produce 101." Tencent even made a meme of the 9 male cast members and asked netizens to vote for them, "Produce 101" style.
Ex-Girlfriend of Qi Peixin from "The Untamed" Leaked Intimate Pictures and Accused Him of Cheating and Forcing Her to Get an Abortion
Who would be your center?
Xiao Zhan and Wang Yibo Reveal Their Failed Meetups and Why They Had to Apologize to the Director while Filming "The Untamed"
Tencent has uploaded the episodes with English Subs on Youtube.
Credit: ETtoday.net, Weibo (1, 2, 3)