Xiao Zhan (肖战), Wang Yibo (王一博), Liu Haikuan (刘海宽), and Zheng Fanxing (郑繁星) attended a fan meeting for "The Untamed" (陈情令) in Beijing today. However, there was complaints from fans about the lack of preparation from the event organizers. Fans complained about the host's lack of knowledge and questioning, why the view of the live stream was limited to a tiny corner, why the camera man kept shaking, and why Liu Haikuan and Zheng Fanxing didn't have any chairs to sit on during the Q&A session.
Xiao Zhan Fans and Wang Yibo Fans are Sabotaging Each Other's Idol Over Their "Uncivilized" Behavior
Xiao Zhan Dedicates Birthday Post to Wang Yibo and Fan Girls are Going Crazy
Who is more mature?
Fortunately, the Q&A session testing Xiao Zhan and Wang Yibo's chemistry made up for the shortcomings. The first question asked was, "Are you more mature than the other person?" Before the host could count to three, the two already raised their plaques. Xiao Zhao answered "Yes", while Wang Yibo answered "No". The host asked Xiao Zhan, "So you think you're more mature than Wang Yibo?" Xiao Zhan replied, "Well, of course. I am older." The host then asks them is it really such a practical response? The both of them say yes. Wang Yibo then explains, "After all, he was born 6 years earlier than me. He will definitely have more experiences than me."
Fans Bought Ad Space to Put Xiao Zhan and Wang Yibo on NYC's Times Square Billboards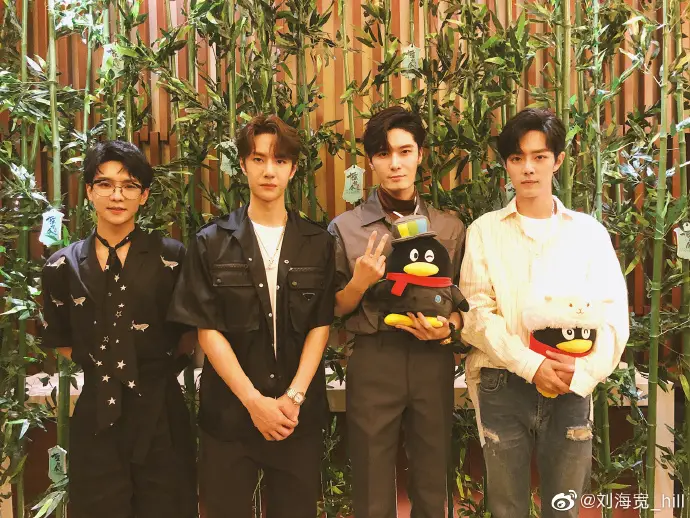 Hong Kong Actress, Do Do Cheng, Praises Xiao Zhan's Performance in "The Untamed" and Reveals Her Affinity with Him
Filming modern dramas
One of the questions asked whether Xiao Zhan and Wang Yibo wanted to film a modern drama with each other. The both of them raised the "Yes" plaque at the same time. The host then asks Wang Yibo what kind of modern drama he wants to film. Wang Yibo explained, "I've never thought about what kind of genre, but because we've filmed before and have chemistry. If there is such an opportunity, of course, we can [work together]." The host then follows up and asks what kind of chemistry he's referring to. Wang Yibo responds, "Being able to converse easily."
Xiao Zhan and Wang Yibo Gave Lots of Fan Service at "The Untamed" Fan Meeting
When it's Xiao Zhan's turns, he responds, "If there is such a possibility, of course I'd definitely be willing because we already have this chemistry that exists. The host then asks him what type of character he would want to portray with Wang Yibo in a modern drama. Xiao Zhan responds, "Someone different from our characters so there is a contrast." Wang Yibo nods in agreement.
Xiao Zhan and Wang Yibo Reveal Their Failed Meetups and Why They Had to Apologize to the Director while Filming "The Untamed"
Wang Yibo Complains about Xiao Zhan Bullying Him While Filming "The Untamed"
Xiao Zhan revealed it will be a happy ending. Tencent also revealed "Super Fan" members can watch the finale ahead of time on August 7. They will also be airing never aired BTS videos after the finale.
You can watch the segment here: http://t.cn/AijmSCuD?m=4399410450411253&u=1216431741