Xiao Zhan's (肖战) movie, "Jade Dynasty" (诛仙Ⅰ), which stars Li Qin (李沁) and Rocket Girls 101's, Meng Meiqi (孟美岐), opened in theaters on September 13 and has already surpassed 200 million RMB at the box office. A movie screenwriter, Cheng Qingsong (程青松), wasn't too impressed with Xiao Zhan or the leads of the movie. He wrote several posts throwing shade at the movie and one at Xiao Zhan's acting along with other actors.
"The Untamed" Director, Chan Ka Lam, Speaks Up for Xiao Zhan After He was Awarded "Most Disappointing Actor"
When the cast of "Jade Dynasty" started promoting the movie, many topics related to the movie were trending on Weibo. There were also a few topics related to the acting skills of the cast. Cheng Qingsong, who is also the founder of the "Golden Broom Awards for Chinese Films", which selects the worst Chinese films and actors of the year, wrote on his Weibo account yesterday, "The movie that just released, the male and female leads are clearly only there to attract traffic. Have to rely on marketing tools to tout their acting, it's really ridiculous. Only "Golden Broom Awards" would search for them."
Xiao Zhan Continues to Suffer Backlash from the AO3 Controversy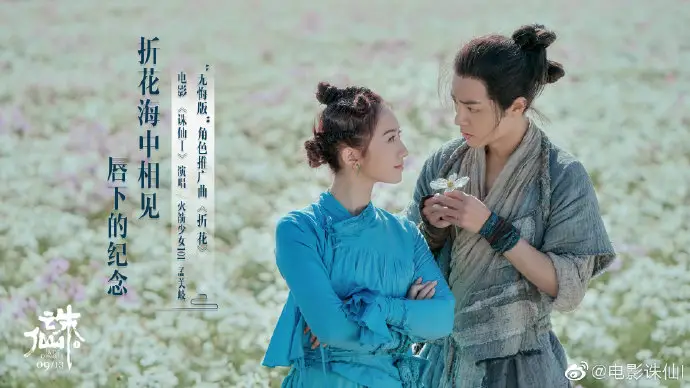 Xiao Zhan Reminds Himself Not to Let Fame Get to His Head
Netizens left comments on his post saying, "When Xiao Zhan filmed this movie, he didn't have any box office draw.", "The male lead is fine. It's the female lead! Really burning my eyes!". Cheng Qingsong doesn't stop there. He takes the movie's rating from Douban and says, "Douban's rating has already dropped below 6 points. What else is there left to say? Golden Broom Film Awards are waiting for each of you."
Xiao Zhan Talks about His "Nude" Scene in "Jade Dynasty"
Xiao Zhan Trapped in Revolving Doors by Fans
"Him getting so much popularity right now is well deserved."
Taiwanese actor Qiu Xinzhi (邱心志), who plays Xiao Zhan's master in the movie, comes to Xiao Zhan's defense. Today, he made the following post, "A serious, hard working actor is a good actor. If you're all that, you come and act.", responding to Cheng Qingsong's remarks. As it turns out, this is Qiu Xinzhi's second time working with Xiao Zhan. At the promotional event, he also praised Xiao Zhan saying, "Xiao Zhan and I collaborated twice. Because the wind kept blowing at us on set, he ended up getting dry eye syndrome. He is a very hardworking actor. He specially focuses his attention during filming. In fact, he doesn't say a lot on set. An actor who can keep his focus is very hard to come by. Him getting so much popularity right now is well deserved."
Watch Qiu Xinzhi talk about Xiao Zhan: http://t.cn/AiEa8A3L?m=4414997003891898&u=2095820504
Meng Meiqi Talks about Being Awarded "Most Disappointing Actress" at the "Golden Broom Awards" for the First Time
Cheng Qingsong doesn't stop there. Today, he posted, "I don't understand how the recent hot searches would have "Wu Xin acting skills", "Ma Tianyu acting skills, "Xiao Zhan acting skills". How come it's not "Gong Li acting skills" or "Zhou Xun acting skills"?" Netizens left comments saying, "Not giving a path for new actors.", "Young actors need pointers, but they don't need to be pointed the finger at.", "Only veteran actors can be praised, new actors of this generation can't be expected?". Cheng Qingsong emphasizes there are good actors in the new generation and names a few who have all been nominated for Golden Horse Film Awards before.