Xiao Zhan (肖战) has become many fan girls and fan boys idol after starring as "Wei Wuxian" (魏无羡) in "The Untamed" (陈情令). Even though Xiao Zhan is idolized by millions of people, he was once a fan boy too.
Xiao Zhan Trapped in Revolving Doors by Fans
Xiao Zhan Dedicates Birthday Post to Wang Yibo and Fan Girls are Going Crazy
Netizens Get into Heated Debate Over Xiao Zhan Calling Bridgette Qiao Xin "Older Sister"
Netizens discovered an old comment from Xiao Zhan before he entered the industry. He seemed to be a fan of K-Pop group, EXO. Back in April 2012, just when EXO debuted, he left a comment under another K-Pop group's music video on Weibo. That other K-Pop group turned out to be NU'EST and the music video was "Face". Xiao Zhan left a comment saying, "EXO completely wins."
Netizens Have Mixed Reactions over Rumors of Xiao Zhan and Yang Zi Collaborating in New Series
Xiao Zhan and Wang Yibo Want to Collaborate Again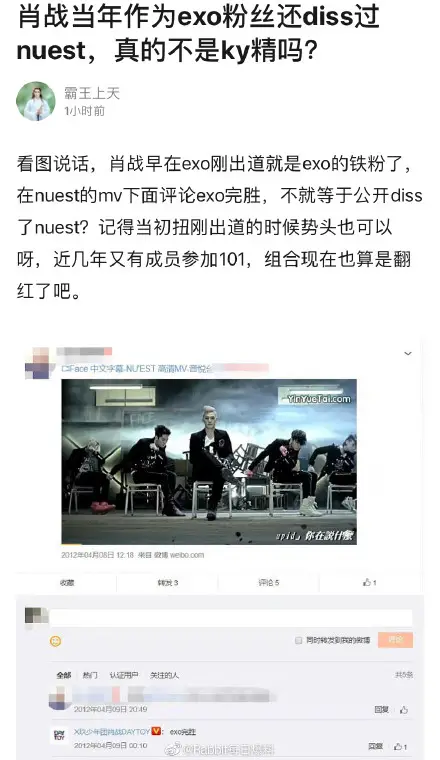 Wang Yibo Complains about Xiao Zhan Bullying Him While Filming "The Untamed"
Xiao Zhan is the Latest Celebrity Victim of Sasaeng Fans
Some netizens took Xiao Zhan's comment as dissing NU'EST as the phrase "完胜" translates to someone beating out an opponent by a lot. However, most netizens felt that it shouldn't be taken out of context since he wasn't a celebrity back in 2012. One netizen thought it was interesting that Xiao Zhan chose to use the same Weibo account when he debuted since fans can track his historical activity. However, checking Xiao Zhan's Weibo account, he has limited viewing on his old posts that were made prior to his debut.
Xiao Zhan and Wang Yibo Reveal Their Failed Meetups and Why They Had to Apologize to the Director while Filming "The Untamed"
Xiao Zhan and Wang Yibo Gave Lots of Fan Service at "The Untamed" Fan Meeting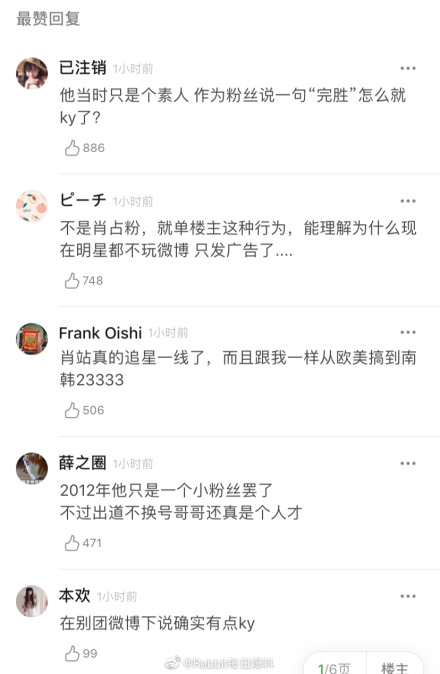 I wonder if Xiao Zhan is still an EXO fan.