After trending yesterday for his post of a cup of "green tea", which led netizens to think he was shading Zhao Lusi (赵露思), Yu Zheng (于正) was trending again on November 2. Yu Zheng followed up with another lengthy post talking about the entertainment industry and then tagged Zhao Lusi, talking about her character in the midst of her Weibo post controversy.
Netizens Criticize Zhao Lusi with Derogatory Slang Term, "Green Tea", Stemming from Her Recent Posts
Yu Zheng starts off saying, "Every person who are on the rise in the entertainment industry will go through all types of rumors, slander, harm…without any exception. Because you're on the rise, then you must face the reality of stealing another person's job, advertisements, and all types of businesses. Everyone think about it closely. Which star's journey to the top has been smooth sailing? None!…Since you are working in this industry and already have some achievements, then you must calmly face public scrutiny. You can't have a glass heart anymore, can't be knocked down, especially can't be fooled by others and shoot targets everywhere. Patience, progress, and enhancing your talent is the only path."
Zhao Lusi's Studio Debunks Rumors She Authored a Deleted Post Saying She Likes Xiao Zhan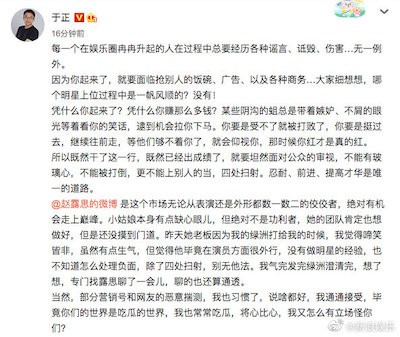 Zhao Lusi Apologizes to Victoria Song for Accidentally Liking Post Complaining about Her Outfit
In the second part of Yu Zheng's post, he tagged Zhao Lusi and said, "Zhao Lusi is one of the best in this market when it comes to performing or appearances. She definitely has a chance to rise to the top. The little girl is a bit senseless, but definitely not a utilitarian. Her team probably wants to do well too, but haven't quite learned the ropes yet. When her boss called me yesterday because of my Oasis post, I didn't know whether to laugh or cry. Even though I was a bit mad, but I thought he is an outsider when it comes to actors and hasn't had experience being a celebrity and doesn't know how to handle negativity either. Aside from shooting targets, he has no other way. After I angrily finished posting my Oasis clarification post, I thought about it and looked for Lusi to chat a bit. We chatted quite transparently.
Zhao Lusi Joins Netizens in Complaining about Her Character, "Gu Shengnan", from "Dating in the Kitchen"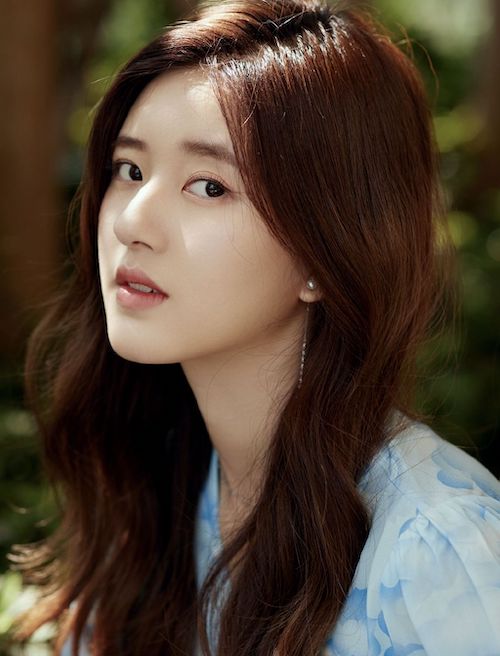 Yu Zheng Denies Referring to Zhao Lusi as a "Low EQ Actress Who Forgot Her Roots"
Of course, I'm already used to some of the marketing accounts (ying xao hao) and netizens' malicious speculations. Whatever they say, I accept it all. After all, your world is full of gossip. I am often here for the tea (gossip) too. Putting myself in your shoes, what position do I have to to blame you guys?"
Yu Zheng Denies Dissing Michelle Chen After Saying He Regrets Angelababy Couldn't Be in "The Romance of the Condor Heroes"
There was also a post circulating of someone claiming to be Zhao Lusi's former manager. They posted the same picture of Yu Zheng's "green tea" clarification post to their Friend's Circle and said, "She already changed teams! It has nothing to do with us! Have been recovering my health lately. Haven't been able to respond to messages on time. Please understand, everyone."
Zhao Lusi Shows Disgusted Expression at a Guy Saying Cheesy Pick Up Lines to Her
Yu Zheng Rules Out Xu Kai Joining Rumored Drama Adaptation of BL Novel, "Heaven Official's Blessing"
All this drama doesn't seem to have bothered Zhao Lusi. At a live stream event promoting perfume, Zhao Lusi mentioned it's very suitable for when you are having downtime and comfortable and "Drinking afternoon tea, right? For example, green tea, drinking red tea." Some felt this was Zhao Lusi's response to the "green tea" comments from her posts on November 1.
Watch video here: https://weibo.com/tv/show/1034:4567134177787920?from=old_pc_videoshow