Zhao Lusi (赵露思) was trending again at the #1 spot on November 1 because of a post she wrote, which some people thought was in reference to the incident with the fake post about liking Xiao Zhan (肖战) from two days prior. She wrote, "I didn't hurt anyone, so I shouldn't be unhappy. yoyo~ November".
Zhao Lusi's Studio Debunks Rumors She Authored a Deleted Post Saying She Likes Xiao Zhan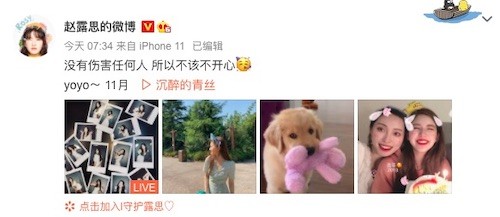 Zhao Lusi Apologizes to Victoria Song for Accidentally Liking Post Complaining about Her Outfit
Netizens were somehow triggered by that post and started leaving comments on her post saying:
"Not even popular and always trying to gain popularity."
"Bought a script saying you are the second Zhao Liying. Afterwards, you said you weren't comparable to Zhao Liying. Hand was slippery and liked Song Qian. Started trending and said your hand was slippery. Bought a script for your new series to say you're more attractive than Dilraba, bought a script to say you're comparable to Liu Yifei, bound Yang Yang, now confessing to Xiao Zhan. Can this girl act well? Originally just talking your way out of a Northeastern persona. Now you're performing "green tea".
"Take a break from marketing [yourself] and focus on acting."
"First time seeing someone disregarded themselves completely. What do you mean you didn't hurt anyone? What about my Zhan?"
Zhao Lusi Joins Netizens in Complaining about Her Character, "Gu Shengnan", from "Dating in the Kitchen"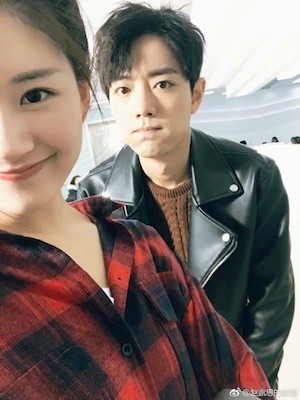 Zhao Lusi Claps Back at Criticisms about Her Unedited Photos
In the sea of yelling comments, there were fans and supporters who defended Zhao Lusi, saying:
"So, someone photoshopped a post and created rumors, then she deserves to be yelled at? Can't even let her say something. A bunch of antis running to other people's Weibo to flaunt."
"Baby! You're so early. Don't look at those. We will always believe you. You have to be happy."
"You have a bunch of us behind you, so you must be infinitely happy."
Zhao Lusi Shows Disgusted Expression at a Guy Saying Cheesy Pick Up Lines to Her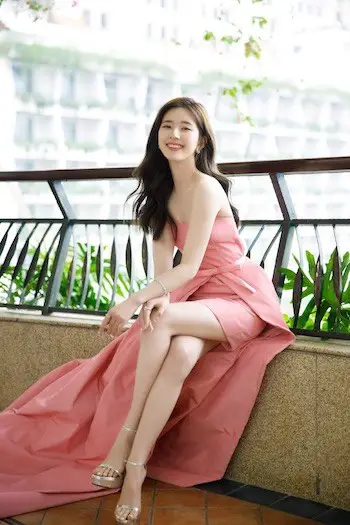 Zhao Lusi Claps Back at Criticisms about Her Unedited Photos
Afterwards, the hashtag "Green Tea" started trending on Weibo. The term "green tea" (绿茶) or "green tea b*tch" (绿茶婊) is a derogatory Chinese slang that refers to girls who appear sweet and innocent, especially in front of men and usually to gain something, but are manipulative and mean to women. Netizens left all sorts of accusatory comments about Zhao Lusi's character, saying she was trying to gain from other stars and that she was exhibiting green tea behavior.
Zhao Lusi issued another post seemingly in reference to all the backlash and hoopla about her recent posts. She wrote: "I am not mainstream. I've come to appreciate withering sentiments."
Yu Zheng Defends Zhao Lusi in Midst of Weibo Post Controversy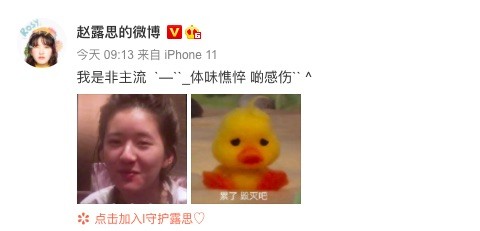 Zhao Lusi's Studio Denies Liking and Sharing Douyin Videos Pitting Her Against Other Artists
Zhao Lusi's co-star from "I Hear You" and friend, Zhang Jiongmin (张炯敏), who participated in "CHUANG 2019", wrote a post speaking up for her, which also trended at the #1 spot. He wrote, "Since I've known Lusi for so long now, I've thought how can there be such a cute, kind, and pure girl, always thinking of others. Every time I feel depressed, she is the first person to come care about me and help me. I remember when I first came out from CHUANG, I didn't have a place to live and didn't have income either. Once you found out, you immediately rented a home and said to me, 'Jiong-ge, I rented a home. You live at my place first. It just so happens that I will be filming outside. You live there first.' You obviously have been filming and working outside and wouldn't return home to live, but yet you still rent a home in Beijing for me to live. It was your birthday that day. Xin-jie and I went to your place to spend your birthday with you. Afterwards, you returned to work and probably forgot your own birthday. When you returned home, Xin-jie and I held the cake up and sang happy birthday to you. You cried all of a sudden and cried like something broke into many pieces. As long as people who have interacted with you before, all know that you are someone who doesn't have any complicated thoughts, like helping friends, and is a simple girl."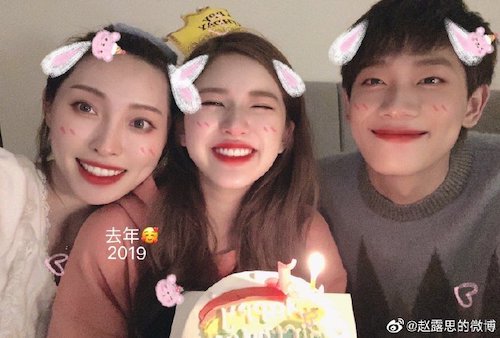 Producer, Yu Zheng, was also trending that day when he uploaded a picture of a cup of green tea with the caption, "chi gua", which can be translated to "here for the tea (gossip)". Some netizens thought he was shading Zhao Lusi, but he denied it and said people were imagining things.
Yu Zheng Denies Referring to Zhao Lusi as a "Low EQ Actress Who Forgot Her Roots"