Zhao Lusi (赵露思) was trending at #1 on October 30 because of an alleged post that showed her saying she liked Xiao Zhan (肖战). A netizen was early with the Halloween or April Fool's celebrations when they doctored a Weibo post that showed Zhao Lusi saying, "Like you @X玖少年团肖战DAYTOY". The rumor claimed Zhao Lusi wrote it and then deleted it.
Zhao Lusi Apologizes to Victoria Song for Accidentally Liking Post Complaining about Her Outfit
Zhao Lusi's Studio Denies Liking and Sharing Douyin Videos Pitting Her Against Other Artists
Netizens were very skeptical about the validity of the post. Someone compared the doctored post to a real one from Zhao Lusi's account, which showed the differences in the posts with the circles. The top post was retrieved from Zhao Lusi's actual account, while the bottom one is the fake post.
Zhao Lusi Joins Netizens in Complaining about Her Character, "Gu Shengnan", from "Dating in the Kitchen"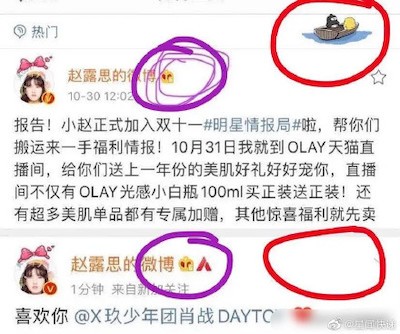 Yu Zheng Defends Zhao Lusi in Midst of Weibo Post Controversy
Zhao Lusi's studio immediately issued a statement refuting the claims and stated she only had one Weibo account: @赵露思的微博. She never posted the doctored photo with the content about liking Xiao Zhan. The studio asked the public to stop sharing the photo and reserves the right to pursue legal action.
Xiao Zhan and Zhao Lusi worked together in the 2018 series, "Oh! My Emperor" (哦!我的皇帝陛下), where he had unrequited love for her, while she liked Gu Jiacheng's character.
Netizens Criticize Zhao Lusi with Derogatory Slang Term, "Green Tea", Stemming from Her Recent Posts