The "Shen" quadruplets, Shen Bing (申冰), Shen Qing (申清), Shen Yu (申玉), and Shen Jie (申洁), left quite the impression on their short lived tenure on "Youth With You 2020". The eldest quadruplet, Shen Bing, was accused of being the third party to her then boyfriend's marriage and allegedly threatened his wife to get a divorce. Her studio expressed Shen Bing had already broken up with her boyfriend once she found out he was married. She ended up withdrawing from the show.
Eldest Quadruplet, Shen Bing, Withdraws from "Youth With You 2020" After Being Exposed She Dated a Married Man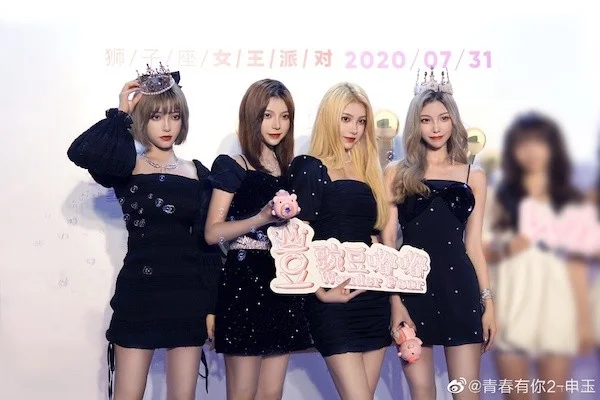 Before Shen Bing left, the quadruplets were some of the most controversial trainees on the show as the other three sisters were accused of nepotism for voting for their sister, Shen Jie, who was competing against Sharon Wang to be the center for their group performance, "Oh Boy". It was a bit contentious during the battle and voting to be center. The other two members, Ju Chen (陈品瑄) and Zizi Xu Zhenzhen (徐轸轸), voted for Sharon Wang (王承渲), so Shen Jie ended up getting the center spot. Before the public performance, Cai Xukun and Lisa also felt Sharon Wang was more suitable to be the center. Cai Xukun even called out the three older sisters. In the end, Shen Bing left the show and the other three sisters were eliminated in the first round.
"Youth With You 2020" Trainee, Sharon Wang, Wants to Perform with Jony J
Two of the quadruplets recently went live and revealed some secrets on "Youth With You 2020". They claimed that someone from their group would tell the cameramen not to film them when it was their close up shots. They also said whenever they spoke at their group meetings, a member from their group would always roll their eyes at them. They said this person was "probably too young". People started speculating whether this group member was Sharon Wang.
Watch the Shen sisters' video: https://weibo.com/5874584452/JrrW50DKk?from=page_1005055874584452_profile&wvr=6&mod=weibotime
However, not too long after the news started circulating, a group member from the "Oh Boy" performance, Zizi Xu, proudly admitted she was the one who rolled her eyes at them. Zizi Xu was chatting with her fan group and said, "It was me who rolled my eyes. I can't hold it and want to roll them again right now." Zizi Xu continues shading the Shen sisters with her fans and in the end says, "People always look at issues from their point of view. I was yelled at for two-three hours, of course I would roll my eyes."
Su Shanshan's story
After Zizi Xu started trending for her confession, another trainee, SNH48's Su Shanshan (苏杉杉), revealed that during the theme song selection, Cai Xukun asked the F group trainees, who had been practicing hard as he was selecting trainees, to be promoted so they could get more air time. Su Shanshan revealed someone from the Shen sisters raised their hands and said they practiced really hard. She couldn't remember who said it. Cai Xukun asked them, "Are you guys sure you've been practicing all along?" They said they were sure. Su Shanshan then reveals Cai Xukun went to look at the tapes and when he returned, he didn't say anything and promoted Su Shanshan and another trainee. Su Shanshan said she was just telling the truth and couldn't stand it anymore.
SNH48/AW9 Member, Su Shanshan, Calls Out Star48 for Not Promoting Her Properly
Watch Su Shanshan's revelation: https://weibo.com/3200673035/JrDLwxk0u?refer_flag=1001030103_&ssl_rnd=1604118866.8912&type=comment