Hunan TV held the TMall Double 11 "Global Shopping Festival 2020" on Halloween featuring a star studded line up. One of the most talked about performances was Wang Yibo dancing to Bruno Mars' "Versace on the Floor". The dance was choreographed by "Street Dance of China 2 and 3" alums, Franklin Yu and Chun Lin, respectively, and another dancer, JF. The performance earned him loud screams, especially from one woman in the audience, and also a trending hashtag, "Wang Yibo's dance is so lusty this time."
Wang Han Reacts to Jin Xing Saying She Wouldn't Know Wang Yibo Had it Not Been for "Day Day Up"
Huang Xuan, Wang Yibo, and Victoria Song, Announced as Leads for Costume Drama, "Fengqi Luoyang"
Not only were fans and netizens enamored, e-commerce influencers like Viya (薇娅), Austin Li Jiaqi (李佳琦), and Cherie (雪梨), were tuned into Wang Yibo's performance during their live broadcast. This is supposed to be the golden opportunity for them to sell products for the "Double 11" festival, but instead, the influencers and their staff were glued to Wang Yibo Versace-ing the dance floor.
Zanilia Zhao Liying and Wang Yibo are the Viewers' Favorites at the 30th Golden Eagle Awards
Wang Yibo Responds to Crashing Accident at the 2020 Zhuhai International Circuit
While Viya was in the middle of introducing a product, her associates are screaming, which alarms her and prompts her to ask them, "What's happening?" They tell her Wang Yibo is starting to perform behind them and asked her and her associate to move to the side so they can show him on camera, which they happily comply.
Viya's livestream: https://weibo.com/tv/show/1034:4566219022598199?from=old_pc_videoshow
Wang Han Updated His Wardrobe Because of Wang Yibo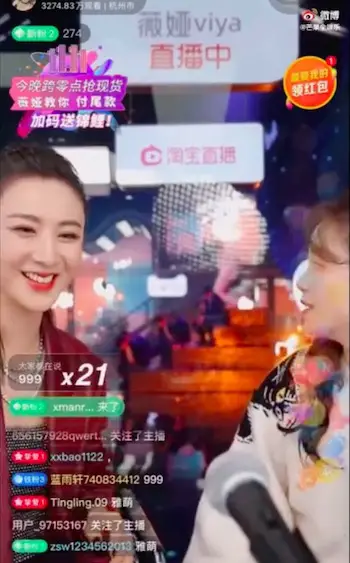 Yuehua Entertainment Denies Anti-Xiao Zhan Fan is Their Staff Member and Part of Wang Yibo's Team
Austin Li started his broadcast, but didn't start selling anything yet. He started saying, "Wang Yibo is dancing!" He wanted to cut the screen so that it would show Wang Yibo's performance and also delay his live if Wang Yibo wasn't on yet. When it did start, they showed the screen of Wang Yibo's performance during his stream.
Austin Li's livestream: https://weibo.com/tv/show/1034:4566437575196691?from=old_pc_videoshow
Emily Qi's Older Brother Seemingly Addresses New Dating Rumors with Wang Yibo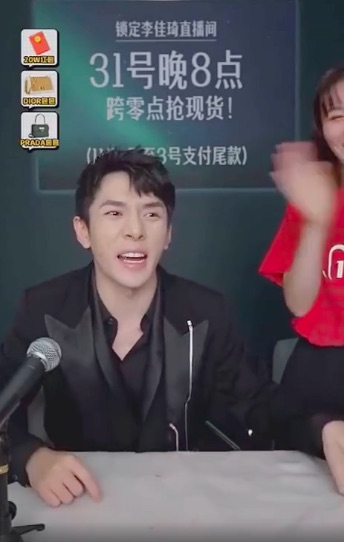 Wang Yibo Reveals Having Wild Ambitions Towards Performing
Cherie was focused on selling her product. However, her husband is seen in the background glued to the screen watching Wang Yibo's performance and saying, "Wowww, so handsome! My god". Cherie catches a glimpse and says, "Wow, I am drooling." Cherie and an associate praised the way Wang Yibo learns his moves is very terrifying and that his moves are very precise. At one point, Cherie's husband mentions the distance between him and Wang Yibo was less than 10 meters at that time. Everyone is still watching and her husband says, "They can cut the screen to show him." Cherie and another male associate reels everyone back to the selling program, while her husband is still watching the performance until the end.
Zhou Xun and Wang Yibo Close Out Angelica Cheung's Last VOGUEfilm Project, "Le Vrai Où"
Cherie's livestream: https://weibo.com/tv/show/1034:4566451022135301?from=old_pc_videoshow